Libreboot T400 laptop now FSF-certified to respect your freedom
BOSTON, Massachusetts, USA -- Friday, December 11, 2015 -- The Free Software Foundation (FSF) today awarded Respects Your Freedom (RYF) certification to the Libreboot T400 laptop as sold by Minifree. The RYF certification mark means that the product meets the FSF's standards in regard to users' freedom, control over the product, and privacy.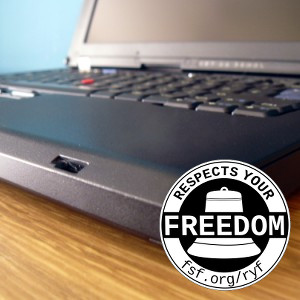 This is the third Libreboot-series laptop from Minifree (formerly known as Gluglug) to achieve RYF certification, the first being the Libreboot X60 in December 2013, followed by the Libreboot X200 in January 2015. The Libreboot T400 can be purchased from Minifree at http://minifree.org/product/libreboot-t400.
The Libreboot T400 is a refurbished and updated laptop based on the Lenovo ThinkPad T400. Just as with the Libreboot X200, in order to achieve the Free Software Foundation's RYF certification guidelines, Minifree had to replace the low-level firmware as well as the operating system. Microsoft Windows was replaced with the FSF-endorsed Trisquel GNU/Linux operating system, which includes the GNOME 3 desktop environment. The free software boot system of Libreboot and the GNU GRUB 2 bootloader were adapted to replace the stock proprietary firmware, which included a BIOS and Intel's Management Engine firmware.
The mission of both Libreboot and Minifree is to push the free software movement forward in a fundamental way, at the hardware and firmware level.
"While we don't require that companies selling Respects Your Freedom certified products also develop or fund free software projects directly, in the case of Minifree, sales of their products do directly fund the Libreboot project. It is doubly exciting to be able to endorse a new freedom-respecting hardware product while also encouraging people to support the development of an important free software project," said FSF's licensing & compliance manager, Joshua Gay.
"We call on more people and companies to get involved with Libreboot development. We also need hardware manufacturers to cooperate. This is a long battle, and one that the Libreboot project has taken on. We're doing this because we believe users deserve to have full control over their own computing, and the freedom to share with others," said Leah Woods, founder of Minifree and lead maintainer of Libreboot.
To learn more about the Respects Your Freedom hardware certification, including details on the certification of the Libreboot T400, visit https://www.fsf.org/ryf. Hardware sellers interested in applying for certification can consult https://www.fsf.org/resources/hw/endorsement/criteria.
Subscribers to the FSF's Free Software Supporter newsletter will receive announcements about future Respects Your Freedom products.
About the Free Software Foundation
The Free Software Foundation, founded in 1985, is dedicated to promoting computer users' right to use, study, copy, modify, and redistribute computer programs. The FSF promotes the development and use of free (as in freedom) software -- particularly the GNU operating system and its GNU/Linux variants -- and free documentation for free software. The FSF also helps to spread awareness of the ethical and political issues of freedom in the use of software, and its Web sites, located at fsf.org and gnu.org, are an important source of information about GNU/Linux. Donations to support the FSF's work can be made at https://donate.fsf.org. Its headquarters are in Boston, MA, USA.
More information about the FSF, as well as important information for journalists and publishers, is at https://www.fsf.org/press.
About Minifree and Libreboot
Minifree Ltd, trading as Ministry of Freedom (formerly trading as Gluglug), is a UK supplier shipping worldwide that sells GNU/Linux-libre computers with the Libreboot firmware and Trisquel GNU/Linux-libre operating system preinstalled.
Libreboot is a free BIOS/UEFI replacement, offering faster boot speeds, better security, and many advanced features compared to most proprietary boot firmware.
Media Contacts
Joshua Gay
Licensing & Compliance Manager
Free Software Foundation
+1 (617) 542 5942
licensing@fsf.org

Leah Woods
Founder & CEO
Minifree Ltd
+44 1268 857 837
info@gluglug.org.uk
###