Free Software Awards winners announced: Eli Zaretskii, Tad (SkewedZeppelin), GNU Jami
BOSTON, Massachusetts, USA -- Saturday, March 18, 2023 -- The Free Software Foundation (FSF) today announced the recipients of the 2022 Free Software Awards, which are given annually at the FSF's LibrePlanet conference to groups and individuals in the free software community who have made significant contributions to the cause for software freedom. This year's recipients of the awards are Eli Zaretskii, Tad (SkewedZeppelin), and GNU Jami. As LibrePlanet 2023 is a hybrid in-person and online conference this year, the ceremony was conducted both in person and virtually.
The winners in three categories, each recognizing exemplary achievements in the field of free software, are GNU Jami, Eli Zaretskii, and Tad (SkewedZeppelin).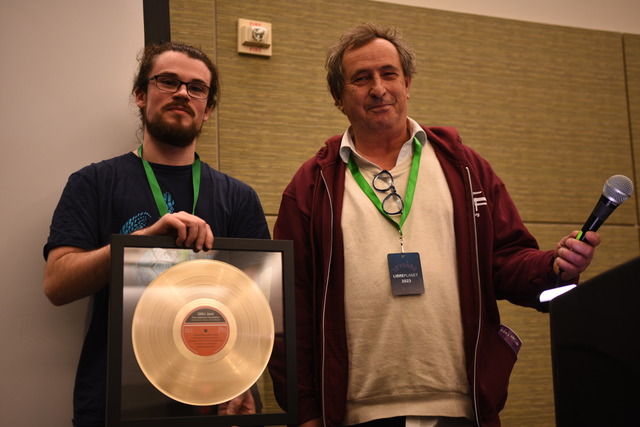 Eli Zaretskii was this year's winner of the Award for the Advancement of Free Software, which is an award given to an individual who has made a great contribution to the progress and development of free software through activities that accord with the spirit of free software. Zaretskii is currently co-maintainer of GNU Emacs, one of the flagship programs of the GNU operating system. He has been a contributor to Emacs for more than thirty years, and as co-maintainer, coordinates the work of more than two hundred active contributors. During Zaretskii's tenure as co-maintainer, the Emacs development community has implemented several important new features, including native compilation of the editor's Emacs Lisp backbone into machine code.
In his recorded message in honor of Zaretskii, Richard Stallman, original author of GNU Emacs and Chief GNUisance of the GNU Project said: "The first GNU package that we released, the first one that people actually started to use, was GNU Emacs in early 1985. For many years, I was the principal maintainer of GNU Emacs, but then others came along to do the work, and I haven't been heavily involved in Emacs development for many, many years. Nowadays, our principal maintainer of Emacs is extremely diligent and conscientious and has brought about a renaissance in new features and new packages added to Emacs, and the result is very impressive. So I'm happy to give the Free Software Award to Eli Zaretskii, principal maintainer of GNU Emacs. Thank you for your work."
In his recorded acceptance of the award, Zaretskii said, "The truth is my contribution to free software in general and to Emacs development in particular is quite modest, certainly compared to those who won this award before me. [..] And even my modest achievement as the Emacs developer and lately the co-maintainer would have been impossible without all the other contributors and the Emacs community as a whole. No significant free software project can be developed, maintained, and led forward without participation and support of its members. And Emacs is no exception."
The 2022 Award for Outstanding New Free Software Contributor went to Tad (SkewedZeppelin), chief developer of the DivestOS project. DivestOS is a fork of the nonfree Android mobile operating system that removes many proprietary binaries, and which puts freedom, security, and device longevity as its main concerns. Tad has also contributed to the Replicant distribution of Android, a project fiscally sponsored by the FSF. This is the fourth time this award has been given, following Protesilaos "Prot" Stavrou in 2022, Alyssa Rosenzweig in 2021, and Clarissa Lima Borges at LibrePlanet 2020.
In recognition of Tad's work, FSF executive director Zoë Kooyman said: "Projects like DivestOS are creating a path we hope many will follow and we thank Tad for this work as it paves the way through the treacherous proprietary mobile phone landscape."
Upon receiving the award, Tad said: "In the virtual community that has formed around it, along with the surrounding areas, I have strived to help users realize the importance of free software, and as such, I am grateful to the FSF for recognizing it. It establishes that I have made a dent, and I plan to continue to do so in these coming years. As a final note, I want to remind everyone to ultimately have fun, and not forget to enjoy our short lives on this ball hurling through space. Thank you."
GNU Jami was this year's winner of the Award for Project of Social Benefit, which is presented to a project or team responsible for applying free software, or the ideas of the free software movement, to intentionally and significantly benefit society. This award stresses the use of free software in service to humanity. GNU Jami is a free software videoconferencing tool that is fully decentralized and encrypted, allowing thousands around the world to communicate in both freedom and security. In contrast to proprietary conferencing programs like Zoom, which are nonfree software, Jami is an official GNU package licensed under the GNU GPLv3+.
Accepting the award was Cyrille Béraud and Sébastien Blin from the Jami team, who were in attendance at the awards ceremony held at the Boston Convention & Exhibition Center. Upon receiving the award, Béraud gave an overview of Jami's work and thanked the many Jami contributors, as well as the FSF.
LibrePlanet continues live and in person tomorrow, March 19. In the coming weeks after the conference, videos of talks will be available in the LibrePlanet video archives.
About the Free Software Foundation
The Free Software Foundation, founded in 1985, is dedicated to promoting computer users' right to use, study, copy, modify, and redistribute computer programs. The FSF promotes the development and use of free (as in freedom) software -- particularly the GNU operating system and its GNU/Linux variants -- and free documentation for free software. The FSF also helps to spread awareness of the ethical and political issues of freedom in the use of software, and its Web sites, located at fsf.org and gnu.org, are an important source of information about GNU/Linux. Donations to support the FSF's work can be made at https://donate.fsf.org. Its headquarters are in Boston, MA, USA.
More information about the FSF, as well as important information for journalists and publishers, is at https://www.fsf.org/press.
Media Contacts
Greg Farough
Campaigns Manager
Free Software Foundation
+1 (617) 542 5942
campaigns@fsf.org