Micky Metts
Micky Metts is an activist hacker, industry organizer, public speaker, connector, and visionary, as well as a member of Agaric, a worker-owned cooperative of Web developers.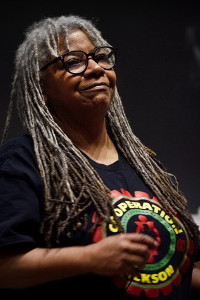 Name:

Micky Metts

Location:

Boston, MA

Company/Organization:

Project Contributions:

See description of current projects in this posting below. Micky aka Free Scholar also keynoted LibrePlanet 2019.
Protecting our privacy is the most important thing we can do to assure ourselves and others that our information is not used to track us, or to deny us access to services or employment. When data consumption and data breaches at large corporations are at an all-time high, organizations need to understand that using proprietary solutions for their customers and clients puts everyone at a great disadvantage.
Personal information has been used to deny people healthcare and to deny employment based on medical conditions or political beliefs. There are many ways your personal information can be used to deny access to education, and to deny freedom from surveillance. Some corporations buy data in bulk to learn more about their employees.
A good example would be that your employer finds out you may be pregnant because you bought a pregnancy test at a pharmacy that sells their data... and then terminates you immediately.
When your data or any information is shared with a corporation and stored in a proprietary system, you lose control over who has access to your information, and how it is distributed or used against you. If there is no transparency in the way data is used, and you do not have access to fully understand the system where your data is stored, you are blocked from knowing if your data is truly private. Using free software is a way to guarantee that you will have access to the inner workings of a system that holds your data.
Current projects
Currently, Agaric is working with the Office of Opportunity and Achievement Gaps Task Force, a department of Boston Public School system, to host an online Learning Management System (LMS), as schools will not be open for the summer, and possibly not even in the fall. The Free Software Foundation has put a few free software packages together to create a system using Canvas as the LMS and BigBlueButton as the video chat/whiteboard -- and we have been testing this system with great success!
We have added Drupal to the mix as the outer layer for building a school Web site around the LMS, so the result would be a Drupal school Web site with the online classroom built in.
Agaric has also partnered with the City of Cambridge, MA, to build Find It Cambridge, an online resource and opportunity locator serving city residents. We are designing and developing out in the open in a unique way, and releasing the software under a free software license, so that other cities can spin up their own Find It platforms.
Agaric is repurposing Find It as an Immigrant Navigator as well, using our Find It codebase to aid newly arrived people in locating resources. We are working with the Immigrant Family Services Institute in Boston. This platform will also be modified to become a COVID-19 resource center, and in the future, it will be repurposed to support the needs of recently incarcerated people by providing reentry resources for those who need help getting back into the community.