Nagarjuna G
by sdubois Contributions
—

Published on

Aug 10, 2010 12:19 PM
Nagarjuna G is a free software hacker and activist from India. Nagarjuna explains his views on the free software movement and how he uses free software in his everyday life.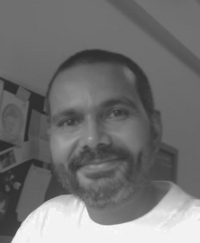 Name:

Nagarjuna G

Location:

Mumbai, India

Company/Organization:

A faculty member of Homi Bhabha Centre for Science Education, and Chairperson of FSF India.

Project Contributions:

Main preoccupations are to influence the open standards policy in India, spreading free software for education and research, contributing and maintaining the GNU project GNOWSYS. Currently coordinating the gnowledge.org project, a semantic web based free knowledge project.
"I look at the free software movement as a part of a bigger cultural freedom movement seeking the freedom to read (decode), write (encode) and execute (act). Just as the UNIX file system design has the three basic file permissions ( "rwx")
No human innovation could match digital technology in terms of the extent of disruption it can cause to human culture, with the exception of agriculture. Many of the potential changes are still unfolding.
Not sharing a resource that does not deplete by the act of sharing, such as knowledge, is one of the serious misfortunes of human evolution. I recently discovered that this is also part of ancient Indian wisdom (Please see http://gnowgi.org/2010/02/18/a-free-knowledge-verse).
The copyleft model of sharing software is a core idea invented by Richard Stallman, that will remain the best means of running the movement within an institutional or a governing social structure. Collaboration within free society cannot get a better assurance than the copyleft culture.
Last word: granting others the right to read, write and execute is your duty. And claiming them is your birth right. Never let others take away your fundamental human right to dream and stream!"