New LibrePlanet 2019 tees: explore new frontiers of free software
Every year the Free Software Foundation creates a new collectible T-shirt to celebrate another LibrePlanet conference, and this space-themed tee is one you won't want to miss. The LibrePlanet 2019 conference T-shirt design imagines this year's theme, "Trailblazing Free Software," as a space journey to unexplored frontiers, featuring a cute little spaceship zooming out of a wormhole filled with eerie green planetoids. Like this intrepid explorer, we have many new worlds of technology to discover, and we hope you'll join us on this very important voyage! (Not registered for LibrePlanet 2019 yet? Register now!)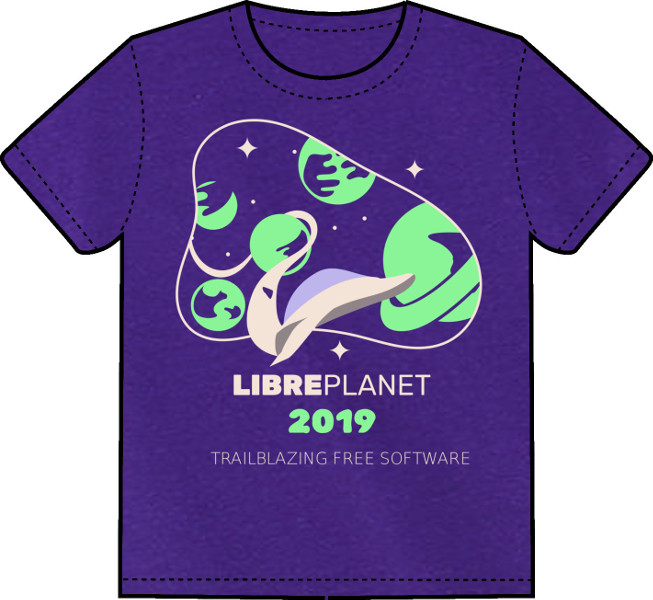 The space journey design is printed on a bold purple T-shirt made of soft, high-quality cotton. You can pre-order yours before Wednesday, March 20, at midnight, EDT, to collect at the conference: just place the order for your shirt here; on the order page, you'll find a coupon code to reserve your shirt for pick-up at the GNU Press booth at the conference with no shipping fee. If you're not attending, you can still preorder, and we will ship you your shirt after the conference (in April). Either way, you wind up with an eye-catching limited edition tee that is sure to start conversations about the universe of possibilities presented by free software.
LibrePlanet needs volunteers -- maybe you!
LibrePlanet's continued success is thanks to dozens of volunteers who help prepare for and run the conference. Volunteering is a great way to meet fellow community members and contribute to LibrePlanet, even if you can't attend in person! If you are interested in volunteering for LibrePlanet 2019, email resources@fsf.org. We thank all of our volunteers by offering them gratis conference admission, lunch, and a LibrePlanet T-shirt.
We're also still seeking sponsors and exhibitors for LibrePlanet 2019 -- for information on how your company can sponsor LibrePlanet or have a table in our exhibit hall, email campaigns@fsf.org.