Selena Deckelmann
by sdubois Contributions
—

Published on

Aug 13, 2010 10:27 AM
Selena Deckelmann of the PostgreSQL project, explains her involvement with free software and hew views towards community and collaboration.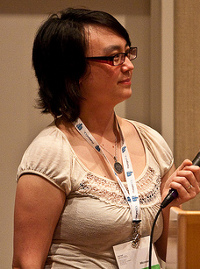 Name:

Selena Deckelmann

Location:

Portland, OR

Company/Organization:

Volunteer for PostgreSQL and employee at Emma Inc.

Project Contributions:

Portland PostgreSQL User Group (PDXPUG) founder
PostgreSQL Global Development Group User
Group Liaison and press contact
Open Source Bridge conference founder
unconference organizer, developer, speaker, author
"I work on Free Software because I believe that the ability to view, share and modify source code is an important freedom.
I also make a living off of my knowledge of PostgreSQL, a pretty sweet benefit!
Personal bonds (obligation, gratitude and friendship) between people are what motivates a group of volunteers to produce and maintain software. The people who work on PostgreSQL are my friends. We spend a lot of time working together, and learning about each others lives. There's nothing compelling people to fix bugs the way that they might for a job -- there's no boss and no financial incentive for many people.
My experience with developers in PostgreSQL is that they care very much about how well the software works, and I like working with people who care a lot about what they do. Life generally just seems more interesting and fun when there are people around me who are driven and capable, working toward a common goal.
I also just like people. They are quirky and full of surprises. Particularly in the free software world.
In the free software community be kind and praise early. And by all means, please report bugs! "
Photo copyright Aaron Hockley - Creative Commons Attribution 2.0