Pouhiou
Framasoft is a nonprofit popular educational organization, a group of friends convinced that an emancipatory digital world is possible, convinced that it will arise through actual actions in the real world and online with and for you!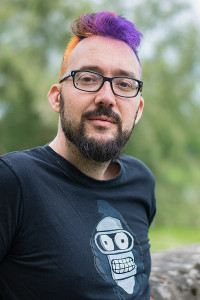 Name:

Pouhiou

Location:

France

Company/Organization:

Project Contributions:

Co-director Framasoft
"It's not about the software: it's about you." This is the phrase that I always use in conventions, when someone comes to Framasoft's table and asks me about free software. "So let's talk about your freedoms." That's what I love about the free software movement: we care about the people and their emancipation, so we make digital tools to empower both. I mean, I've never written a single line of code but I've been contributing to free software culture for many years just by writing words and talking with (beautiful) people! I work for the French not-for-profit organization Framasoft: this is where I've found a community where I belong and where I can thrive. Because behind all the digital tools that we make (being either a Massive Open Online Course (MOOC), a privacy-oriented hosters collective or a free and federated alternative to YouTube), we do our best not to forget to put humans first. If "code is law," free software developers are sharing the power to change the laws of our digital world which is otherwise framed by surveillance capitalism companies. With this power comes the responsibility to care, first and foremost for everyone who feels left behind, who feels like they don't belong in a GoogleTernet or a ZuckerWorld. So yes: caring is not easy. There is so much to think, such diversity to listen and care for. And yes, we will fail and learn and try to do better. Because caring is a journey, and like all journeys it starts with a first step.
By itself free software is not enough. But mixed with respect for privacy, user-oriented design and popular education, it is a corner stone. To me, and to Framasoft, free software is the first and essential step on the road where we can build digital tools that can change the world, one byte at a time.