Jim Garrett
Jim Garrett is a free software enthusiast and regular volunteer for the FSF and the LibrePlanet conference.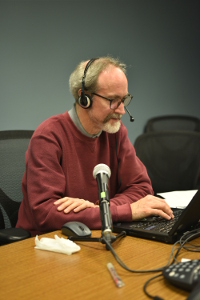 Name:

Jim Garrett

Location:

Melrose, Massachusetts (Boston area)

Company/Organization:

Novartis

Project Contributions:

No specific project, but I'm very interested in deploying free collaboration tools for community organizing.
I've found that it doesn't occur to most people that there exists an ethical dimension to software at all. To them, it's not a question of one mode being more ethical than another, it's thinking about ethics at all. Frankly I didn't see this clearly myself until attending the LibrePlanet conference some years ago.
I started using GNU/Linux in about 2000 because it was gratis and it filled a technical need; I quickly became aware of "open source" as a development paradigm but was not really struck by the urgency of software freedom as a human benefit. I moved to the Boston area in 2012; coincidentally I joined the FSF as a way to help contribute to the software I was using, and so of course it was very convenient to attend LibrePlanet. I really expected a lot of technical talks, which I had mixed feelings about because I'm not a programmer, but I thought what the heck, I'm here. I was astounded at how little there was that was purely technical and how much was devoted to the role of software in society. In particular hearing Luis Falcon speak on GNU Health made a big impression. I was very pleasantly surprised.