GNU Jami
Adrien Béraud and Sébastien Blin are two developers from the GNU Jami project, which won the 2022 Free Software Award for Projects of Social Benefit. They tell us about their reasons for writing free software, what motivates their work on GNU Jami, and why all software should be free.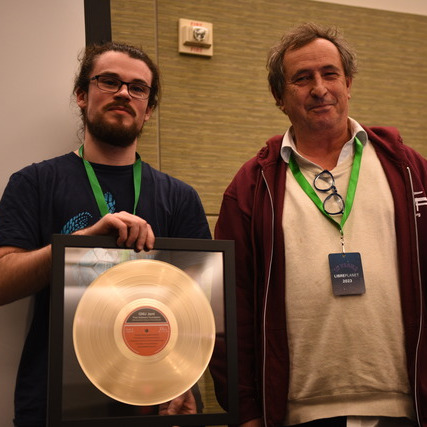 Name:

Adrien Béraud and Sébastien Blin

Location:

Lyon, France

Company/Organization:

Project Contributions:
FSF: Why should everyone be using free software?
Adrien Béraud: Using free software gives people and organizations the legal and technical tools required to be in control of their digital life. The importance of free software is made more important every day as major corporations concentrate always more power at the expense of people and democratic governments, as this sort of unjust control over software, protocols, and systems is increasingly used for mass control and exploitation at a societal level.
FSF: Why is community and sharing so important?
AB: A common, understandable bias among software developers is that we have a tendency to develop for ourselves rather than working for people. Connecting with potential or current users and stakeholders is of tremendous importance to understanding what people want and need from a piece of software. For instance, a blind person may give us feedback and advice that will help us make GNU Jami more accessible to visually impaired people. People living in dictatorships or repressive countries communicate with us to make sure GNU Jami is as useful as possible in these environments, etc.
In the other way, sharing our plans, goals, and vision as well as our source code with the community allows people to understand GNU Jami and (hopefully) to build long-term trust with developers.
Sharing GNU Jami under the free software license GPLv3+ makes GNU Jami, I believe, a common good. I also think that a successful free communication platform needs to be implemented as free software, allowing users to easily understand, verify, contribute to, and freely re-implement the protocol.
Sébastien Blin: And thanks to the community, this is how a project evolves and grows. A lot of ideas come from the community. In particular, the accessibility, packaging, and translations are improved thanks to the community. Sharing software with anyone is important to create something that matters for a lot of people. Using free software allows people to control their data and usage.
More info
An accompanying article was published as part of the FSF's Working Together series, which we highlighted as part of our 2023 Spring Fundraiser.