Felipe Sanches
by sdubois Contributions
—

Published on

Aug 06, 2010 02:10 PM
Felipe Sanches is a GNU project contributor and free software advocate from Brazil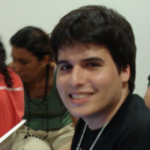 Name:
Felipe Corrêa da Silva Sanches
Location:
São Paulo, Brazil
Company/Organization:
Autonomous freelancer
Project Contributions:
Inkscape.org
UniversalSubtitles.org
GNU LibreDWG
LinuxLibre / LibreWRT
"I first heard of free software from a friend back in 2003 in my first year at university. Then I started to read Richard Stallman's articles and essays and I mostly agreed on his views about user autonomy and freedom to tinker with computers. I have spread the word about software freedom in my university for some time and a few years ago got myself involved in Inkscape development.
I feel that there is a lot of damage being done to society by proprietary software developers and I am happy to counter-attack this damage by providing a means for people to have full access to the knowledge that underlies the operation of their machines.
Sharing is by itself an important value. We should in general seek more generous practices in our daily lives. But other than that, sharing practices and community efforts are highly important in face of the very well orchestrated attacks against both individual and collective freedoms that we suffer (such as the aggressive spread and advertising of freedom-disabling tools). Getting together to reject those attacks and propose alternative tools and practices is a strategic move and we should all be aware of its importance.
There are many free software applications that I love. I would say that I most love the tools I use daily, such as Firefox, Pidgin, gnome-terminal, GCC and SSH."