Zerocat Chipflasher "board-edition-1" now FSF-certified to Respect Your Freedom
BOSTON, Massachusetts, USA -- Tuesday, May 15th, 2018 -- The Free Software Foundation (FSF) today awarded Respects Your Freedom (RYF) certification to the Zerocat Chipflasher board-edition-1. The RYF certification mark means that the product meets the FSF's standards in regard to users' freedom, control over the product, and privacy.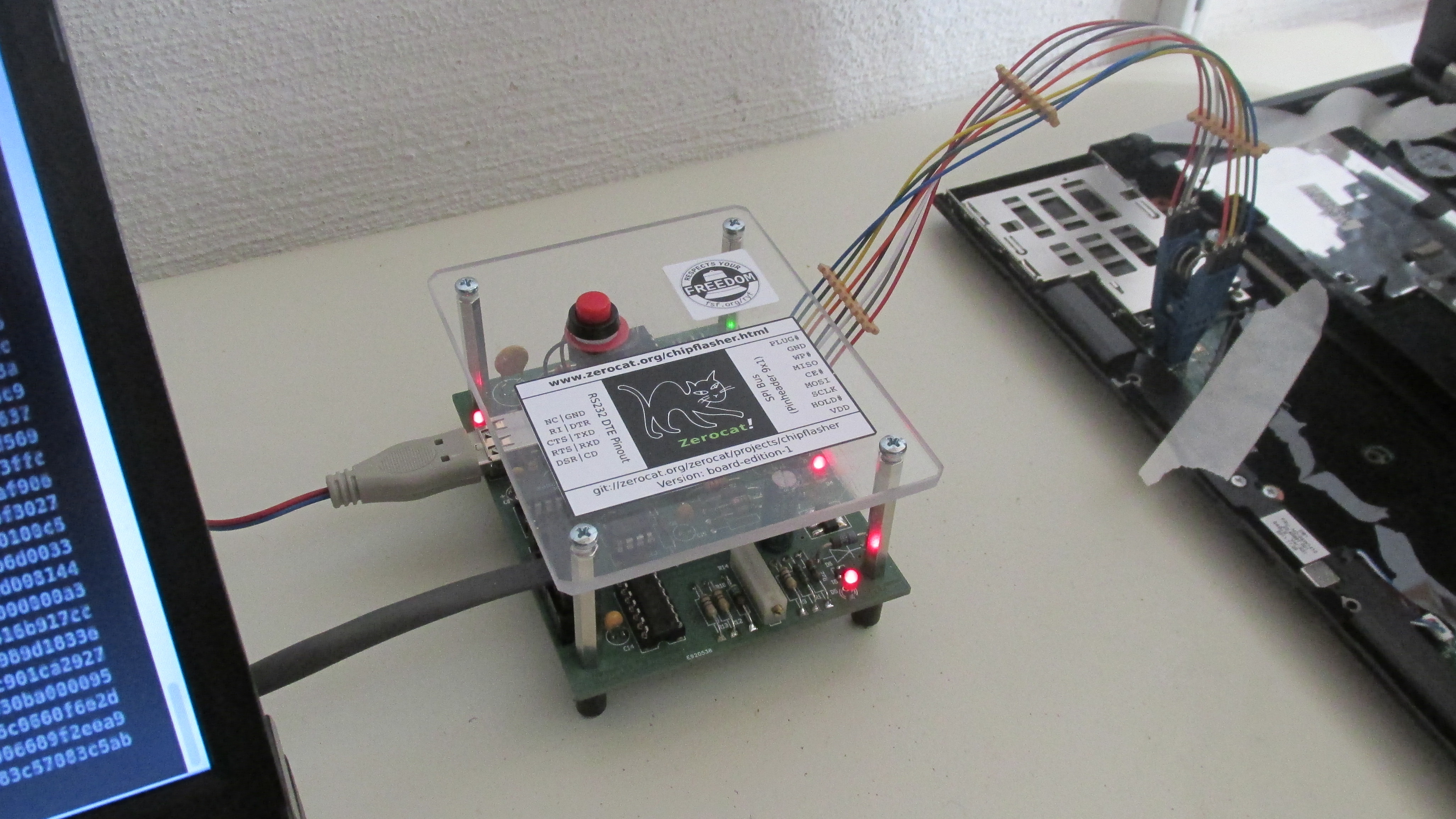 This is the first device under The Zerocat Label to receive RYF certification. The Chipflasher enables users to flash devices such as laptops, allowing them to replace proprietary software with free software like Libreboot. While users are able to purchase RYF-certified laptops that already come with Libreboot pre-loaded, for the first time ever they are capable of freeing their own laptops using an RYF-certified device. The Zerocat Chipflasher board-edition-1 is now available for purchase as a limited edition at http://www.zerocat.org/shop-en.html. These first ten limited edition boards are signed by Kai Mertens, chief developer of The Zerocat Label, and will help to fund additional production and future development of RYF-certified devices.
"The certification of the Zerocat Chipflasher is a big step forward for the Respects Your Freedom program. Replacing proprietary boot firmware is one of the first tasks for creating a laptop that meets RYF's criteria, and now anyone can do so for their own devices with a flasher that is itself RYF-certified," said the FSF's executive director, John Sullivan.
An RYF-certified flashing device could also help to grow the number of laptops available via the RYF program.
"When someone sets out to start their own business selling RYF-certified devices, they now have a piece of hardware they can trust to help them with that process. We hope to see even more laptops made available under the program, and having those laptops flashed with a freedom-respecting device will help to set those retailers on the right path from the start," said the FSF's licensing & compliance manager, Donald Robertson, III.
"Free software tools carry the inherent message 'Let's help our neighbors!', as this is basically the spirit of the licenses that these tools are shipped with. From a global perspective, we are all 'neighbors,' no matter which country. And from this point of view, I would be happy if the flasher will be regarded as a contribution towards worldwide cooperation and friendship," said Mertens.
To learn more about the Respects Your Freedom device certification program, including details on the certification of all these devices, please visit https://fsf.org/ryf.
Hardware sellers interested in applying for certification can consult https://www.fsf.org/resources/hw/endorsement/criteria.
About the Free Software Foundation
The Free Software Foundation, founded in 1985, is dedicated to promoting computer users' right to use, study, copy, modify, and redistribute computer programs. The FSF promotes the development and use of free (as in freedom) software -- particularly the GNU operating system and its GNU/Linux variants -- and free documentation for free software. The FSF also helps to spread awareness of the ethical and political issues of freedom in the use of software, and its Web sites, located at and , are an important source of information about GNU/Linux. Donations to support the FSF's work can be made at https://donate.fsf.org. Its headquarters are in Boston, MA, USA.
More information about the FSF, as well as important information for journalists and publishers, is at https://www.fsf.org/press.
About The Zerocat Label
The Zerocat Label has been set up in order to direct the focus on free design hardware development.
The development of free designs for hardware has many benefits. One of the most important is probably its capacity to conserve the Earth's resources, and those of people. When we share knowledge, we work towards global solutions instead of individual profits.
Our current approach is to check which free design computer chips are available today, and to start creating something useful with them, even if bigger goals remain out of reach at this time. Creating tools in a modular manner allows us to combine them and to achieve complex solutions in the future.
Our next tasks are to find an answer to questions like "What free-design tools do we need?" and "What are we able to accomplish right now?" We hope to be able to build other free-design tools of wide interest by answering those questions. It is an experimental endeavor.
Media Contacts
Donald Robertson, III Licensing and Compliance Manager Free Software Foundation +1 (617) 542 5942 licensing@fsf.org
Kai Mertens Chief Developer The Zerocat Label zerocat@posteo.de
Image Copyright 2018 Kai Mertens, Licensed under Creative Commons Attribution-ShareAlike 4.0.