Young hackers to deliver opening keynote for LibrePlanet conference
BOSTON, Massachusetts, USA -- Wednesday, March 4, 2020 -- The Free Software Foundation (FSF) today announced that the opening keynote for the LibrePlanet 2020 conference will be a panel of impressive young free software community members. The annual technology and social justice conference will be held in the Back Bay Events Center on March 14 and 15, 2020, with the theme "Free the Future."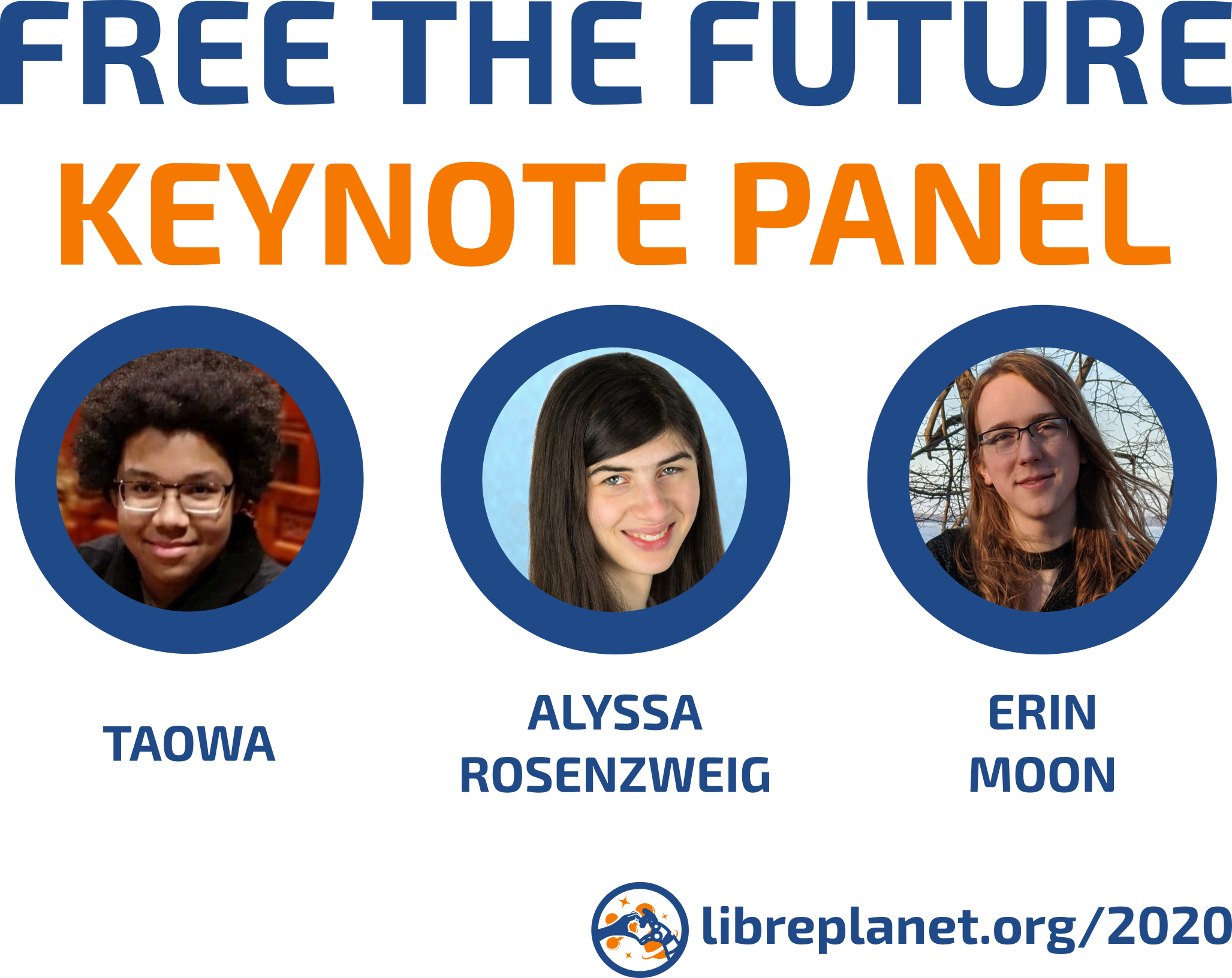 Online registration is open until March 10, 10:00am Eastern Daylight Time (14:00 UTC); and registration is possible at the event.
The panelists will be Alyssa Rosenzweig, a free software hacker working at Collabora, Taowa, a sysadmin, free software enthusiast, and the youngest (non-uploading) Debian developer, and Erin Moon, whose free software work has focused on federated social media software as a user, contributor, and maintainer.
Alyssa leads the Panfrost project to build a free graphics stack for Mali GPUs, and she is passionate about freedom. She has strong, pointed ideas on what the future of free software is supposed to look like: "Beyond abstract criteria, today's software has profound network effects and psychosocial implications. In the balance is more than software freedom, but also users' entire lives. The need for holistic, optimistic free software is greater than ever," she states.
Greg Farough, campaigns manager at the FSF and moderator of the panel, added: "The continued success of the free software movement depends on its youngest members, so it is time we give them a proper platform. This new generation of freedom-minded developers is incredibly talented, diverse, and forward-thinking. I am convinced they can accomplish everything they set out to do."
The keynote will touch on subjects like optimism in the face of adversity, the social impact of working in free software, and the effect of social change, broadening user bases, and bringing the free software movement beyond the Intel x86 processor architecture. Taowa is excited to weigh in: "A free future is an accessible one. Much like scientific progress is built on what's come before us, technological progress is built on the shoulders of our predecessors. A free present enables a free future, but it isn't going to build itself."
Erin is the developer behind Rustodon, a Mastodon-compatible ActivityPub server. To her, having the panel comment on the future of freedom is a way to represent the meta community of diverging projects. She says: "Together we shape the future of free software and its subcommunities: what projects are prominent, the public image of free software, our culture and social mores. Paneling with people whose work is vastly different from my own is exhilarating! While I'm excited to learn about others' technical work, I'm also connected to them by this meta-community: our shared experiences as people involved with free software."
The panel is the third confirmed keynote for LibrePlanet 2020. It follows the announcement of Brewster Kahle in January, and the more recent announcement of Public Lab's Shannon Dosemagen. The schedule features talks and workshops from a wide and international range of community members. Thousands of people have attended LibrePlanet over the years, both in person and remotely. The conference welcomes visitors from up to fifteen countries each year, with many more joining online. Hundreds of impressive free software speaker sessions from past LibrePlanet conferences, including keynote talks by Micky Metts, Edward Snowden, and Cory Doctorow, can be viewed in the conference's video library.
About LibrePlanet
LibrePlanet is the annual conference of the Free Software Foundation. Over the last decade, LibrePlanet has blossomed from a small gathering of FSF associate members into a vibrant multi-day event that attracts a broad audience of people who are interested in the values of software freedom. LibrePlanet 2020 will be held on March 14 and 15, 2020. To sign up for announcements about LibrePlanet 2020, visit the Web site. To discuss LibrePlanet topics or to get involved, join the discussion list.
Registration for LibrePlanet: "Free the Future" is open through March 10. Attendance is free of charge for FSF associate members and for students.
For information on how your company can sponsor LibrePlanet or have a table in our exhibit hall, email campaigns@fsf.org.
About the Free Software Foundation
The Free Software Foundation, founded in 1985, is dedicated to promoting computer users' right to use, study, copy, modify, and redistribute computer programs. The FSF promotes the development and use of free (as in freedom) software -- particularly the GNU operating system and its GNU/Linux variants -- and free documentation for free software. The FSF also helps to spread awareness of the ethical and political issues of freedom in the use of software, and its Web sites, located at https://www.fsf.org and https://www.gnu.org, are an important source of information about GNU/Linux. Donations to support the FSF's work can be made at https://donate.fsf.org. Its headquarters are in Boston, MA, USA.
MEDIA CONTACT
Zoë Kooyman
Program Manager
Free Software Foundation
+1 (617) 542 5942
info@fsf.org