ThinkPenguin VPN mini-router now FSF-certified to respect your freedom
BOSTON, Massachusetts, USA -- Thursday, March 10, 2016 -- The Free Software Foundation (FSF) today announces that it has awarded Respects Your Freedom (RYF) certification to the Free Software Wireless-N Mini Router (TPE-R1100) as sold by ThinkPenguin, Inc. The RYF certification mark means that the product meets the FSF's standards in regard to users' freedom, control over the product, and privacy.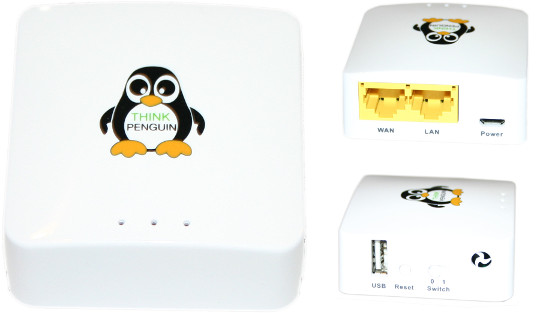 This is the fourth product and second router from ThinkPenguin to achieve RYF certification. The TPE-R1100, just like the TPE-NWIFIROUTER Wireless-N router that was certified in Sept. 2014, runs LibreCMC, an FSF-endorsed GNU/Linux distribution. The TPE-R1100 can be purchased from ThinkPenguin at https://ThinkPenguin.com/TPE-R1100.
The Free Software Wireless-N Mini Router is not intended to replace one's existing wifi router or modem. Instead, it connects to your existing router and provides a simple and inexpensive way to have multiple devices on your network all tunnel their traffic through a VPN service provider without having to configure each device individually. In the effort to make connecting to a VPN as simple as possible, users are given the option to purchase a VPN service with the router preconfigured to work with that service.
"In light of the ever growing number of attacks on civil liberties, privacy, and encryption, ThinkPenguin is excited to announce this privacy-enhancing product," said Christopher Waid, president of ThinkPenguin, Inc. "We've developed the Wireless-N Mini Router to make it easier for users to adopt privacy friendly VPN providers no matter what the user's level of technical expertise."
Purchasing a VPN subscription through ThinkPenguin is not required, and ThinkPenguin is creating detailed documentation to help users to configure their device to connect to the VPN service provider of their choice.
"One of the FSF's short term goals is that we can have at last one RYF certified product for each class of computing device that people use in their day-to-day lives. With this VPN-dedicated mini-router, we now have a way of encouraging people to enhance the security and privacy of each of their wireless-enabled RYF certified devices, which is especially useful for embedded devices not designed to run their own free software VPN client," said FSF's licensing & compliance manager, Joshua Gay.
Those purchasing the TPE-R1100 can choose to pay a little more to flash the latest version of LibreCMC, and the proceeds of that purchase will go toward supporting the development of LibreCMC.
To learn more about Respects Your Freedom hardware certification, including details on the certification of the TPE-R1100, visit https://www.fsf.org/ryf. Hardware sellers interested in applying for certification can consult https://www.fsf.org/resources/hw/endorsement/criteria.
Subscribers to the FSF's Free Software Supporter newsletter will receive announcements about future Respects Your Freedom products.
About the Free Software Foundation
The Free Software Foundation, founded in 1985, is dedicated to promoting computer users' right to use, study, copy, modify, and redistribute computer programs. The FSF promotes the development and use of free (as in freedom) software -- particularly the GNU operating system and its GNU/Linux variants -- and free documentation for free software. The FSF also helps to spread awareness of the ethical and political issues of freedom in the use of software, and its Web sites, located at fsf.org and gnu.org, are an important source of information about GNU/Linux. Donations to support the FSF's work can be made at https://donate.fsf.org. Its headquarters are in Boston, MA, USA.
More information about the FSF, as well as important information for journalists and publishers, is at https://www.fsf.org/press.
About ThinkPenguin, Inc
Started by Christopher Waid, founder and CEO, ThinkPenguin, Inc., is a consumer-driven company with a mission to bring free software to the masses. At the core of company is a catalog of computers and accessories with broad support for GNU/Linux. The company provides technical support for end-users and works with the community, distributions, and upstream projects to make GNU/Linux all that it can be.
Media Contacts
Joshua Gay
Licensing & Compliance Manager
Free Software Foundation
+1 (617) 542 5942
licensing@fsf.org

Media Inquires
ThinkPenguin, Inc.
+1 (888) 39 THINK (84465) x703
media@thinkpenguin.com

###