Sumana Harihareswara's keynote will close LibrePlanet 2017
CAMBRIDGE, Massachusetts, USA — Wednesday, January 25, 2017 — The Free Software Foundation (FSF) announced today that Sumana Harihareswara will be a keynote speaker at LibrePlanet, the annual free software conference, on Sunday, March 26th, 2017.
The annual free software conference will close on the evening of March 26th with Harihareswara discussing her experiences within free software and the things she has learned over the years, in a talk tentatively titled "Lessons, Myths, and Lenses: What I Wish I'd Known in 1998."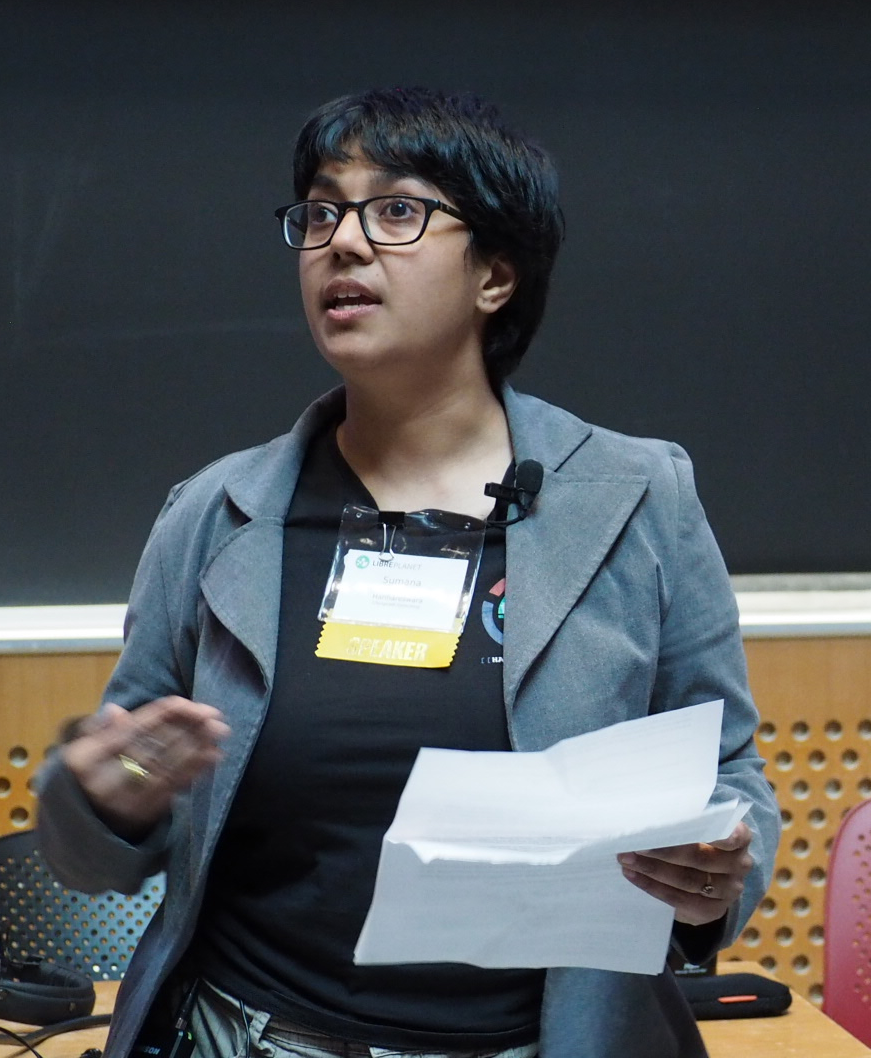 Photo of Sumana Harihareswara speaking at LibrePlanet 2016.
"Sumana's talk at LibrePlanet 2016 dealt with ways to make the free software community more welcoming, with humor, sharp insights, and deep conviction," said the FSF's Program Manager, Georgia Young. "We are very pleased to have her generous, thoughtful voice bring this year's conference to a close."
Sumana Harihareswara first started using GNU/Linux in the late 1990s. Since then, she has contributed to a number of projects (including GNOME, MediaWiki, Zulip, and GNU Mailman), and become a leader, speaker, and advocate for free software and communities. From 2014-2015, she served as a member of the Ada Initiative Board of Directors. Within the software industry, she has been a community manager, writer, and project manager, working with Collabora, GNOME, QuestionCopyright.org, Fog Creek Software, Behavior, and Salon.com.
Harihareswara is a veteran speaker, having delivered keynotes at Open Source Bridge, code4lib, and Wiki Conference USA. She has spoken at numerous conferences on a variety of topics, including PyCon and LibrePlanet, where, in 2016, she talked about the inessential weirdness in free software. Her stand-up comedy has been seen at AlterConf and science fiction conventions across America.
As a writer, her work appears on the website of her consultancy, Changeset Consulting, as well as her personal blog. She has written for numerous publications, including Crooked Timber, Geek Feminism, GNOME Journal, Linux World News, Model View Culture, Linux World News, GNOME Journal, The Recompiler, and Tor.com. In 2009, she co-edited and co-published the Thoughtcrime Experiments anthology with her spouse, who she met through Slashdot.
Harihareswara delivered a talk entitled "HTTP Can Do That?!" at PyCon2016 (you can download and watch this video without proprietary JavaScript using ytdl). At LibrePlanet 2016, she spoke on "The Inessential Weirdness in Free Software."
About LibrePlanet
LibrePlanet is the annual conference of the Free Software Foundation. Begun as a modest gathering of FSF members, the conference now is a large, vibrant gathering of free software enthusiasts, welcoming anyone interested in software freedom and digital rights. Registration is now open, and admission is gratis for FSF members and students.
For the fourth year in a row, LibrePlanet will be held at the Massachusetts Institute of Technology's (MIT) Stata Center in Cambridge, Massachusetts, on March 25th and 26th, 2017. Co-presented by the Free Software Foundation and MIT's Student Information Processing Board (SIPB), the rest of the LibrePlanet program will be announced soon. The opening keynote at LibrePlanet 2016 was a conversation between US National Security Agency whistle-blower Edward Snowden and the American Civil Liberties Union's Daniel Kahn Gillmor.
About the Free Software Foundation
The Free Software Foundation, founded in 1985, is dedicated to promoting computer users' right to use, study, copy, modify, and redistribute computer programs. The FSF promotes the development and use of free (as in freedom) software — particularly the GNU operating system and its GNU/Linux variants — and free documentation for free software. The FSF also helps to spread awareness of the ethical and political issues of freedom in the use of software, and its Web sites, located at fsf.org and gnu.org, are an important source of information about GNU/Linux. Donations to support the FSF's work can be made at https://donate.fsf.org. Its headquarters are in Boston, MA, USA.
More information about the FSF, as well as important information for journalists and publishers, is at https://www.fsf.org/press.
Media Contact
Georgia Young
Program Manager
Free Software Foundation
+1 (617) 542 5942
campaigns@fsf.org

The photo by Parker Higgins is licensed under a Creative Commons Attribution 4.0 International License, CC BY.