PRESS: Hardware hacker and academic Nadya Peek to keynote LibrePlanet 2021
BOSTON, Massachusetts, USA -- Tuesday, March 2, 2021 -- The Free Software Foundation (FSF) today announced digital fabrication expert and University of Washington assistant professor Nadya Peek as a keynote speaker for LibrePlanet 2021. The annual technology and social justice conference will be held online on March 20 and 21, 2021, with the theme "Empowering Users."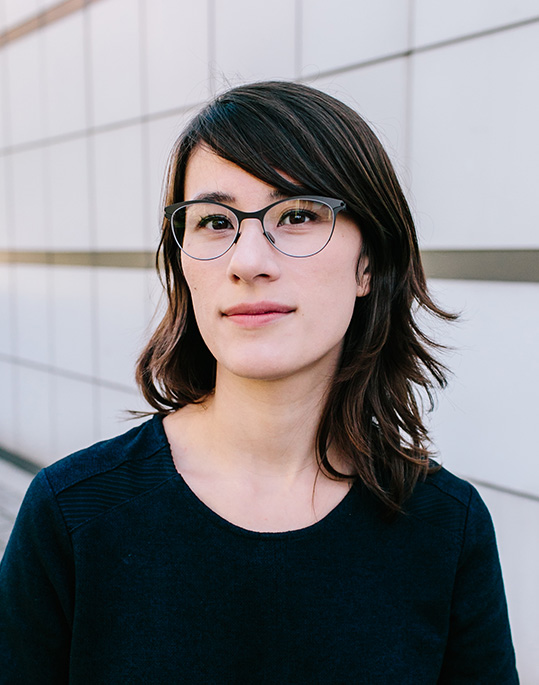 Nadya Peek develops unconventional digital fabrication and 3D printing tools, small scale automation, networked controls, and advanced manufacturing systems. Spanning electronics, firmware, software, and mechanics, her research focuses on harnessing the precision of machines for the creativity of individuals. LibrePlanet, which is the leading conference on free software technology and social justice, has "Empowering Users" as its annual theme.
In reference to the theme, Peek said, "User is a term that I often perceive negatively. This is because I strongly feel that I don't just 'use' things, but I configure, construct, and tailor them to my needs. I am partially empowered to do so through free software and hardware (though a little hacking and reversing doesn't hurt), and through the privilege of my educational background and experiences. I spend quite a bit of time thinking about how I can help others experience the world more like that: not as a user, but as a maker."
At this year's LibrePlanet conference, Peek will discuss the increasingly ambiguous dividing line between hardware and software, and how everyone can ensure that the physical tools created by digital fabrication methods are as hackable and reconfigurable as free software tools. On Peek's announcement as LibrePlanet 2021's third keynote speaker announcement, FSF program manager Zoë Kooyman stated, "Her work in human-centered design is exactly that: human-centered. Nadya Peek's research and work is guided by the powerful belief that machines, as well as the concept of automation itself, can be approached in a different way. By giving users access to all the pieces they could need to build a machine, she gives individuals the creative freedom to make or automate almost anything. It's empowering to the core and we're excited to learn more about her work."
Asked to comment on being selected to keynote at the LibrePlanet conference, Peek stated, "LibrePlanet has an amazing community. I like it when I'm the person in the room who knows the fewest FFmpeg [a popular free software multimedia encoder] flags by heart. I'm very excited to spend time together, albeit virtually during an extremely strange time."
Peek joins Nathan Freitas and Julia Reda as keynote speakers for this year's LibrePlanet. A full schedule will be announced in the coming days.
Like LibrePlanet 2020, LibrePlanet 2021 will be held remotely due to the novel coronavirus pandemic. As part of last year's conference, the FSF documented how it was able to carry on the conference's inspiring and intellectually stimulating sessions without abandoning its free software principles. Recorded sessions from past years of the conference are in the FSF's LibrePlanet video library, allowing those who couldn't attend at the time to learn about the principles and implementation of software freedom, software development, and from the experiences of both new and core members of the free software community.
About LibrePlanet
LibrePlanet is the annual conference of the Free Software Foundation. Over the last decade, LibrePlanet has blossomed from a small gathering of FSF associate members into a vibrant multi-day event that attracts a broad audience of people who are interested in the values of software freedom. LibrePlanet 2021 will be held remotely on March 20 and 21, 2021. To sign up for announcements about LibrePlanet 2021, visit the Web site. To discuss LibrePlanet topics or to get involved, join the discussion list.
Registration for LibrePlanet 2021: "Empowering Users" is open. Attendance at the Supporter level is free of charge for FSF associate members and students.
For information on how your company can sponsor LibrePlanet or participate in the virtual exhibit hall, email campaigns@fsf.org.
Keynotes at LibrePlanet 2020 included Internet Archive founder Brewster Kahle, Public Lab executive director Shannon Dosemagen, and a panel of young free software hackers: Alyssa Rosenzweig, Taowa, and Erin Moon.
About the Free Software Foundation
The Free Software Foundation, founded in 1985, is dedicated to promoting computer users' right to use, study, copy, modify, and redistribute computer programs. The FSF promotes the development and use of free (as in freedom) software -- particularly the GNU operating system and its GNU/Linux variants -- and free documentation for free software. The FSF also helps to spread awareness of the ethical and political issues of freedom in the use of software, and its Web sites, located at https://www.fsf.org and https://www.gnu.org, are an important source of information about GNU/Linux. Donations to support the FSF's work can be made at https://donate.fsf.org. Its headquarters are in Boston, MA, USA.
More information about the FSF, as well as important information for journalists and publishers, is at https://www.fsf.org/press.
MEDIA CONTACT
Zoë Kooyman
Program Manager
Free Software Foundation
+1 (617) 542 5942
campaigns@fsf.org

Photo Courtesy Nadya Peek