Taurinus X200 laptop now FSF-certified to respect your freedom
BOSTON, Massachusetts, USA -- Monday, September 28, 2015 -- The Free Software Foundation (FSF) today awarded Respects Your Freedom (RYF) certification to the Taurinus X200 laptop sold by Libiquity LLC. The RYF certification mark means that the product meets the FSF's standards in regard to users' freedom, control over the product, and privacy.
This is the first product of Libiquity to achieve RYF certification. The Taurinus X200 has the same architecture and certified software as the Libreboot X200, which was certified in January 2015. The Taurinus X200 can be purchased from Libiquity at https://shop.libiquity.com/product/taurinus-x200.
The Taurinus X200 is a refurbished and updated laptop based on the Lenovo ThinkPad X200, with all of the original low-level firmware and operating system software replaced. It runs the FSF-endorsed Trisquel GNU/Linux operating system and the free software boot system, Libreboot. Perhaps most importantly, all of Intel's Management Engine (ME) firmware and software has been removed from this laptop.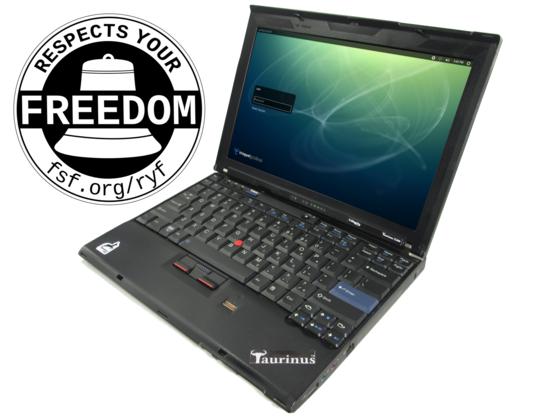 The FSF has previously written about Intel's ME, calling attention to how this proprietary software introduces a fundamental security flaw -- a back door -- into a person's machine that allows a perpetrator to remotely access the computer over a network. It enables powering the computer on and off, configuring and upgrading the BIOS, wiping the hard drives, reinstalling the operating system, and more. The functionality provided by the ME could be a very useful security and recovery measure, but only if the user has control over the software and the ability to install modified versions of it.
"With a rise in manufacturing of treacherous computing chips and each successive version of Intel's Management Engine becoming more treacherous than the last, it would seem that the public is being inundated with hardware that is defective by design. Therefore, it is refreshing to have companies like Libiquity making strong commitments to computer user freedom. The FSF is excited to be able to award the use of the RYF certification mark on yet another laptop," stated FSF's licensing & compliance manager, Joshua Gay.
Libiquity (a portmanteau of "liberty" and "ubiquity") defines its mission as "freedom everywhere, in personal electronics and embedded systems." In addition to providing hardware that respects your freedom, Libiquity also leads the development of ProteanOS, an FSF-endorsed distribution, and they work in partnership with and contribute to Libreboot.
"Libiquity is proud that its first hardware product, the Taurinus X200 subnotebook, has been certified by the FSF to respect its users' freedom and privacy. We are honored to be the first US company with an RYF-certified laptop product, and we look forward to further working with the FSF and the free software community to develop and offer additional freedom-respecting products and services in the future," stated founder and CEO, Patrick McDermott.
To learn more about the Respects Your Freedom hardware certification, including details on the certification of the Taurinus X200, visit http://www.fsf.org/ryf. Hardware sellers interested in applying for certification can consult http://www.fsf.org/resources/hw/endorsement/criteria.
Subscribers to the FSF's Free Software Supporter newsletter will receive announcements about future Respects Your Freedom products.
About the Free Software Foundation
The Free Software Foundation, founded in 1985, is dedicated to promoting computer users' right to use, study, copy, modify, and redistribute computer programs. The FSF promotes the development and use of free (as in freedom) software -- particularly the GNU operating system and its GNU/Linux variants -- and free documentation for free software. The FSF also helps to spread awareness of the ethical and political issues of freedom in the use of software, and its Web sites, located at fsf.org and gnu.org, are an important source of information about GNU/Linux. Donations to support the FSF's work can be made at https://donate.fsf.org. Its headquarters are in Boston, MA, USA.
More information about the FSF, as well as important information for journalists and publishers, is at https://www.fsf.org/press.
About Libiquity
Founded by CEO Patrick McDermott, Libiquity is a privately held New Jersey, USA company that provides world-class technologies which put customers in control of their computing. The company develops and sells electronics products, provides firmware and embedded systems services, and leads the development of the innovative and flexible ProteanOS embedded operating system. More information about Libiquity and its offerings can be found on its Web site at http://www.libiquity.com/.
Media Contacts
Joshua Gay
Licensing & Compliance Manager
Free Software Foundation
+1 (617) 542 5942
licensing@fsf.org

Patrick McDermott
Founder and CEO
Libiquity LLC
info@libiquity.com