New FSF online store
Order from a variety of FSF apparel, books and cuddly gnu toys!
After many years of hard work, the old FSF order form has been retired and replaced with a brand new web store, based on code from the Satchmo project.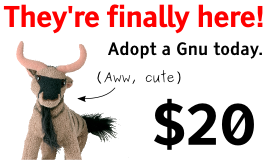 Thanks to Kelly Hopkins and Joshua Ginsberg for all their work on the new store.