Minifree Libreboot X200 Tablet now FSF-certified to Respect Your Freedom
BOSTON, Massachusetts, USA -- Wednesday, May 30th, 2018 -- The Free Software Foundation (FSF) today awarded Respects Your Freedom (RYF) certification to the Libreboot X200 Tablet, from Minifree Ltd. The RYF certification mark means that the product meets the FSF's standards in regard to users' freedom, control over the product, and privacy.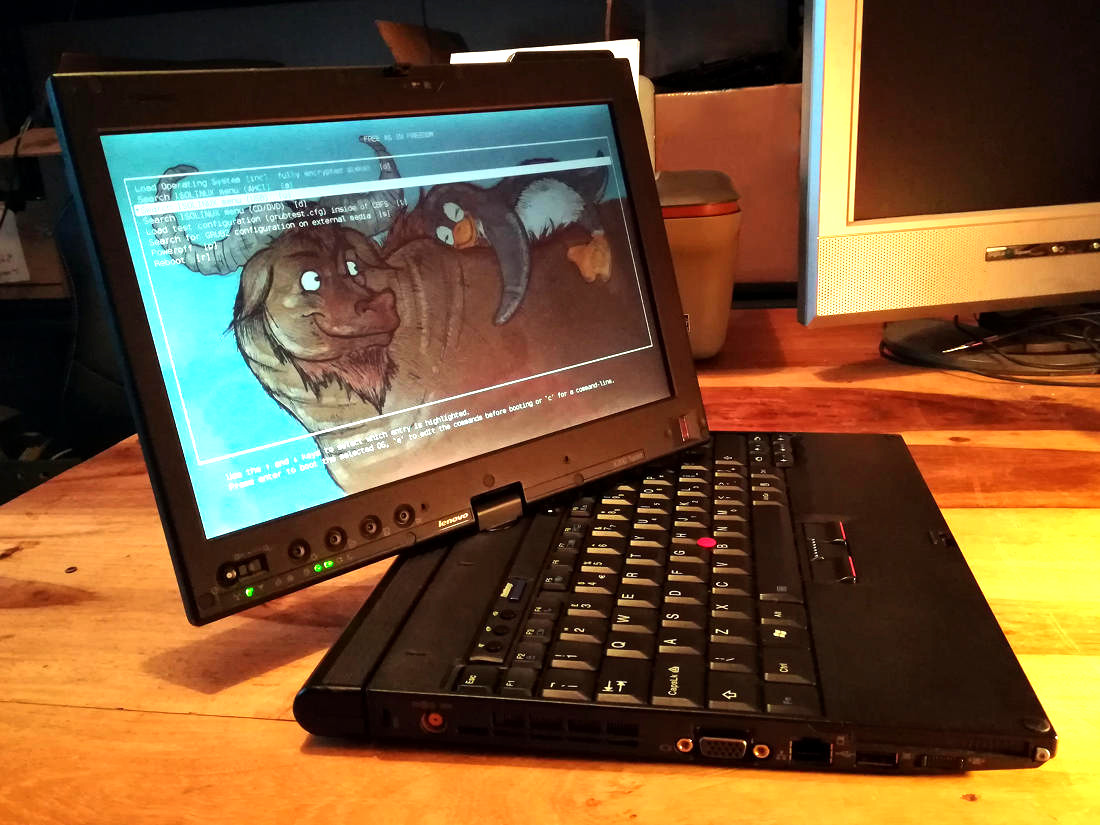 This is the third device from Minifree Ltd to receive RYF certification. The Libreboot X200 Tablet is a fully free laptop/tablet hybrid that comes with Trisquel and Libreboot pre-installed. The device is similar to the previously certified Libreboot X200 laptop, but with a built-in tablet that enables users to draw, sign documents, or make handwritten notes. Like all devices from Minifree Ltd., purchasing the Libreboot X200 Tablet helps to fund development of Libreboot, the free boot firmware that currently runs on all RYF-certified laptops. It may be purchased at https://minifree.org/product/libreboot-x200-tablet/, and comes with free technical support included.
"We need RYF-certified laptops of all shapes, sizes, and form factors, and for them to be available from multiple sources around the world so users have options. This is a welcome expansion of those options, as well as an opportunity for people to help unlock future possibilities by funding Libreboot development," said the FSF's executive director, John Sullivan.
"The Libreboot X200 Tablet is another great addition to the line-up of freedom respecting devices from Minifree, which has a long history of developing the software and tools that make RYF-certifiable devices possible," said the FSF's licensing & compliance manager, Donald Robertson, III.
"I'm happy that the FSF is now endorsing yet another Minifree product. Minifree's mission is to provide affordable, libre systems that are easy to use and therefore accessible to the public. Minifree's purpose is to provide funding to the Libreboot project, supporting it fully, and I'm delighted to once again cooperate with the FSF on this most noble goal," said Leah Rowe, Founder & CEO, Minifree Ltd.
To learn more about the Respects Your Freedom certification program, including details on the certification of the Libreboot x200 Tablet, please visit https://fsf.org/ryf.
Hardware sellers interested in applying for certification can consult https://www.fsf.org/resources/hw/endorsement/criteria.
About the Free Software Foundation
The Free Software Foundation, founded in 1985, is dedicated to promoting computer users' right to use, study, copy, modify, and redistribute computer programs. The FSF promotes the development and use of free (as in freedom) software -- particularly the GNU operating system and its GNU/Linux variants -- and free documentation for free software. The FSF also helps to spread awareness of the ethical and political issues of freedom in the use of software, and its Web sites, located at https://fsf.org and https://gnu.org, are an important source of information about GNU/Linux. Donations to support the FSF's work can be made at https://donate.fsf.org. Its headquarters are in Boston, MA, USA.
More information about the FSF, as well as important information for journalists and publishers, is at https://www.fsf.org/press.
About Minifree Ltd
Minifree Ltd, trading as Ministry of Freedom (formerly trading as Gluglug), is a UK supplier shipping worldwide that sells GNU/Linux-libre computers with the Libreboot firmware and Trisquel GNU/Linux-libre operating system pre-installed.
Libreboot is a free BIOS/UEFI replacement, offering faster boot speeds, better security, and many advanced features compared to most proprietary boot firmware.
Media Contacts
Donald Robertson, III
Licensing and Compliance Manager
Free Software Foundation
+1 (617) 542 5942
licensing@fsf.org

Leah Rowe
Founder & CEO
Minifree Ltd
+44 7442 425 835
info@gluglug.org.uk
Image Copyright 2018 Minifree Ltd, Licensed under Creative Commons Attribution-ShareAlike 4.0.