Libiquity Wi-Fri ND2H Wi-Fi card now FSF-certified to Respect Your Freedom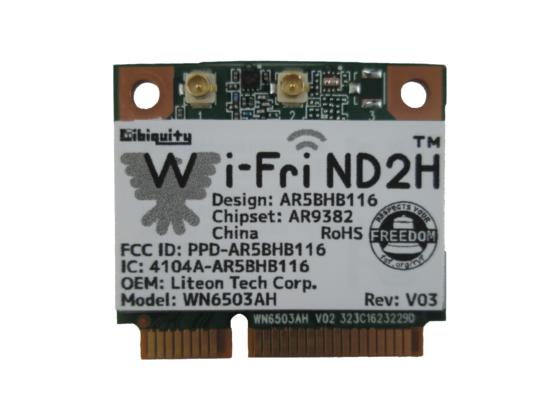 BOSTON, Massachusetts, USA -- Thursday, January 30, 2020 -- The Free Software Foundation (FSF) today awarded Respects Your Freedom (RYF) certification to the Libiquity dual-band 802.11a/b/g/n Wi-Fi card, from Libiquity LLC. The RYF certification mark means that Libiquity's distribution of this device meets the FSF's standards in regard to users' freedom, control over the product, and privacy.
Libiquity currently sells this device as part of its previously-certified Taurinus X200 laptop. Technoethical also offers the same hardware with their RYF-certified Technoethical N300DB Dual Band Wireless Card. With today's certification, Libiquity is able to sell the Libiquity Wi-Fri ND2H Wi-Fi card as a stand-alone product for the first time, and now has two RYF-certified devices available.
"In the years since first joining the RYF program, we at Libiquity have worked to improve and expand our catalog. For anyone looking to join distant or congested 2.4-GHz or 5-GHz wireless networks, the Wi-Fri ND2H is a great internal Wi-Fi card for laptops, desktops, servers, single-board computers, and more. Most importantly, in an era when more and more hardware disrespects your freedom, we're proud to offer a Wi-Fi card branded with the RYF logo on the product itself, as a trusted symbol of its compatibility with free software such as GNU Linux-libre," said Patrick McDermott, Founder and CEO, Libiquity LLC.
With this certification, the total number of RYF-certified wireless adapters grows to thirteen. The Libiquity Wi-Fri ND2H Wi-Fi card enables users to have wireless connectivity without having to rely on nonfree drivers or firmware.
"We are especially glad to see the certification mark printed directly on the product. While not a requirement of the program, this helps us get closer to the world we are aiming for, where people shopping can immediately and easily see what products are best for their freedom," said the FSF's executive director, John Sullivan.
Like other previously certified peripheral devices, the Libiquity Wi-Fri ND2H Wi-Fi card was tested using an FSF-endorsed GNU/Linux distro to ensure that it works using only free software. The device does not ship with any software included, as all the free software needed is already provided by fully free distributions.
"Expanding the availability of hardware that works with fully free systems like Trisquel GNU/Linux is always something to celebrate. It's great to see Libiquity offering this device as a stand-alone product so that users can customize and upgrade their own setup," said the FSF's licensing and compliance manager, Donald Robertson, III.
To learn more about the Respects Your Freedom certification program, including details on the certification of this Libiquity device, please visit https://ryf.fsf.org.
Retailers interested in applying for certification can consult https://ryf.fsf.org/about/vendors.
About the Free Software Foundation
The Free Software Foundation, founded in 1985, is dedicated to promoting computer users' right to use, study, copy, modify, and redistribute computer programs. The FSF promotes the development and use of free (as in freedom) software -- particularly the GNU operating system and its GNU/Linux variants -- and free documentation for free software. The FSF also helps to spread awareness of the ethical and political issues of freedom in the use of software, and its Web sites, located at https://fsf.org and https://gnu.org, are an important source of information about GNU/Linux. Donations to support the FSF's work can be made at https://donate.fsf.org. Its headquarters are in Boston, MA, USA.
More information about the FSF, as well as important information for journalists and publishers, is at https://www.fsf.org/press.

About Libiquity
Founded by CEO Patrick McDermott, Libiquity is a privately held New Jersey, USA company that provides world-class technologies which put customers in control of their computing. The company develops and sells electronics products, provides firmware and embedded systems services, and leads the development of the innovative and flexible ProteanOS embedded operating system. More information about Libiquity and its offerings can be found on its Web site at https://www.libiquity.com.
Media Contacts
Donald Robertson, III
Licensing and Compliance Manager
Free Software Foundation
+1 (617) 542 5942
licensing@fsf.org

Patrick McDermott
Founder and CEO
Libiquity LLC
info@libiquity.com