FSF announces new bounty program, offering "GNU Bucks" for finding nonfree works in free distributions
BOSTON, Massachusetts, USA -- Thursday, October 1, 2009 -- The Free Software Foundation (FSF) today announced that it will begin rewarding those who find and report any nonfree components in free software operating system distributions with public recognition and "GNU Bucks." The FSF maintains a list of guidelines covering what it means to be a free distribution, and endorses distributions that commit to meeting those guidelines.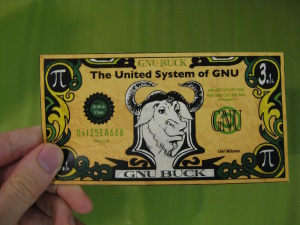 "By spurring users to find and report problems, this new awards program will help make sure that the FSF-endorsed free distributions of GNU/Linux stay really and truly free," said FSF executive director Peter Brown.
"Ever since we published the guidelines for what it takes to be a free system distribution, we have been looking for practical ways to deal with the issue of nonfree software that is accidentally included in these distributions -- steps that are within our means and the means of distribution maintainers. This new program does a good job of striking that balance," said FSF licensing compliance engineer Brett Smith.
Those qualifying for the award will receive a "GNU Buck" bank note, in the amount of pi and signed by Free Software Foundation president and "Chief GNUisance" Richard Stallman.
In order to qualify for the GNU Buck award, someone first submits a detailed, actionable report about nonfree materials in a free distribution to both the FSF and the maintainers of the distribution. If the report is confirmed, the person will receive an award and the option of public recognition. The FSF will also notify other free distributions to make sure they can address the issue as well.
The awards follow in the tradition of the checks written by legendary computer scientist Donald Knuth to anyone who found errors in his seminal textbook "The Art of Computer Programming." To receive a check was such an honor that they were more often displayed on office walls than cashed. (Knuth stopped writing actual checks in 2008 due to check fraud.)
A full explanation of the program is at http://www.gnu.org/help/gnu-bucks.html.
For more information on the FSF's criteria for classifying a distribution as free, see http://www.gnu.org/distros/free-system-distribution-guidelines.html. The full list of distributions meeting these criteria is published at http://www.gnu.org/distros/free-distros.html.
About the Free Software Foundation
The Free Software Foundation, founded in 1985, is dedicated to promoting computer users' right to use, study, copy, modify, and redistribute computer programs. The FSF promotes the development and use of free (as in freedom) software -- particularly the GNU operating system and its GNU/Linux variants -- and free documentation for free software. The FSF also helps to spread awareness of the ethical and political issues of freedom in the use of software, and its Web sites, located at fsf.org and gnu.org, are an important source of information about GNU/Linux. Donations to support the FSF's work can be made at http://donate.fsf.org. Its headquarters are in Boston, MA, USA.
About Free Software and Open Source
The free software movement's goal is freedom for computer users. Some, especially corporations, advocate a different viewpoint, known as "open source," which cites only practical goals such as making software powerful and reliable, focuses on development models, and avoids discussion of ethics and freedom. These two viewpoints are different at the deepest level. For more explanation, see http://www.gnu.org/philosophy/open-source-misses-the-point.html.
About the GNU Operating System and Linux
Richard Stallman announced in September 1983 the plan to develop a free software Unix-like operating system called GNU. GNU is the only operating system developed specifically for the sake of users' freedom. See http://www.gnu.org/gnu/the-gnu-project.html.
In 1992, the essential components of GNU were complete, except for one, the kernel. When in 1992 the kernel Linux was re-released under the GNU GPL, making it free software, the combination of GNU and Linux formed a complete free operating system, which made it possible for the first time to run a PC without non-free software. This combination is the GNU/Linux system. For more explanation, see http://www.gnu.org/gnu/gnu-linux-faq.html.
Media Contacts
Brett Smith
Licensing Compliance Engineer
Free Software Foundation
+1 (617) 542 5942
licensing@fsf.org
John Sullivan
Operations Manager
Free Software Foundation
+1 (617) 542 5942
campaigns@fsf.org
###