Global community rallies for International Day Against DRM
BOSTON, Massachusetts, USA -- Tuesday, May 6th, 2014 -- Today a wide variety of community groups, activist organizations and businesses are taking part in the 8th International Day Against DRM (DayAgainstDRM.org). The groups are united in envisioning a world without Digital Restrictions Management, technology that places arbitrary restrictions on what people can do with digital media, often by spying on them. As the largest anti-DRM event in the world, the International Day Against DRM is an important counterpoint to the pro-DRM message broadcast by powerful media and software companies. The Day is coordinated by Defective by Design (DefectiveByDesign.org), the anti-DRM campaign of the Free Software Foundation.
In addition to individuals taking action through DayAgainstDRM.org, nine organizations have let Defective by Design know they are participating, including three businesses offering sales on DRM-free media. Activists in Bangladesh, France and Turkey translated the International Day Against DRM HAZMAT suit graphics into their native languages. More groups are expected to join on the day itself.
The community free software organization FOSS Bangladesh is participating for their second year. They wrote:
"In 2013 we joined the global community and supported International Day Against DRM. We think that IT giants' use of DRM is very wrong. To expose such wrong actions we stood out on the road at the key point of University of Dhaka and were noticed by the next generation leaders of Bangladesh, the pupils of University of Dhaka... In 2014 we are doing an open session at Daffodil University with writers, poets, novelists, artists, musicians, university students and teachers, where we hope to educate people about DRM."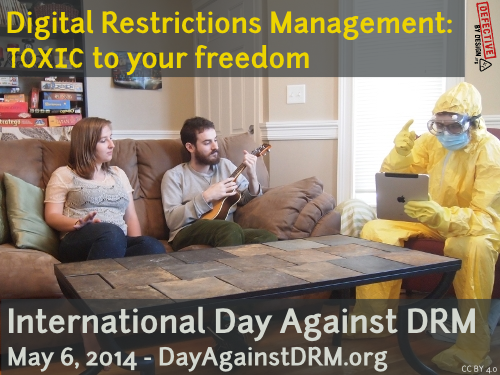 O'Reilly media, a major ebook publisher, is offering a steep discount on ebooks in celebration of the International Day Against DRM. They told Defective by Design:
"Having the ability to download files at your convenience, store them on all your devices, or share them with a friend or colleague as you would a print book or DVD is liberating, and is how it should be. At O'Reilly Media, we've always published our ebooks DRM free, following the advice of Lao Tzu, who said, 2500 years ago, 'Fail to honor people, they fail to honor you.'"
John Sullivan, executive director of the Free Software Foundation, said of the International Day Against DRM: "It's exciting to see people around the world taking a stand on an issue that is so often glossed over in the public discourse. Every coordinated event that happens makes it that much harder for the press to accept DRM as business-as-usual, and gets us closer to a future without it."
Individuals can participate with a variety of online and in-person actions on DayAgainstDRM.org, from media downloads to gatherings. To be part of Defective by Design's year-round anti-DRM campaigns, supporters can join the low-volume Action Alerts email list. Media stores, activist organizations and other groups interested in participating in the International Day Against DRM today or in 2015 should contact info@defectivebydesign.org.
Participating organizations
A number of groups are holding in-person events. For times and meeting places, see the LibrePlanet wiki.
In addition to Defective by Design, three activist organizations are publicly joining the Day Against DRM:
Three online stores are participating by offering DRM-free media:
About Defective By Design
Defective by Design is the Free Software Foundation's campaign against Digital Restrictions Management (DRM). DRM is the practice of imposing technological restrictions that control what users can do with digital media, creating a good that is defective by design. DRM requires the use of proprietary software and is a major threat to computer user freedom. It often spies on users as well. The campaign, based at defectivebydesign.org, organizes anti-DRM activists for in-person and online actions, and challenges powerful media and technology interests promoting DRM. Supporters can donate to the campaign at https://crm.fsf.org/civicrm/contribute/transact?reset=1&id=40.
About the Free Software Foundation
The Free Software Foundation, founded in 1985, is dedicated to promoting computer users' right to use, study, copy, modify, and redistribute computer programs. The FSF promotes the development and use of free (as in freedom) software -- particularly the GNU operating system and its GNU/Linux variants -- and free documentation for free software. The FSF also helps to spread awareness of the ethical and political issues of freedom in the use of software, and its Web sites, located at fsf.org and gnu.org, are an important source of information about GNU/Linux. Donations to support the FSF's work can be made at https://donate.fsf.org. Its headquarters are in Boston, MA, USA.
Media Contact
Zak Rogoff
Campaigns Manager
Free Software Foundation
(202) 489-6887
campaigns@fsf.org

###