Gift giving gnu advises shoppers to "give freely"
BOSTON, Massachusetts, USA -- Friday, December 20th, 2013 -- Yesterday, Free Software Foundation activists visited the Boston Apple store to raise awareness of more ethical alternatives for technology gifts. The activists were accompanied by a gnu (the free software movement's buffalo-like mascot) and sported Santa hats in the spirit of the season. Shoppers were surprised to see such an unusual Santa, and many took stickers and copies of the FSF's "Giving Guide," which contains tips for purchasing tech gifts that respect computer users' freedom, privacy and security.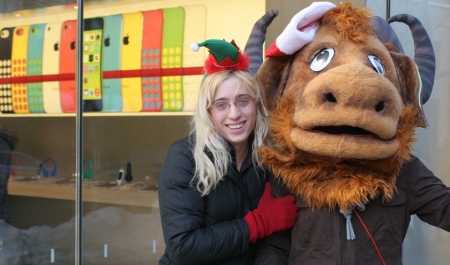 The Giving Guide, which is available online, suggests laptops, ebooks, 3D printers, and more gift ideas while discouraging shoppers from purchasing products with problems like proprietary software, hardware locked down with digital handcuffs, or ebooks that contain Digital Restrictions Management (DRM).
FSF executive director John Sullivan said, "This year we know it's not just Santa who's making a list--the NSA is watching you, too. Make sure that your holiday gift is free of back doors, security loopholes, and keeps your loved ones' personal information private. Our Giving Guide will help you choose alternatives to bad products like Windows 8 and Macbooks, and give you tips for moving towards software freedom."
The Boston Apple store is one the largest in the world. Apple is known as one of the world's worst patent aggressors, and its computers, tablets, and cell phones run on restrictive proprietary software.
The FSF asks supporters to keep their eyes peeled for more appearances by the gnu in coming months.
About the Free Software Foundation
The Free Software Foundation, founded in 1985, is dedicated to promoting computer users' right to use, study, copy, modify, and redistribute computer programs. The FSF promotes the development and use of free (as in freedom) software -- particularly the GNU operating system and its GNU/Linux variants -- and free documentation for free software. The FSF also helps to spread awareness of the ethical and political issues of freedom in the use of software, and its Web sites, located at fsf.org and gnu.org, are an important source of information about GNU/Linux. Donations to support the FSF's work can be made at https://donate.fsf.org. Its headquarters are in Boston, MA, USA.
About the GNU Operating System and Linux
Richard Stallman announced in September 1983 the plan to develop a free software Unix-like operating system called GNU. GNU is the only operating system developed specifically for the sake of users' freedom. See https://www.gnu.org/gnu/the-gnu-project.html.
In 1992, the essential components of GNU were complete, except for one, the kernel. When in 1992 the kernel Linux was re-released under the GNU GPL, making it free software, the combination of GNU and Linux formed a complete free operating system, which made it possible for the first time to run a PC without non-free software. This combination is the GNU/Linux system. For further explanation, see https://www.gnu.org/gnu/gnu-linux-faq.html.
Media Contacts
Zak Rogoff and Libby Reinish
Campaigns Managers
Free Software Foundation
+1 (617) 542 5942
campaigns@fsf.org