Free Software Wireless-N Mini Router v2 from ThinkPenguin, Inc. now FSF-certified to Respect Your Freedom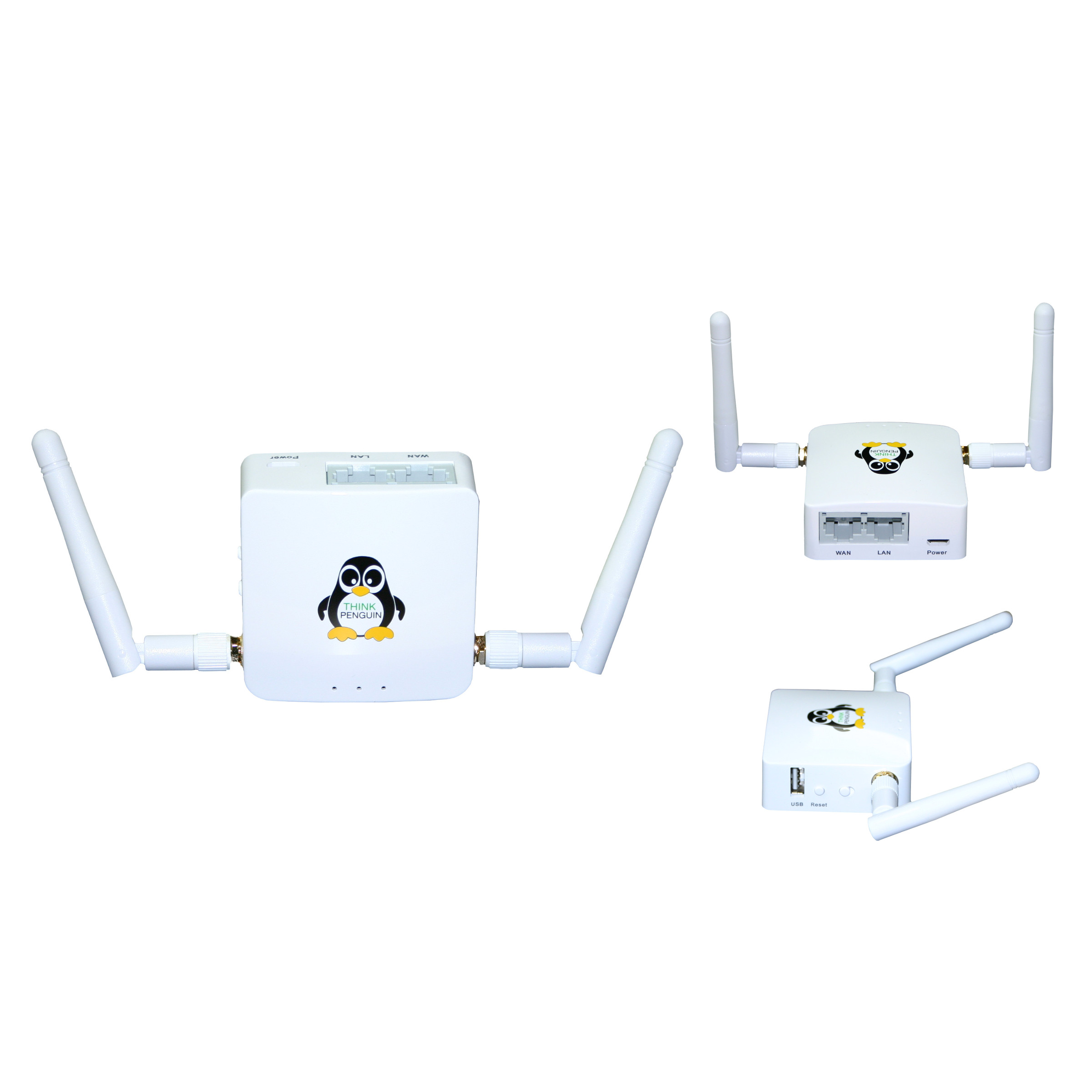 BOSTON, Massachusetts, USA -- Wednesday, September 25th, 2019 -- The Free Software Foundation (FSF) today awarded Respects Your Freedom (RYF) certification to the Free Software Wireless-N Mini Router v2 (TPE-R1200) from ThinkPenguin, Inc. The RYF certification mark means that these products meet the FSF's standards in regard to users' freedom, control over the product, and privacy.
This is ThinkPenguin's fourteenth device to receive RYF certification in 2019. The FSF announced certification of seven devices from ThinkPenguin on March 21st, as well as announcing six additional certifications on May 16th. ThinkPenguin continues to expand their collection of RYF-certified devices, already the largest collection of any RYF retailer. This is the first wireless router to receive RYF certification since the Free Software Wireless-N Mini Router (TPE-R1100) in 2016. This latest addition offers users several improvements over previously certified devices.
"The TPE-R1200 is a more powerful version of a previously RYF-certified router and ships with some new features, including two external RP-SMA antennas that provide for a greater wireless range. For those looking to hack on the router, there is a new, more powerful CPU, as well as significantly more NAND, NOR, and RAM," said Christopher Waid, founder and CEO of ThinkPenguin.
As with previous routers from ThinkPenguin, the Free Software Wireless-N Mini Router v2 ships with an FSF-endorsed fully free embedded GNU/Linux distribution called libreCMC. It also comes with a custom flavor of the U-Boot boot loader, assembled by the maintainer of libreCMC and former FSF intern Robert Call. The router enables users to run multiple devices on a network through a VPN service, helping to simplify the process of keeping their communications secure and private. While ThinkPenguin offers a VPN service, users are not required to purchase a subscription, and the device comes with detailed instructions on how to use the router with a wide variety of VPN providers.
"Protecting privacy is more important than ever. It's exciting to have an updated option for users seeking to shield their networks and their personal data," said the FSF's executive director, John Sullivan.
The first Free Software Wireless-N Mini Router served as an example case study in excellent free software license compliance for devices in Copyleft and the GNU General Public License: A Comprehensive Tutorial and Guide.
"ThinkPenguin continues its tradition of exemplary work with the latest edition of the router. It's great to have an organization like ThinkPenguin showing the world what is possible when it comes to offering freedom-respecting devices. They continue to raise the bar in terms of their dedication to offering products that meet the stringent criteria of the Respects Your Freedom certification program," said the FSF's licensing and compliance manager, Donald Robertson, III.
To learn more about the Respects Your Freedom certification program, including details on the certification of these ThinkPenguin devices, please visit https://fsf.org/ryf.
Retailers interested in applying for certification can consult https://www.fsf.org/resources/hw/endorsement/criteria.
About the Free Software Foundation
The Free Software Foundation, founded in 1985, is dedicated to promoting computer users' right to use, study, copy, modify, and redistribute computer programs. The FSF promotes the development and use of free (as in freedom) software -- particularly the GNU operating system and its GNU/Linux variants -- and free documentation for free software. The FSF also helps to spread awareness of the ethical and political issues of freedom in the use of software, and its Web sites, located at https://fsf.org and https://gnu.org, are an important source of information about GNU/Linux. Donations to support the FSF's work can be made at https://donate.fsf.org. Its headquarters are in Boston, MA, USA.
More information about the FSF, as well as important information for journalists and publishers, is at https://www.fsf.org/press.
About ThinkPenguin, Inc.
Started by Christopher Waid, founder and CEO, ThinkPenguin, Inc. is a consumer-driven company with a mission to bring free software to the masses. At the core of the company is a catalog of computers and accessories with broad support for GNU/Linux. The company provides technical support for end-users and works with the community, distributions, and upstream projects to make GNU/Linux all that it can be.
Media Contacts
Donald Robertson, III
Licensing and Compliance Manager
Free Software Foundation
+1 (617) 542 5942
licensing@fsf.org

ThinkPenguin, Inc.
+1 (888) 39 THINK (84465) x703
media@thinkpenguin.com