Free Software Gigabit Mini VPN Router (TPE-R1400) from ThinkPenguin, Inc. now FSF-certified to Respect Your Freedom
BOSTON, Massachusetts, USA -- Thursday, April 6, 2023 -- The Free Software Foundation (FSF) awarded Respects Your Freedom (RYF) certification to the Free Software Gigabit Mini VPN Router (TPE-R1400) from ThinkPenguin, Inc. The RYF certification mark means that this product meets the FSF's standards in regard to users' freedom, control over the product, and privacy.
TPE-R1400 is now RYF certified
This is ThinkPenguin's first device to receive RYF certification in 2023, adding to their vast catalogue of certified devices from previous years.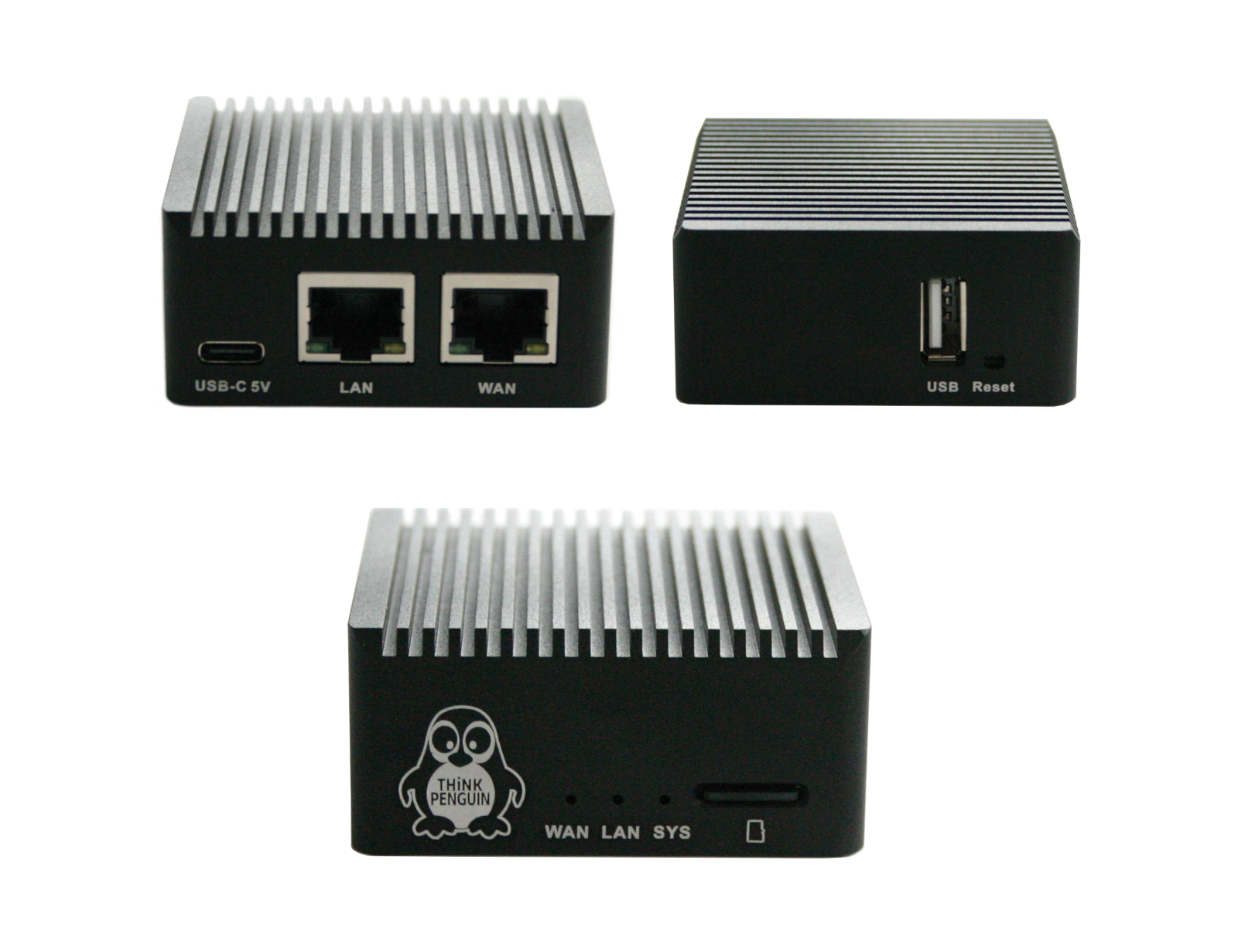 As with previous routers from ThinkPenguin, the Free Software Gigabit Mini VPN Router (TPE-R1400) ships with an FSF-endorsed fully free embedded GNU/Linux distribution called libreCMC. It also comes with a custom flavor of the U-Boot boot loader, assembled by Robert Call, the maintainer of libreCMC and a former FSF intern. The router enables users to run their network connection through a VPN service, helping to simplify the process of keeping their communications secure and private. While ThinkPenguin offers a VPN service, users are not required to purchase a subscription to their service in order to use the router, and the device comes with detailed instructions on how to use the router with a wide variety of VPN providers.
"We're pleased to see ThinkPenguin continue with their commitment to bringing out devices that put software freedom as their first priority under the RYF program. The release of this router shows that ThinkPenguin is committed to the privacy and freedom of their users," said the FSF's executive director, Zoë Kooyman.
The predecessor of the TPE-R1400, and original Free Software Wireless-N Mini Router from ThinkPenguin, served as a case study in excellent free software license compliance for devices in Copyleft and the GNU General Public License: A Comprehensive Tutorial and Guide.
"The latest version of ThinkPenguin's VPN router lets its users take advantage of gigabit per second Internet connections while protecting their rights and privacy," said FSF's copyright and licensing associate, Craig Topham.
To learn more about the Respects Your Freedom certification program, including details on the certification of these ThinkPenguin devices, please visit https://ryf.fsf.org.
Retailers interested in applying for certification can consult https://ryf.fsf.org/about/criteria/.
About the Free Software Foundation
The Free Software Foundation, founded in 1985, is dedicated to promoting computer users' right to use, study, copy, modify, and redistribute computer programs. The FSF promotes the development and use of free (as in freedom) software -- particularly the GNU operating system and its GNU/Linux variants -- and free documentation for free software. The FSF also helps to spread awareness of the ethical and political issues of freedom in the use of software, and its websites, located at https://fsf.org and https://gnu.org, are an important source of information about GNU/Linux. Donations to support the FSF's work can be made at https://donate.fsf.org. Its headquarters are in Boston, MA, USA.
More information about the FSF, as well as important information for journalists and publishers, is at https://www.fsf.org/press.
About ThinkPenguin, Inc.
Started by Christopher Waid, founder and CEO, ThinkPenguin, Inc. is a consumer-driven company with a mission to bring free software to the masses. At the core of the company is a catalog of computers and accessories with broad support for GNU/Linux. The company provides technical support for end-users and works with the community, distributions, and upstream projects to make GNU/Linux all that it can be.
Media Contacts
Craig Topham
Copyright and Licensing Associate
Free Software Foundation
+1 (617) 542 5942 licensing@fsf.org

ThinkPenguin, Inc.
+1 (888) 39 THINK (84465) x703
media@thinkpenguin.com

Photo Copyright © 2023 ThinkPenguin, Inc., licensed under the Creative Commons Attribution 4.0 International license.