Free Software Foundation submits comment to Copyright Office with over 1200 co-signers calling for end to DMCA anti-circumvention provisions
BOSTON, Massachusetts, USA -- Tuesday, March 8th, 2016 -- On March 3rd, 2016, the Free Software Foundation (FSF) submitted a comment along with over 1200 co-signers to the U.S. Copyright Office in response to its *Section 1201 Study: Notice and Request for Public Comment* in regards to the Digital Millennium Copyright Act's (DMCA) anti-circumvention provisions. These comments were submitted in person by FSF campaigns manager Zak Rogoff, as the Copyright Office refused to offer a means of electronic submission that did not require the use of proprietary JavaScript.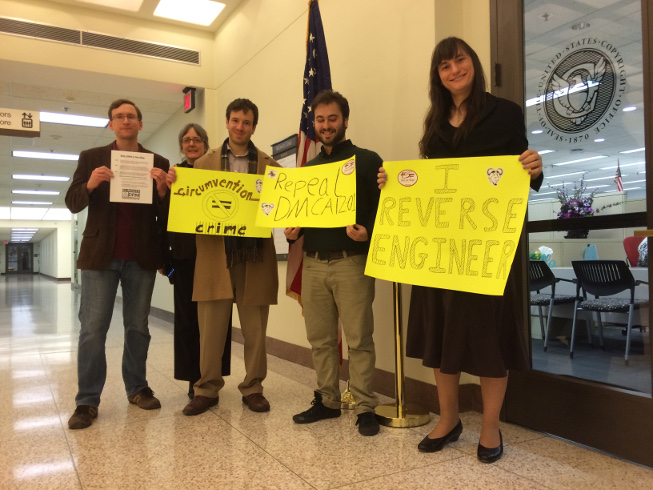 This work by Christi Vandermale is licensed under a Creative Commons Attribution 4.0 International License.
The Copyright Office was seeking comments in response to a request from Congress to study the effects of the DMCA's anti-circumvention provisions and the triennial exemptions process. The DMCA's anti-circumvention provisions create legal penalties for the circumvention of technologies that restrict access to copyrighted works, known as Digital Restrictions Management (DRM). It further criminalizes the sharing of tools needed to avoid DRM. The DMCA also set up a system where activists, academics and researchers may request that certain uses be exempted from the anti-circumvention provisions. Every three years they may submit a request to the Copyright Office that the circumvention of a particular type of work be free from the DMCA's penalties. Even when an exemption is granted, it expires three years later when the next round of the exemptions process begins, requiring repeated effort to maintain narrow exemptions.
In response, the FSF published a comment and called on people in the United States to co-sign that comment through its Defective By Design campaign to end the use of DRM. Over 1200 people in the United States heeded the call and co-signed the comment. In addition, the FSF asked users in the international community to advocate with their local governments about the dangers of DRM.
The FSF's comment detailed the damaging effects of DRM on all users, and called for the repeal of the DMCA's anti-circumvention provisions and to bring an end to the exemptions process. The comment explained how DRM is about the restriction of computer-users, not enforcing rights. DRM does not respect the rights of users, and gives the DRM implementer a degree of power not envisioned even under copyright law. It permits companies and governments to spy on users, prevent them from controlling their own computing, and abrogates users' rights to even legally permitted copying and modification of copyrighted materials. It interferes with the work of academics and librarians, preventing them from studying and archiving works. It prevents security researchers from discovering vulnerabilities and fraud, as was the case when Volkswagen used software to defeat emission control tests.
Given all the damage DRM causes, a law that enforces DRM and creates legal penalties for trying to avoid its harms is untenable. No system of exemptions can fix a fundamentally broken law.
"DRM is used to restrict and spy on users. Any use of DRM harms users, so no system of exemptions, no matter how perfectly run, can ever solve the problems the DMCA causes," said FSF's executive director, John Sullivan.
In addition to the comments, the FSF provided the Copyright Office with a letter calling for a mechanism to submit comments electronically without the use of proprietary software. Currently, comments submitted digitally to federal agencies that participate in the eRulemaking Program require submission via the Regulations.gov interface. This interface requires the use of JavaScript that is not freely licensed, meaning that it is proprietary software.
When software is proprietary, that means that some company or individual claims ownership of it, and through that ownership claim, imposes restrictions on users as to how they can or can't use the software. When the government requires citizens run such software, it is requiring that they accept the specific and arbitrary terms imposed by that company. The FSF's letter stresses that citizens should not be required to engage with any particular private company in order to participate in public proceedings, or use any governmental Web sites or network service.
Unlike other government agencies, the Copyright Office refused to accept comments even via the post. The Copyright Office is effectively denying all citizens the ability to communicate with their government. As such, the FSF was forced to hand-deliver the comment and signatures.
"This situation is completely unjust and the Copyright Office's behavior is simply reprehensible. No one should be forced to use proprietary software simply to communicate with their government. Hand-delivering documents to an office in Washington D.C. is not possible for the vast majority of people in this country. The Copyright Office and all government agencies must provide a way to submit comments that does not require proprietary software," said FSF's licensing and compliance manager, Joshua Gay.
About the Free Software Foundation
The Free Software Foundation, founded in 1985, is dedicated to promoting computer users' right to use, study, copy, modify, and redistribute computer programs. The FSF promotes the development and use of free (as in freedom) software -- particularly the GNU operating system and its GNU/Linux variants -- and free documentation for free software. The FSF also helps to spread awareness of the ethical and political issues of freedom in the use of software, and its Web sites, located at fsf.org and gnu.org, are an important source of information about GNU/Linux. Donations to support the FSF's work can be made at https://donate.fsf.org. Its headquarters are in Boston, MA, USA.
More information about the FSF, as well as important information for journalists and publishers, is at https://www.fsf.org/press.
About Defective By Design
Defective by Design is the Free Software Foundation's campaign against Digital Restrictions Management (DRM). DRM is the practice of imposing technological restrictions that control what users can do with digital media, creating a good that is defective by design. DRM requires the use of proprietary software and is a major threat to computer user freedom. It often spies on users as well. The campaign, based at defectivebydesign.org, organizes anti-DRM activists for in-person and online actions, and challenges powerful media and technology interests promoting DRM. Supporters can donate to the campaign at https://www.defectivebydesign.org/donate.
Media Contacts
Joshua Gay
Licensing and Compliance Manager
Free Software Foundation
+1 (617) 542 5942
licensing@fsf.org