Matthew Garrett, GNOME Foundation's Outreach Program for Women are Free Software Award winners
BOSTON, Massachusetts, USA — Saturday, March 22nd, 2014 — Free Software Foundation president Richard M. Stallman announced the winners of the FSF's annual Free Software Awards at a ceremony on Saturday, March 22nd, held during the LibrePlanet 2014 conference at MIT, in Cambridge, Massachusetts. Two awards were given: the Award for the Advancement of Free Software, and the Award for Projects of Social Benefit.
The Award for the Advancement of Free Software is given annually to an individual who has made a great contribution to the progress and development of free software, through activities that accord with the spirit of free software.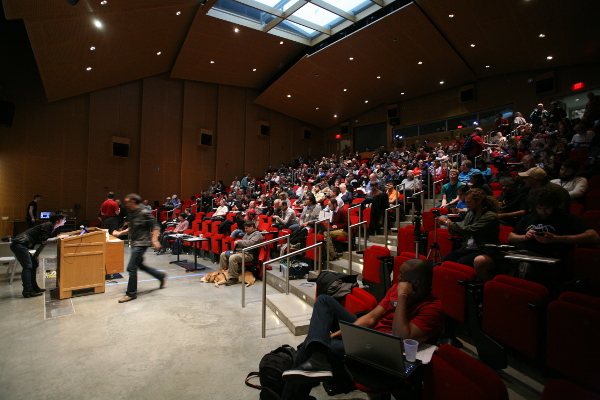 Audience members waiting for the talk
This year, it was given to Matthew Garrett, for his work to keep "Secure Boot" free software compatible.
One of Garrett's nominators said, "Matthew spent considerable efforts helping free software operating systems cope with the UEFI 'Secure Boot' debacle. He has also enhanced the UEFI support in those systems, both to fix bugs and to work around bugs in UEFI firmware. Matthew has led the charge to develop tools that allow users to make use of 'Secure Boot' themselves, installing their own keys and signing their own code. Finally, Matthew works with the industry organizations and companies who maintain UEFI to ensure that those standards can support free software. Even today, despite no longer working for a company that requires his work in that area, he continues to serve as a UEFI expert and debugger in his spare time."
Garrett said, "Free software has been a part of my life since I was a teenager. Growing up in an area with little interest in computing and limited internet access, having the freedom to examine and modify the source code to software was an important part of learning the skills I rely on today. Everyone deserves to be able to exercise the same freedoms that I benefited from, and I will continue to advocate for solutions that allow them to do so without compromising the security that recent events demonstrate is sorely required."
Garrett joins a distinguished list of previous winners, including the 2012 winner, Dr. Fernando Perez.
The Award for Projects of Social Benefit is presented to a project or team responsible for applying free software, or the ideas of the free software movement, in a project that intentionally and significantly benefits society in other aspects of life. This award stresses the use of free software in the service of humanity.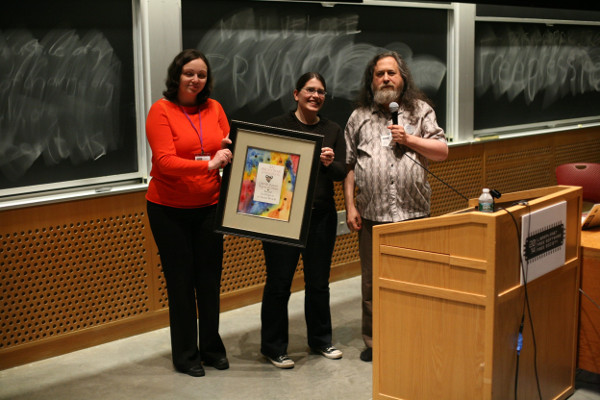 GNOME OPW winning the Award for Projects of Social Benefit
This year, the award went to the GNOME Foundation's Outreach Program for Women (OPW), which helps women (cis and trans) and genderqueer people get involved in free software development. OPW provides a supportive community for beginning to contribute throughout the year and offers focused internship opportunities twice a year with a number of free software organizations. Since 2010, OPW has provided 130 women with an opportunity to participate in paid remote internships with 23 free software organizations like Wikimedia, GNU MediaGoblin, and last year's winner, OpenMRS. OPW's work benefits society more broadly, addressing gender discrimination by empowering women to develop leadership and development skills in a society which runs on technology. OPW does this critical work using the ideals and collaborative culture of the free software movement.
One nomination for the program read, "[OPW] brings women into the free software movement who might otherwise not have become involved, either because they believed that they weren't welcome or that free software was just a 'boy's club.' Given the current number of women in the movement (approximately 2-5%), this project is introducing free software to a largely unreached population -- the world's women. "
Karen Sandler and Marina Zhurakhinskaya, co-organizers of OPW, were present to accept the award on behalf of OPW.
Zhurakhinskaya, a GNOME Foundation director and community engagement lead at Red Hat, which partners with GNOME to organize OPW, said, "We're honored to receive this award on behalf of the GNOME Foundation and proud that the FSF recognizes the importance of taking action to include more women."
Sandler, the GNOME Foundation's executive director, said, "We hope that this recognition inspires everyone to think about how to improve diversity in free software. We'd love it if you'd apply to participate, spread the word about the program, consider joining as an organization, or ask your company to sponsor."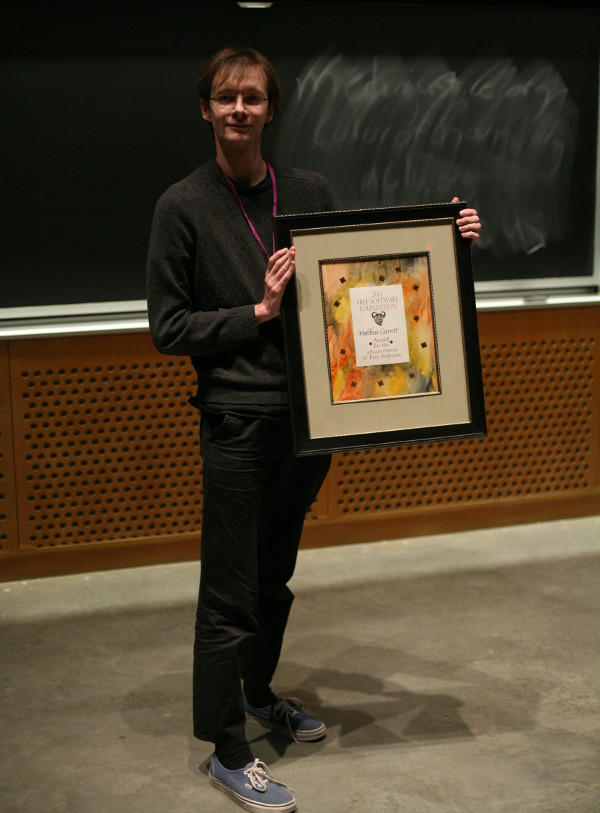 Matthew Garrett with his award
Nominations for both awards are submitted by members of the public, then evaluated by an award committee composed of previous winners and FSF founder and president Richard Stallman. This year's award committee was: Rob Savoye, Wietse Venema, Richard Stallman, Suresh Ramasubramanian, Vernor Vinge, Hong Feng, Fernanda G. Weiden, Harald Welte, Vernor Vinge, Jonas Oberg, and Yukihiro Matsumoto.
More information about both awards, including the full list of previous winners, can be found at https://www.fsf.org/awards.
About the Free Software Foundation
The Free Software Foundation, founded in 1985, is dedicated to promoting computer users' right to use, study, copy, modify, and redistribute computer programs. The FSF promotes the development and use of free (as in freedom) software -- particularly the GNU operating system and its GNU/Linux variants -- and free documentation for free software. The FSF also helps to spread awareness of the ethical and political issues of freedom in the use of software, and its Web sites, located at fsf.org and gnu.org, are an important source of information about GNU/Linux. Donations to support the FSF's work can be made at https://donate.fsf.org. Its headquarters are in Boston, MA, USA.
Media Contacts
John Sullivan
Executive Director
Free Software Foundation
+1 (617) 542 5942
campaigns@fsf.org

Photos under CC BY 3.0 Attribution by Tristan Chambers.