PRESS: Copyright reform activist Julia Reda to keynote FSF's LibrePlanet, March 20 & 21, 2021
BOSTON, Massachusetts, USA -- November 11, 2020 -- The Free Software Foundation (FSF) today announced Julia Reda as its first confirmed keynote speaker for LibrePlanet 2021. The annual technology and social justice conference will be held online on March 20 and 21, 2021, with the theme "Empowering Users." Registration will open soon.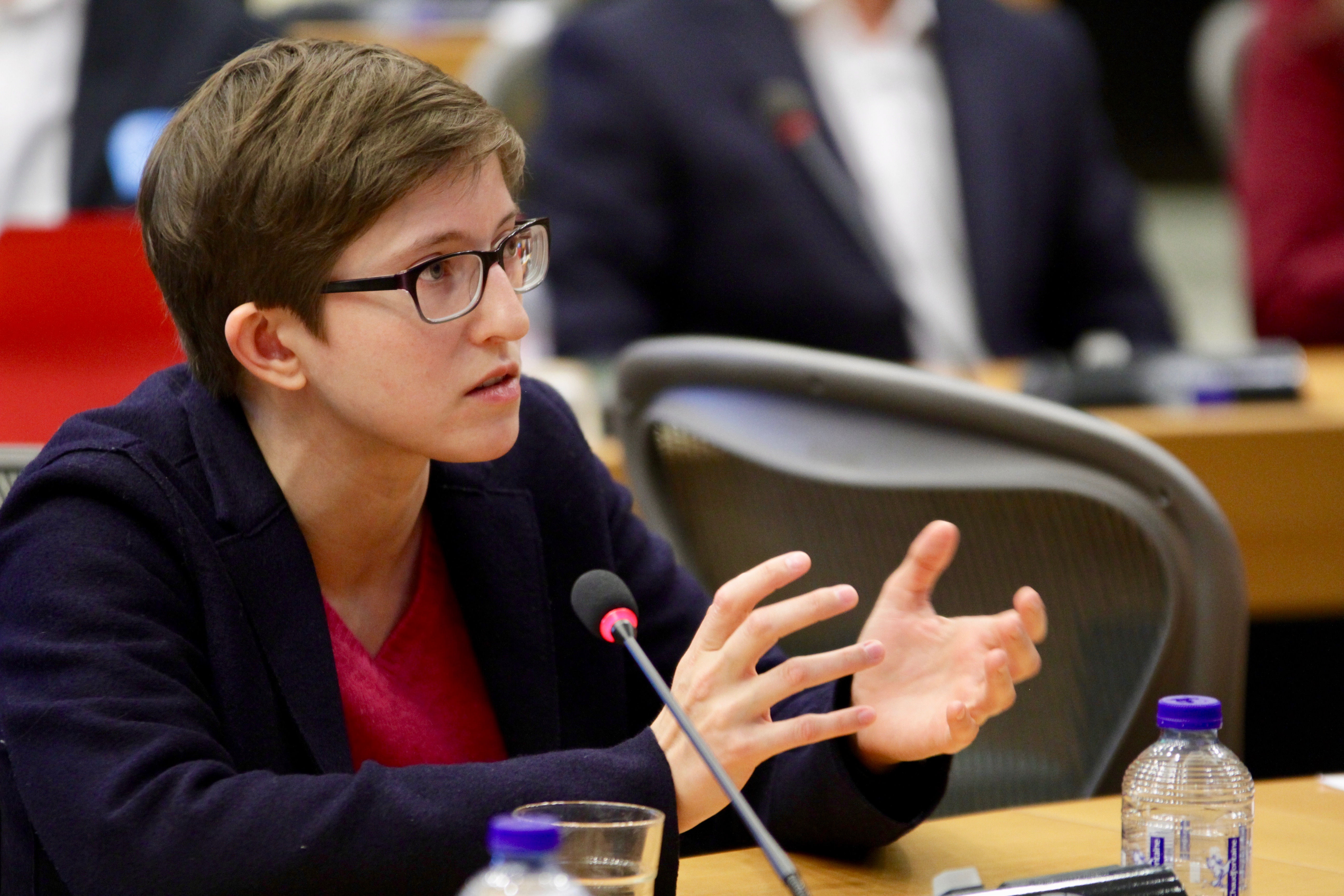 Julia Reda is the first keynote to be confirmed for the 2021 edition of the LibrePlanet conference. Reda is a former European Parliament member who is well known for her work on copyright reform and net neutrality. She is an affiliate at the Berkman Klein Center for Internet & Society at Harvard University, and a Shuttleworth Foundation fellow. Currently, Julia Reda leads the fundamental rights litigation project "control ©" at the German Society for Civil Rights.
Reda will discuss the need for public funding for free software projects from different governments around the world. She notes, "The recent decision by Trump to defund the Open Technology Fund has highlighted the dangers of a public funding landscape for public interest technology that relies too heavily on a single government, whose priorities could change rapidly at any time." Reda believes funding should be decentralized to avoid single points of failure, and is currently working on establishing a European or German framework for free (as in freedom) technology funding.
Zoë Kooyman, program manager for the FSF, said, "Julia Reda's work on copyright reform has been a welcome relief to the restrictive and clouded views that digital copyright laws have taken over the years. She is able to translate these often complicated subjects of copyright and net neutrality for any audience effectively, and gets people actively involved. Her experience is vital to understanding how we should look at the roles of free software and government."
LibrePlanet is organized by the FSF, and will be held on March 20 and 21, 2021. Due to the continued threat of COVID-19 for in-person events for the next year, LibrePlanet 2021 will be an online event; the silver lining to the inability to gather in Boston is that speakers and audiences all over the globe will have greater opportunities to participate. FSF executive director John Sullivan said, "We miss seeing people in person and hearing their stories, but we need to be sensible. By deciding to take the event online with much more advance notice than the 2020 edition, we are creating a new opportunity to make this a truly global experience, with speakers and viewers who could not normally attend because of their location."
Speakers can submit their talks for a few more days, until November 16, 12:00 EST (17:00 UTC). The organization will open attendee registration later this month.
The theme for the 2021 event is Empowering Users. "The theme is motivated by the coronavirus," said Zoë Kooyman, program manager of the FSF. "We saw people all over the world stand up for their right to share resources to help provide personal protection globally, as well as community members who took matters into their own hands when it came to protecting themselves or their children from being subjected to proprietary software in remote education. This was profoundly inspiring, and we hope to see more of these stories at the event." According to Reda, the theme is timely, "In a time when most of our social interactions, our work, and our policy debates take place online, the free software community is more important than ever to ensure individual autonomy and empowerment."
The full conference schedule is due to be released in January 2021. Thousands of people have attended LibrePlanet over the years, both in person and remotely. Hundreds of impressive free software speaker sessions, including keynote talks by Sumana Harihareswara, Edward Snowden, and Cory Doctorow, can be viewed on the conference's MediaGoblin instance, in anticipation of further program announcements.
About LibrePlanet
LibrePlanet is the annual conference of the Free Software Foundation. Over the last decade, LibrePlanet has blossomed from a small gathering of FSF associate members into a vibrant multi-day event that attracts a broad audience of people who are interested in the values of software freedom. LibrePlanet 2021 will be held on March 20 and 21, 2021. To sign up for announcements about LibrePlanet 2021, visit the Web site. To discuss LibrePlanet topics or to get involved, join the discussion list.
Speakers can submit a session for LibrePlanet: Empowering Users until the deadline Monday, November 16. 12:00 EST (17:00 UTC). Attendance is free of charge for FSF associate members and students. Registration will be required for all attendees and will open later this month.
For information on how your company can sponsor LibrePlanet or be present in our online exhibit hall, email campaigns@fsf.org.
LibrePlanet 2020 was also held online due to the coronavirus. Keynote speakers at LibrePlanet: Free the Future were Internet archivist, digital librarian, and Internet Hall of Famer Brewster Kahle; Shannon Dosemagen, co-founder of Public Lab; and a panel with three young hackers; Alyssa Rosenzweig, a free software hacker, and former FSF intern doing amazing things in the world of free graphics drivers; Taowa, a sysadmin, free software enthusiast. and the youngest (non-uploading) Debian developer; and Erin Moon, whose free software work has focused on federated social media software as a user, contributor, and maintainer.
About the Free Software Foundation
The Free Software Foundation, founded in 1985, is dedicated to promoting computer users' right to use, study, copy, modify, and redistribute computer programs. The FSF promotes the development and use of free (as in freedom) software -- particularly the GNU operating system and its GNU/Linux variants -- and free documentation for free software. The FSF also helps to spread awareness of the ethical and political issues of freedom in the use of software, and its Web sites, located at https://fsf.org and https://gnu.org, are an important source of information about GNU/Linux. Donations to support the FSF's work can be made at https://donate.fsf.org. Its headquarters are in Boston, MA, USA.
More information about the FSF, as well as important information for journalists and publishers, is at https://www.fsf.org/press.
MEDIA CONTACT
Zoë Kooyman
Program Manager
Free Software Foundation
+1 (617) 542 5942
campaigns@fsf.org

Photo https://juliareda.eu/. Public domain.