Artist collective Hundred Rabbits to keynote LibrePlanet: "Living Liberation"
BOSTON, Massachusetts, USA -- Monday, January 31, 2022 -- The Free Software Foundation (FSF) today announced Hundred Rabbits will join LibrePlanet 2022 as keynote speakers. The annual technology and social justice conference will be held virtually on March 19 and 20, 2022, with the theme "Living Liberation."
Hundred Rabbits
Attendees can register at libreplanet.org/2022.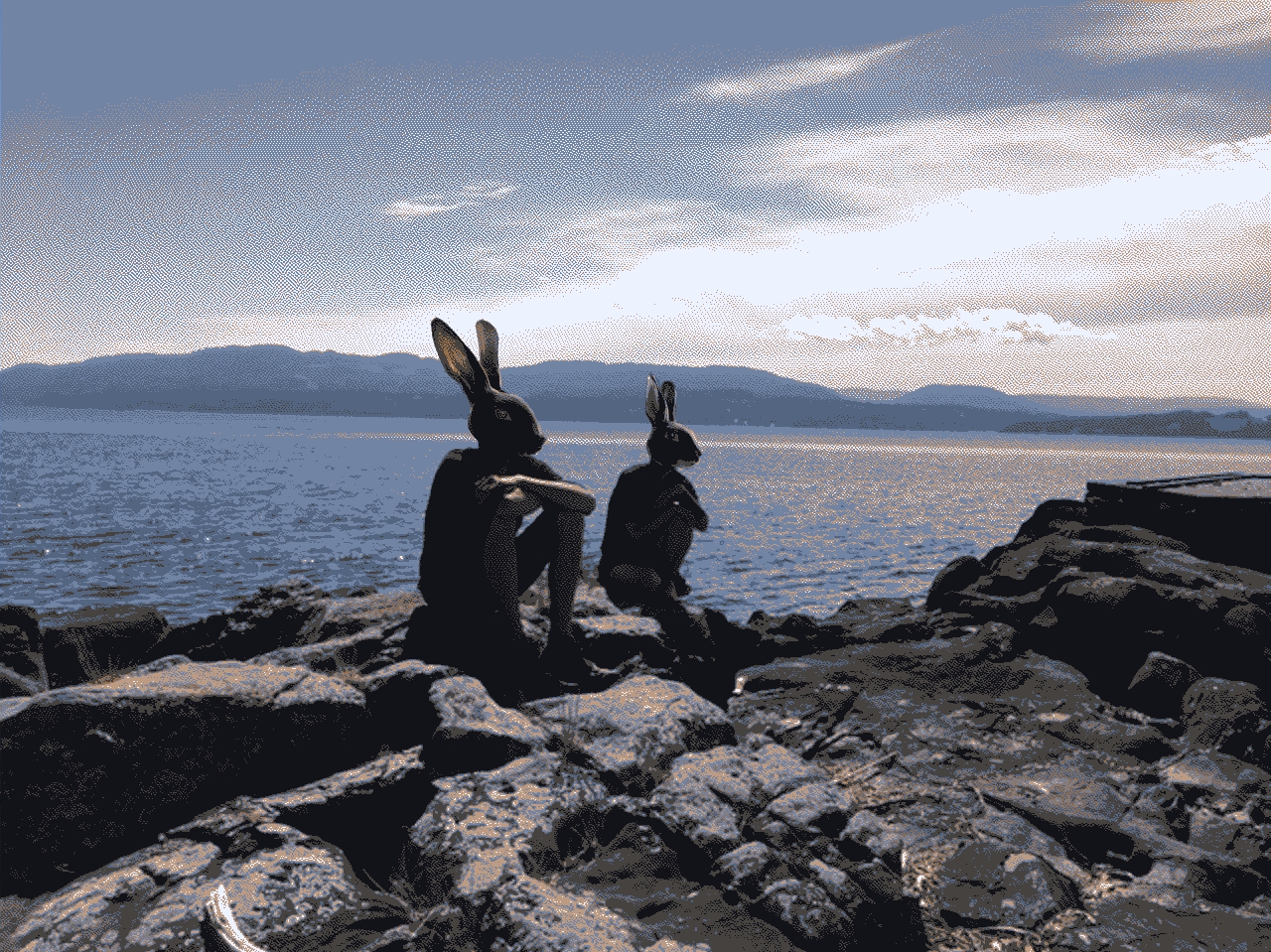 "Living on the water, often away from civilization, Internet connection and distribution routes, we could not bring our digital creations to life without the capability to repair devices and fix software ourselves," said artist collective Hundred Rabbits when speaking about their keynote, which will be held on March 20, at this year's LibrePlanet conference, organized by the FSF.
Hundred Rabbits is a small artist collective consisting of Rek (they), a writer and cartoonist, and Devine (they), a programmer, artist, and musician. They travel the globe together with their sailboat named "Pino" while creating and adapting software to fit their needs. They learned, with a lack of energy resources and Internet access, they needed to make adjustments to the way they were using their technology. Besides sharing their experiences about living on the water, they also document their use of various technologies and their art. In addition to blogs, cartoons, and music, they create and publish free (as in freedom) software projects. They say, "helping users to fix their issues and modify the software to better suit their needs, encourages people to help each other to find solutions, and submit revisions for everyone to enjoy."
"We're excited for Hundred Rabbits to join us at LibrePlanet this year," says Zoë Kooyman, program manager of the FSF. "The way Hundred Rabbits explores the need for technology, its usability, and the necessity for users' freedom is the way we should all be looking at technology. If people truly investigated how their technology 'serves' them, we would realize that most technology is presented to us as something we're unable to control, which presents a lack of freedom, user lock-ins, and Digital Restrictions Management (DRM) as just a few of its completely arbitrary and problematic limitations."
That technology can be lean, conserving of energy, and serve the greater community—all while protecting user freedoms—will be demonstrated in the Hundred Rabbits keynote talk at LibrePlanet. As Rek and Devine say, "our voyages across the ocean forced us to abandon nonfree software, subscription services, disposable electronics, and power-hungry devices."
The FSF earlier announced Marleen Stikker to be the opening keynote for this year's event, and will announce another keynote before the start of the conference. The full LibrePlanet 2022 schedule is expected soon. Thousands of people have attended LibrePlanet over the years, some in person, and in the last two years by tuning into the fully free (as in freedom) virtual event. LibrePlanet has welcomed visitors from up to fifteen countries each year, and individuals from many others participate online.
The FSF invites keynotes and assembles the overall LibrePlanet schedule with an eye toward demonstrating how people with differing political views and passions share a common interest in free software, including how they find it important to other work. The conference's video archive contains talks recorded throughout the conference's history, including keynote talks by Edward Snowden and Cory Doctorow.
About LibrePlanet
LibrePlanet is the annual conference of the Free Software Foundation. Over the last decade, LibrePlanet has blossomed from a small gathering of FSF associate members into a vibrant multi-day event that attracts a broad audience of people who are interested in the values of software freedom. LibrePlanet 2022 will be held on March 19 and 20, 2022, online. To receive announcements about LibrePlanet 2022, visit https://libreplanet.org/conference and sign up for the email updates.
Registration for LibrePlanet: "Living Liberation" is open. Attendance is free of charge to FSF associate members and students.
For information on how your company can sponsor LibrePlanet or have a virtual table in our exhibit hall, email campaigns@fsf.org.
About the Free Software Foundation
The Free Software Foundation, founded in 1985, is dedicated to promoting computer users' right to use, study, copy, modify, and redistribute computer programs. The FSF promotes the development and use of free (as in freedom) software -- particularly the GNU operating system and its GNU/Linux variants -- and free documentation for free software. The FSF also helps to spread awareness of the ethical and political issues of freedom in the use of software, and its Web sites, located at https://www.fsf.org and https://www.gnu.org, are an important source of information about GNU/Linux. Donations to support the FSF's work can be made at https://donate.fsf.org. Its headquarters are in Boston, MA, USA.
MEDIA CONTACT
Zoë Kooyman
Program Manager
Free Software Foundation
+1 (617) 542 5942
campaigns@fsf.org

Image Copyright © 2022, Hundredrabbits, licensed under Attribution-NonCommercial-ShareAlike 4.0 International