ACLU Massachusetts Technology for Liberty Director Kade Crockford at LibrePlanet 2017
CAMBRIDGE, Massachusetts, USA — Monday, February 6, 2017 — The Free Software Foundation (FSF) announced today that Kade Crockford of the American Civil Liberties Union of Massachusetts will be a keynote speaker at LibrePlanet, the annual free software conference, on Saturday, March 25th, 2017.
Kade Crockford is the Director of the Technology for Liberty Program at the ACLU of Massachusetts. Kade works to protect and expand core First and Fourth Amendment rights and civil liberties in the digital 21st century, focusing on how systems of surveillance and control impact not just society in general but their primary targets — people of color, Muslims, immigrants, and dissidents.
The Information Age produces conditions facilitating mass communication and democratization, as well as dystopian monitoring and centralized control. The Technology for Liberty Program aims to use the unprecedented access to information and communication to protect and enrich open society and individual rights by implementing basic reforms to ensure new tools do not create inescapable digital cages limiting what people see, hear, think, and do. Towards that end, Kade researches, strategizes, writes, lobbies, and educates the public on issues ranging from the wars on drugs and terror to warrantless electronic surveillance. Kade has written for The Nation, The Guardian, The Boston Globe, WBUR, and many other publications, and regularly appears in local, regional, and national media as an expert on issues related to technology, policing, and surveillance.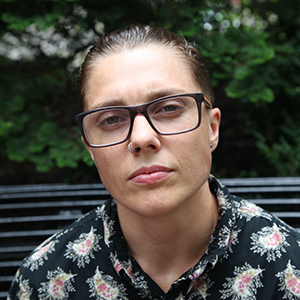 Kade Crockford of the American Civil Liberties Union of Massachusetts.
"It's exactly right that LibrePlanet this year will open with a discussion of technology and civil liberties led by an engaging expert in the field. We're looking forward to hearing Kade talk about the ACLU's work, how it relates to the free software movement's values, and how people knowledgeable about free software can help others protect their privacy and digital security." said John Sullivan, executive director of the Free Software Foundation.
In 2015, Kade discussed terrorism and civil liberties with Noam Chomsky in a moderated discussion organized by The Baffler. You can download and watch this video without proprietary JavaScript using ytdl.
Already familiar to the free software community, Kade previously spoke at LibrePlanet 2014, delivering a talk titled "The Creeping Techno-surveillance State: How Can We Fight Back?" with Josh Levy of Free Press.
At LibrePlanet 2017, Kade will discuss how technologists can enlist in the growing fight for civil liberties.
About LibrePlanet
LibrePlanet is the annual conference of the Free Software Foundation. Begun as a modest gathering of FSF members, the conference now is a large, vibrant gathering of free software enthusiasts, welcoming anyone interested in software freedom and digital rights. Registration is now open, and admission is gratis for FSF members and students.
For the fourth year in a row, LibrePlanet will be held at the Massachusetts Institute of Technology's (MIT) Stata Center in Cambridge, Massachusetts, on March 25th and 26th, 2017. Co-presented by the Free Software Foundation and MIT's Student Information Processing Board (SIPB), the rest of the LibrePlanet program will be announced soon. The opening keynote at LibrePlanet 2016 was a conversation between US National Security Agency whistle-blower Edward Snowden and the American Civil Liberties Union's Daniel Kahn Gillmor.
About the Free Software Foundation
The Free Software Foundation, founded in 1985, is dedicated to promoting computer users' right to use, study, copy, modify, and redistribute computer programs. The FSF promotes the development and use of free (as in freedom) software — particularly the GNU operating system and its GNU/Linux variants — and free documentation for free software. The FSF also helps to spread awareness of the ethical and political issues of freedom in the use of software, and its Web sites, located at fsf.org and gnu.org, are an important source of information about GNU/Linux. Donations to support the FSF's work can be made at https://donate.fsf.org. Its headquarters are in Boston, MA, USA.
More information about the FSF, as well as important information for journalists and publishers, is at https://www.fsf.org/press.
Media Contact
Georgia Young
Program Manager
Free Software Foundation
+1 (617) 542 5942
campaigns@fsf.org
Photo of Kade Crockford by the ACLU of Massachusetts is licensed under a Creative Commons Attribution 4.0 International License, CC BY.