2012 Free Software Award winners announced
by libby Contributions
—

Published on

Mar 23, 2013 06:31 PM
BOSTON, Massachusetts, USA — Saturday, March 23rd, 2013 — Free Software Foundation president Richard M. Stallman announced the winners of the FSF's annual Free Software Awards at a ceremony on Saturday, March 23rd, held during the LibrePlanet 2013 conference at Harvard University, in Cambridge, Massachusetts. Two awards were given: the Award for the Advancement of Free Software, and the Award for Projects of Social Benefit.
The Award for the Advancement of Free Software is given annually to an individual who has made a great contribution to the progress and development of free software, through activities that accord with the spirit of free software.
This year, it was given to Dr. Fernando Perez, the creator of IPython. IPython provides a rich architecture for interactive computing with a debugger, editor, and python command-line interpreter all in one.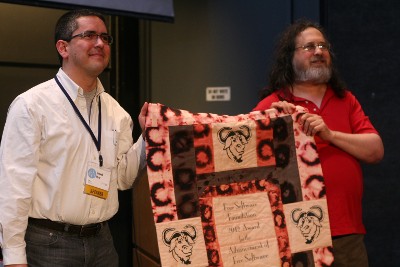 One of Dr. Perez's nominators said, "...Versatile, efficient and free, IPython is used by thousands of developers, researchers and students around the globe on their personal PCs, clusters and servers. In addition to technical excellence, Fernando's skill as a leader has attracted a large and growing group of contributors to IPython. The community maintains a welcoming atmosphere and forms a key part of the larger scientific Python community, with strong links to projects such as numpy, matplotlib, sympy and scipy."
Dr. Perez was present to accept the award. "IPython is a project that began its life as sort of a hybrid of an interactive python console and a unix shell, but it has grown into a set of components for scientific computing from interactive exploration to parallel computing, publication and education. Today, its scope goes beyond scientific research to anyone who needs interactive computing, not only in the Python language, as our current architecture aims to be language agnostic," he said.
Dr. Perez dedicated the award to the late John D. Hunter, creator of matplotlib, who passed away unexpectedly last year.
Fernando Perez joins a distinguished list of previous winners, including the 2011 winner, Yukihiro Matsumoto.
The Award for Projects of Social Benefit is presented to the project or team responsible for applying free software, or the ideas of the free software movement, in a project that intentionally and significantly benefits society in other aspects of life. This award stresses the use of free software in the service of humanity.
This year, the award went to OpenMRS, a free software medical record system for developing countries. OpenMRS is now in use around the world, including South Africa, Kenya, Rwanda, Lesotho, Zimbabwe, Mozambique, Uganda, Tanzania, Haiti, India, China, United States, Pakistan, the Phillipines, and many other places.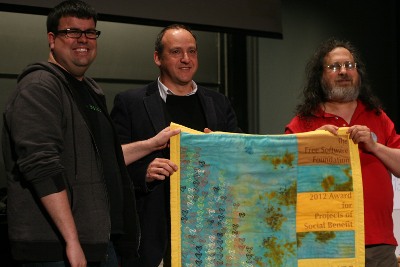 One nomination for OpenMRS read, "OpenMRS is more than an electronic medical record system platform. It is a community of medical professionals, software engineers, and healthcare workers that dedicate their time and skills to help improve the lives of people in the world's poorest nations."
Michael Downey and Hamish Fraser were present to accept the award on behalf of the project.
OpenMRS president and project leader Paul Biondich added, "Receiving this award is a humbling recognition of the hard work and passion of countless volunteers over the last decade. We're extremely grateful to the Free Software Foundation for recognizing the important and valuable work of our community, and hope that our efforts might serve as an example of how free software can be a disruptive innovation that improves and saves lives."
OpenMRS joins an impressive list of previous winners, including 2011 winner GNU Health.
This year's award committee was: Yukihiro Matsumoto, Suresh Ramasubramanian, Peter H. Salus, Wietse Venema, Hong Feng, Andrew Tridgell, Jonas Oberg, Vernor Vinge, Richard Stallman, Fernanda G. Weiden, Harald Welte, and Rob Savoye.
More information about both awards, including the full list of previous winners, can be found at http://www.fsf.org/awards.
About the Free Software Foundation
The Free Software Foundation, founded in 1985, is dedicated to promoting computer users' right to use, study, copy, modify, and redistribute computer programs. The FSF promotes the development and use of free (as in freedom) software -- particularly the GNU operating system and its GNU/Linux variants -- and free documentation for free software. The FSF also helps to spread awareness of the ethical and political issues of freedom in the use of software, and its Web sites, located at fsf.org and gnu.org, are an important source of information about GNU/Linux. Donations to support the FSF's work can be made at http://donate.fsf.org. Its headquarters are in Boston, MA, USA.
Media Contacts
John Sullivan
Executive Director
Free Software Foundation
+1 (617) 542 5942
campaigns@fsf.org
High resolution press photos:
Photos under CC BY 3.0 Attribution by Rubén Rodríguez.
#