2011 Free Software Awards announced
BOSTON, Massachusetts, USA — Monday, March 26th, 2012 — Free Software Foundation president Richard M. Stallman announced the winners of the FSF's annual free software awards at a ceremony on Sunday, March 25th, held during the LibrePlanet 2012 conference at the University of Massachusetts, Boston.
The Award for the Advancement of Free Software is given annually to an individual who has made a great contribution to the progress and development of free software, through activities that accord with the spirit of free software.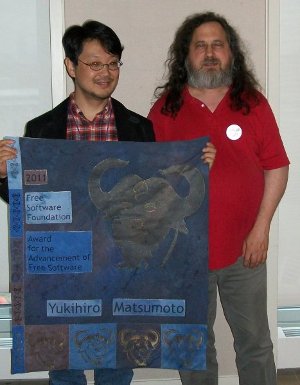 Yukihiro Matsumoto and Richard Stallman.
This year, it was given to Yukihiro Matsumoto (aka Matz), the creator of the Ruby programming language. Matz has worked on GNU, Ruby, and other free software for over 20 years. He accepted the award in person and spoke at the conference on his early experiences with free software, especially the influence of GNU Emacs on Ruby.
Yukihiro Matsumoto joins a distinguished list of previous winners:
2010 Rob Savoye
2009 John Gilmore
2008 Wietse Venema
2007 Harald Welte
2006 Ted Ts'o
2005 Andrew Tridgell
2004 Theo de Raadt
2003 Alan Cox
2002 Lawrence Lessig
2001 Guido van Rossum
2000 Brian Paul
1999 Miguel de Icaza
1998 Larry Wall
The Award for Projects of Social Benefit is presented to the project or team responsible for applying free software, or the ideas of the free software movement, in a project that intentionally and significantly benefits society in other aspects of life. This award stresses the use of free software in the service of humanity.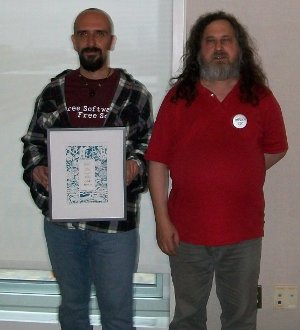 Luis Falcon and Richard Stallman.
This year, the award went to GNU Health, a free software project that works with health professionals around the world to improve the lives of the underprivileged. GNU Health has been adopted as the Health and Hospital Information System of choice by the United Nations University. Luis Falcon, the president of GNU Solidario (the organization behind GNU Health), was present to accept the award on behalf of the project.
GNU Health joins an impressive list of previous winners:
2010 Tor
2009 Internet Archive
2008 Creative Commons
2007 Groklaw
2006 Sahana Disaster Management System
2005 Wikipedia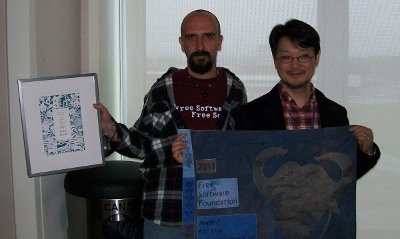 This year's award committee was: Suresh Ramasubramanian, Peter H. Salus, Wietse Venema, Raj Mathur, Hong Feng, Andrew Tridgell, Jonas Oberg, Vernor Vinge, Richard Stallman, Fernanda G. Weiden, Harald Welte, and Rob Savoye.
About the Free Software Foundation
The Free Software Foundation, founded in 1985, is dedicated to promoting computer users' right to use, study, copy, modify, and redistribute computer programs. The FSF promotes the development and use of free (as in freedom) software -- particularly the GNU operating system and its GNU/Linux variants -- and free documentation for free software. The FSF also helps to spread awareness of the ethical and political issues of freedom in the use of software, and its Web sites, located at fsf.org and gnu.org, are an important source of information about GNU/Linux. Donations to support the FSF's work can be made at http://donate.fsf.org. Its headquarters are in Boston, MA, USA.
Media Contacts
John Sullivan
Executive Director
Free Software Foundation
+1 (617) 542 5942
campaigns@fsf.org
High resolution press photos
Photos under CC BY 3.0 Attribution by Jason X Self.
#