The FSF's 35th anniversary event
When
Oct 09, 2020

from

12:00 PM

to

05:00 PM

Where

fsf.org and #fsf on IRC
This event has ended, thank you for celebrating #FSF35 with us!
Join us in celebrating the FSF's thirty-fifth year of fighting for software freedom.
Online and via IRC in #fsf (on Freenode)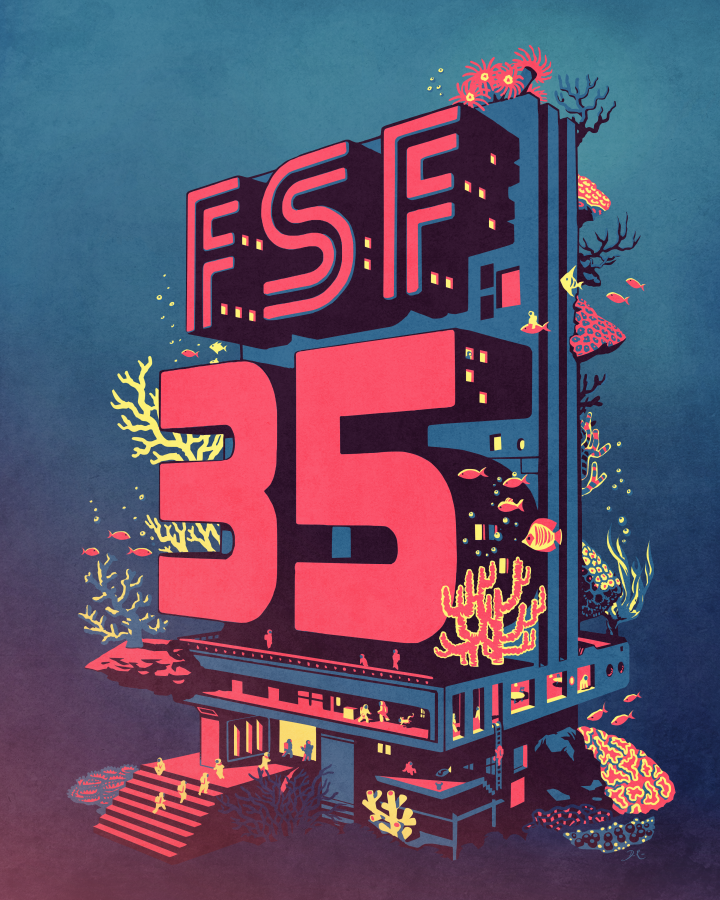 Our work will not be finished until every computer user is able to do all of their digital tasks in complete freedom -- whether that's on a desktop, laptop, or the computer in your pocket. The fight for free software continues, and we wouldn't be here without you.

We ended the FSF's birthday week with an online anniversary event featuring both live and prerecorded segments on Friday, October 9th, from 12:00 EDT (16:00 UTC) until 17:00 EDT (21:00 UTC).
---
Program (Times are in EDT)
12:00 - 12:10: Welcome and introductory remarks
by Greg Farough (FSF campaigns manager)
and Zoë Kooyman (FSF program manager)

12:10 - 12:30: Celebrating 35 years of FSF
by FSF president Geoffrey Knauth

Watch the video

12:30 - 13:15 Free software design and Q&A
with illustrator and artist David Revoy

Watch the video

13:15 - 13:30: Community videos

Watch the video

13:30 - 14:15: Free software in France, federated social media and moderation
with Pouhiou, co-founder of Framasoft and Eda Nano, board member of April, France and member of La Quadrature Du Net

Watch the video

14:15 - 14:30: A prerecorded message from RMS
by FSF founder Richard Stallman

Watch the video

14:30 - 15:00: FSF history quiz
by Craig Topham (FSF copyright and licensing associate & quizmaster)

15:00 - 16:30: How to organize local free software groups
with Bonnie Mehring (FSFE, DE), Italo Vignoli (TDF)
and local groups organizers from around the world

Watch the video

16:30 - 16:45: Celebrating 35 years of FSF
by FSF executive director John Sullivan

Watch the video

16:45 - 16:55: Community videos

Watch the video

16:55 - 17:00: Closing remarks

Watch the video
This live event will follow the LibrePlanet safe space policy throughout the event, so please make sure you read it.
---
Support the FSF and receive an anniversary pin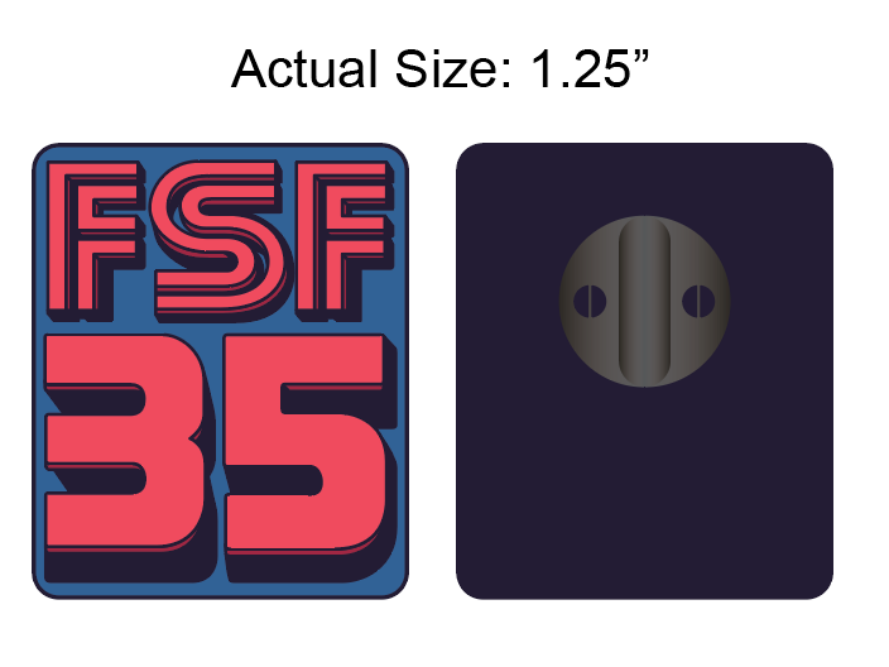 If you are also able to, please consider making a donation of $35 or more to help keep the fight for user freedom going another 35 years, we'll send you a commemorative pin.
---
Share
Invite people to join the community's celebration of thirty-five years of software freedom:
Feel free to adapt the text and use it with the #fsf35 hashtag and the included image.
I am watching #fsf35 live! Join the FSF and guests from around the world in a special live event celebrating the free software community. https://www.fsf.org/live
---
Illustration Copyright © 2020 Free Software Foundation, Inc., by David Revoy, licensed under Creative Commons Attribution 4.0 International license.