« Copyright vs Comunidad »
Tunja, Colombia - Teatro Suárez, Plaza de Bolívar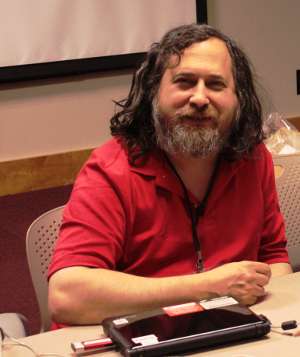 This is a speech by FSF president and founder, Richard M. Stallman.
See a list of all upcoming talks by Richard M. Stallman or help promote the event by downloading posters for Stallman events
El copyright fue desarrollado en los tiempos de la imprenta, y fue diseñado para adecuarse al sistema centralizado de copias impuesto por la imprenta en aquella época. Pero en la actualidad, el sistema de copyright se adapta mal a las redes informáticas, y solamente puede ser impuesto mediante severas medidas de fuerza.
Las corporaciones globales que se lucran con el copyright están presionando para imponer penalidades cada vez más injustas y para incrementar su poder en materia de copyright, restringiendo al mismo tiempo el acceso del público a la tecnología. Pero si lo que queremos realmente es honrar el único propósito legítimo del copyright --promover el progreso para beneficio del público -- entonces tendremos que realizar cambios en la dirección contraria.
Favor de rellenar este formulario, para que podamos contactarle acerca de eventos futuros en la región Tunja.