"Logiciels libres et éducation"
Marly-le-Roi, France - Cinéma le Fontenelle - Place de la Gare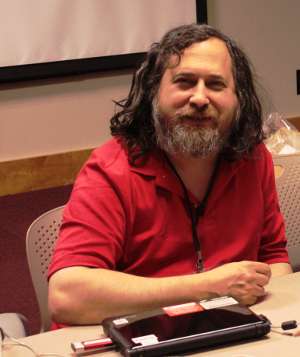 This is a speech by FSF president and founder, Richard M. Stallman.
See a list of all upcoming talks by Richard M. Stallman or help promote the event by downloading posters for Stallman events
Le mouvement du logiciel libre fait campagne pour les droits et libertés des utilisateurs afin de les aider à contrôler leurs outils informatiques et à coopérer les uns avec les autres. Il a développé le système d'exploitation GNU, le plus souvent utilisé avec le noyau Linux, expressément pour rendre ces libertés possibles.
Le monde de l'éducation devrait se servir exclusivement de logiciels libres car ils permettent, à la différence des logiciels privateurs, une diffusion libre du savoir et préparent les élèves aux enjeux citoyens du numérique. Les logiciels libres sont seuls en accord avec les missions de l'enseignement scolaire.
Veuillez complèter notre formulaire de contact, pour que nous puissions vous annoncer de futurs événements dans l'Académie de Versailles.