"Por una sociedad digital libre"
Pirai do Sul, Brazil - Centro Administrativo Antonio Fanchin Filho (Gralha Azul), Rua XV de Novembro Nº 195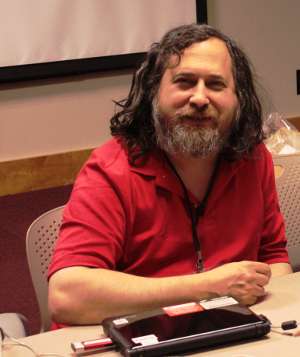 This is a speech by FSF president and founder, Richard M. Stallman.
See a list of all upcoming talks by Richard M. Stallman or help promote the event by downloading posters for Stallman events
When
Jun 02, 2012
from

04:00 PM

to

06:00 PM

Where

Pirai do Sul, Brazil

Add event to calendar

vCal




iCal
Las actividades cuyo objetivo es la "inclusión" de más personas en el empleo de las tecnologías digitales se basan en la suposición de que ésto sea invariablemente algo bueno. Parecería que así es, si se juzga considerando únicamente la conveniencia práctica inmediata. Sin embargo, si juzgamos también en términos de derechos humanos, es el tipo de mundo digital en el que nos quieren insertar lo que determina si se trata de un bien o de un mal. Antes de luchar por la inclusión digital, debemos cerciorarnos de que las personas estarán en un mundo digital bueno.
Favor de registrarse para el evento.
Favor de rellenar este formulario, para que podamos contactarle acerca de eventos futuros en la región de Piraí do Sul.