"El movimiento del software libre"
Murcia, Spain - Centro Social Universitario, Campus de Espinardo, Universidad de Murcia 30100 Espinardo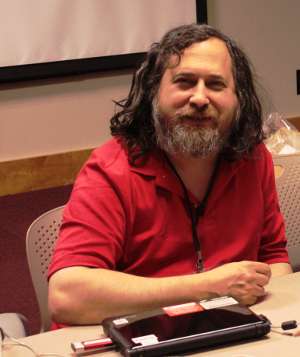 This is a speech by FSF president and founder, Richard M. Stallman.
See a list of all upcoming talks by Richard M. Stallman or help promote the event by downloading posters for Stallman events
Когда
2012-05-07
c

16:30

по

19:30

Где

Murcia, Spain

Имя
mlp@um.es
Контактный телефон

+34 868888323

Добавить событие в календарь

vCal




iCal
Richard Stallman hablará sobre las metas y la filosofía del movimiento del Software Libre, y el estado y la historia del sistema operativo GNU, el cual junto con el núcleo Linux, es actualmente utilizado por decenas de millones de personas en todo el mundo.
Esta charla formará parte de las Jornadas sobre Software Libre y Libertad en la Red.
Favor de rellenar este formulario, para que podamos contactarle acerca de eventos futuros en la región murciana.