How do I use Ogg?
Ogg is a group of professional-grade media formats. Vorbis for audio and Theora for video are the most common Ogg formats.
If you're using a recent Mozilla-based browser, you don't need an external media player. You can play Ogg inside your browser!
If you need a standalone media player, many different free software players work with Ogg. We like one called VLC Media Player.
Installing it is easy...
Installing VLC Media Player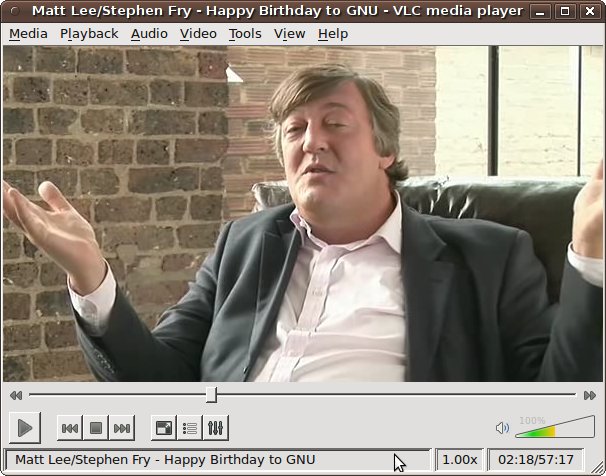 Here is VLC in action, playing 'Happy Birthday to GNU' featuring Stephen Fry.
Microsoft Windows XP:
Double-click the VLC file to install VLC.
Apple Mac OSX (Version 10.3.9 or 10.4):
Open the file and install. You need to drop the VLC icon into your Applications folder.
GNU/Linux and other free operating systems
You may already have VLC installed — if not, add VLC in the usual manner through your package manager such as 'Add/Remove Software' or Synaptic.
Downloads provided by VLC