Reject proprietary formats! Pledge to use OpenDocument!
The files created by Microsoft Office and Apple's iWork are not created in OpenDocument format -- instead, Microsoft and Apple control the formats their software create -- leaving users worldwide at their mercy, and with a string of incompatible documents.
You can make a difference!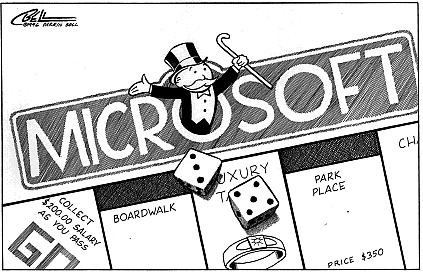 Image from 'MS Anti Trust Case' website.
By rejecting all files created in Microsoft Office and Apple iWork, you can send a strong message to your friends, colleagues and businesses that you do not support the actions of these companies.
By rejecting these files, you can open a friendly dialog with the person, and ask them to support a free society by using a free format like OpenDocument.
Getting started
The easiest thing to do, is to simply refuse to open any documents created with Microsoft Office and Apple iWork, and then to send a short, friendly email to whoever sent you the document, asking them to send it again in OpenDocument format -- and because OpenOffice.org is free software, everyone in the world can create and read OpenDocuments without restriction of instrusive and expensive software licenses.
Why I'm rejecting your email attachment
We've created a few examples for you, but you will have more success if you write one or two reponses yourself, customizing them to the audience in question. For example, writing a less formal and more jokey response to a member of your close family, while remaining polite and professional to your boss and other colleagues. Please add your ideas for a great response.
Watch a video (thanks Lenny) about the dangers of Microsoft OOXML
Other things you can do
Read this in Russian.