Updates from the FSF Tech Team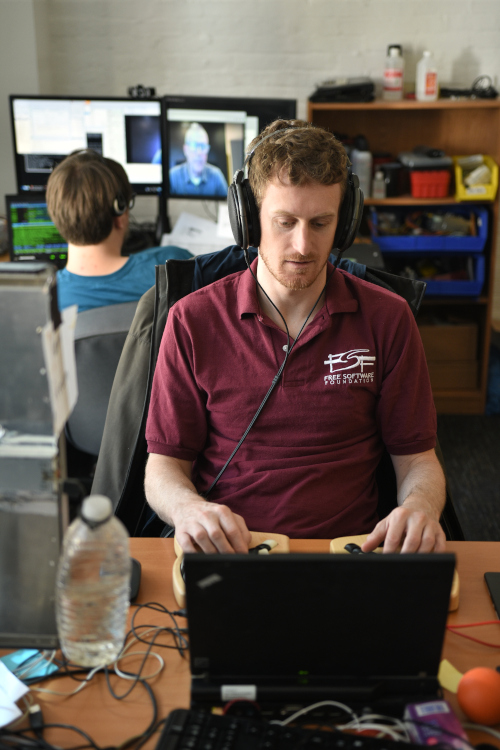 Tech team members in the FSF office running the streaming setup for LibrePlanet 2020.
Over the last six months, the four-person FSF tech team has been hard at work maintaining, upgrading, and repairing the infrastructure that supports the FSF, the GNU Project, and many other free software projects.
Knowing in advance that the LibrePlanet conference would be remote this year allowed us to plan for many technical improvements. We hosted our talks on Big Blue Button for the first time, and streamed them via IceCast, which helped us with the reliability of our video streams. Our experimentation with continuous video streams via Open Broadcaster Software was also a major success, ensuring that our audience didn't miss a beat.
Our team worked overtime to make the remote conference as special as we could, with many interactive elements. The conference site launched at libreplanet.org/2021, with an updated IRC page embed, and a very nice theme, created with the help of a designer who uses exclusively free software.
Many participants interacted with our conference via an instance of LibreAdventure (LA), an AGPLv3-licensed codebase for socially-interactive maps. This allowed them to explore the event virtually, with the ability to video chat with other attendees. People listened to and watched sessions, visited our exhibitors, and gathered to see DJs play music for LibrePlanet attendees. We're hoping to improve our LA codebase, so if you're looking for a fun project to hack on, let us know at info@fsf.org!
LibrePlanet attendees worked together on our Minetest instance, adding floating logos for many GNU packages, including Guix. A train cart network that traveled underground from the surface was discovered near the main point of activity. We packaged up the world at the end of the conference, and it's available for you to download at libreplanet.org/2021/fun. Let us and other free software gamers hear about what you're up to on our #libreplanet-gaming IRC channel on Libera Chat.
Many volunteers offered critical help this year by introducing speakers, asking questions shared through IRC, and moderating IRC channels. I'm always impressed by the level of work that our volunteers bring to the conference, and it's true that we wouldn't be able to run the conference without you, so thank you!
Once the conference video streaming and recording was over, we uploaded the talks to our MediaGoblin instance, and published them on our PeerTube node hosted by our friends at Framasoft.
In other news, the version of Plone and Python on fsf.org is now upgraded, bringing many improvements and patches. We're planning for the future direction of our main online presence, and may use Transmogrifier to convert fsf.org into a static site. This would allow us to create a git repo to which anyone could send patches, making it easier for volunteers to help with site improvements.
You may have noticed in our last fundraiser that it's now possible to create gift memberships for others via our donation form at my.fsf.org. It's our hope that this will help the FSF meet our bi-annual membership goals, so we can continue working toward our mission.
Our bootable credit-card-shaped USB membership cards are from a new batch, with a much higher capacity, a newer version of the Trisquel fully-free operating system, and pre-loaded free software-related media for your offline enjoyment. This card is a membership perk, so if you want one and you're not already an associate member, I encourage you to head over to my.fsf.org/join as soon as you can!
The Free Software Directory (FSD), at directory.fsf.org, now runs a newer version of SemanticMediawiki. The FSD is a place to find over 16,000 free software packages to use, modify, and share. If there is a great tool you would like to add, please join us for weekly volunteer meetings on Fridays. Or, you could bravely dive into the code yourself, and reach out to us if you have any questions.
Our Piwik server is now upgraded to Matomo, for improved recording of site visitation statistics. We continue to honor people's privacy settings, so if your browser is set to "Do Not Track," we will not use JavaScript to record your visit. We don't track with cookies via Matomo, to help with our European Union General Data Protection Regulation compliance, and to protect your identity. We also anonymize this user data by removing the last sixteen bits of visitors' IPv4 addresses, and the last eighty bits of IPv6 addresses, which allows us to see general Matomo statistics, while storing less identifying information.
Our CiviCRM instance was upgraded to stay on top of security patches. We're also excited about the self-hostable Bitcoin and Litecoin payment processor code that our paid tech team intern wrote for our CiviCRM instance, and we look forward to deploying it soon!
The storage capacity of our main backup system is now upgraded, while increasing redundancy on RAID1 arrays. This has allowed us to continue growing our network while ensuring that our data is not lost in the event of accidental deletion or a natural disaster. We also migrated and audited the security of some of our internal infrastructure.
The FSF tech team thanks you for your support, and for each of your contributions to the free software community. Our mission relies upon your commitment to bring that freedom to a growing number of people around the world. Thank you for putting that goal within reach.
Photo by Ruben Rodriguez, Copyright © 2020, Free Software Foundation, Inc. Licensed under Creative Commons Attribution 4.0 International license.