Updates from the FSF tech team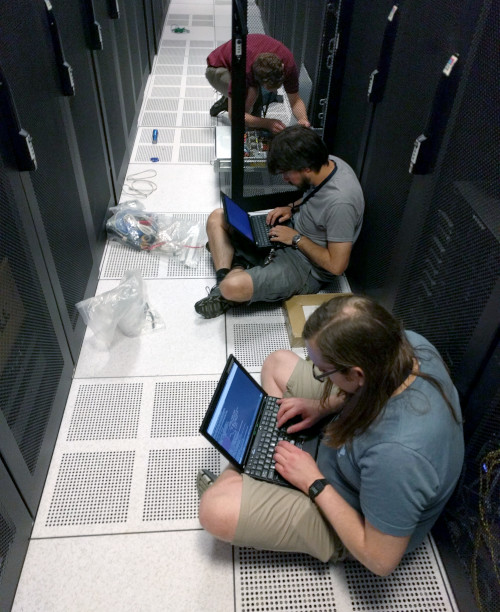 The FSF tech team is always at the free software community's service, even when we're working mostly from home due to COVID-19. We're constantly maintaining and improving the infrastructure that you depend on, while simultaneously launching and supporting new FSF projects. We're a small team in a small organization, but we like to think that together, we pack a powerful punch. This update is our opportunity to share some of the work we've done for the FSF and the broader free software community so far this year.
In preparation for our annual LibrePlanet conference, we created a new speaker registration and scheduling system using Drupal Webforms, views and other modules, and code to integrate the schedule into the conference Web site. This saved the campaigns team many headaches by simplifying version control and collaborative editing.
For those who wish to replicate our system, it's a bit tough to copy because it was custom made via Web-based menus in Drupal, with the Views and Webforms extensions. Reading up on documentation about how to configure these to display and format custom information will get you a long way.
Because of the pandemic, we held LibrePlanet fully online this year. It was a difficult last-minute transition, and we put in many hours to get the remote streaming and recording systems to work, but luckily we were able to deliver good results. We ran technical operations from our downtown Boston office, and allowed speakers to give their talks from their remote locations. We used GStreamer and Icecast to capture and stream Jitsi Meet sessions. You can read more about the setup at https://www.fsf.org/blogs/community/how-to-livestream-a-conference-in-just-under-a-week, and you can now enjoy the videos and audio recordings at media.libreplanet.org.
Following this success, we created a Jitsi Meet server as our latest associate member benefit. FSF members can create rooms and send channel invite codes to their friends for fully free videoconferencing. We have received positive feedback about the stability so far, even with many simultaneous users, so we encourage you to try it out (see u.fsf.org/33s for more information).
We're also still researching forge software to help people collaborate on free code, art, text, and other types of projects in freedom (see: u.fsf.org/305), and we should come to a decision about which forge platform to run soon. We're also looking into improving our single sign-on (SSO) system, with the goal of adding two factor authentication to the forge. You can learn more about our progress at u.fsf.org/33p.
We have upgraded our member and donor portal, my.fsf.org, which is powered by CiviCRM, to a new version of Trisquel. We're also working on modernizing the fsf.org Web site, and we'll be upgrading our GNU MediaGoblin instance to the newly released version.
The winter fundraiser cycle worked out nicely technologically, and the Windows 7 Upcycle campaign was a success, thanks in part to our technical work on the petition system (see: u.fsf.org/upcycle).
We've also replaced our old email servers, and organized their customization to make them easier to maintain, improve, and migrate in the future. We're now DKIM signing emails from @fsf.org addresses in order to demonstrate that they come from us, and we've changed how we deliver to some email providers, improving our delivery rate. This work will help deliver email more effectively to current and prospective free software supporters.
DKIM signing uses public key encryption to sign critical parts of emails before they are sent off to third party mail systems. This lets anyone who checks the signature know that the email originated from our servers, not someone impersonating us. We are also using SPF, which is a Domain Name System (DNS) record that is not cryptographically signed, but gives additional info about which servers valid @fsf.org emails may come from. Together, these changes help popular email providers know that the emails we send them are valid so we bypass their spam filters and improve our reputation with them.
Along with these improvements, we added a KVM server to our 'gnuhope' stack, which allows us to run more virtual machines in the newer cluster. We've migrated a few virtual machines from older hardware due to failing disks in our RAID arrays, so it's good have the extra space and the reliability of Ceph's distributed storage.
When we switched to a remote office in March, the transition was mostly seamless given our already existing technical infrastructure. One big change we made was to start using Mumble for meetings and team chats, which has great audio quality and reliability compared to SIP (voice over IP), which we are now using less frequently. We continue to make use of IRC, email, and our own Jitsi Meet instance for much of our work, because they're effective tools when used with great client software.
While we're proud of everything we've achieved, I also want to highlight the work of all free software contributors. Your work is empowering, and it highlights the goodwill that we have for each other in our community. If you're interested in a great learning experience, we encourage you to apply for a tech team internship, with support for sysadmin roles and GNU package work. If you'd like to chat with the FSF tech team, other FSF staff, and community members, join us at #fsf on Freenode, or on our member forum. Happy hacking!
Photo Copyright ©2019 Free Software Foundation, Inc., by Ruben Rodriguez. This image is licensed under a Creative Commons Attribution ShareAlike 4.0 International license.