HACKERS and HOSPITALS: Bringing the free software community together to fight COVID-19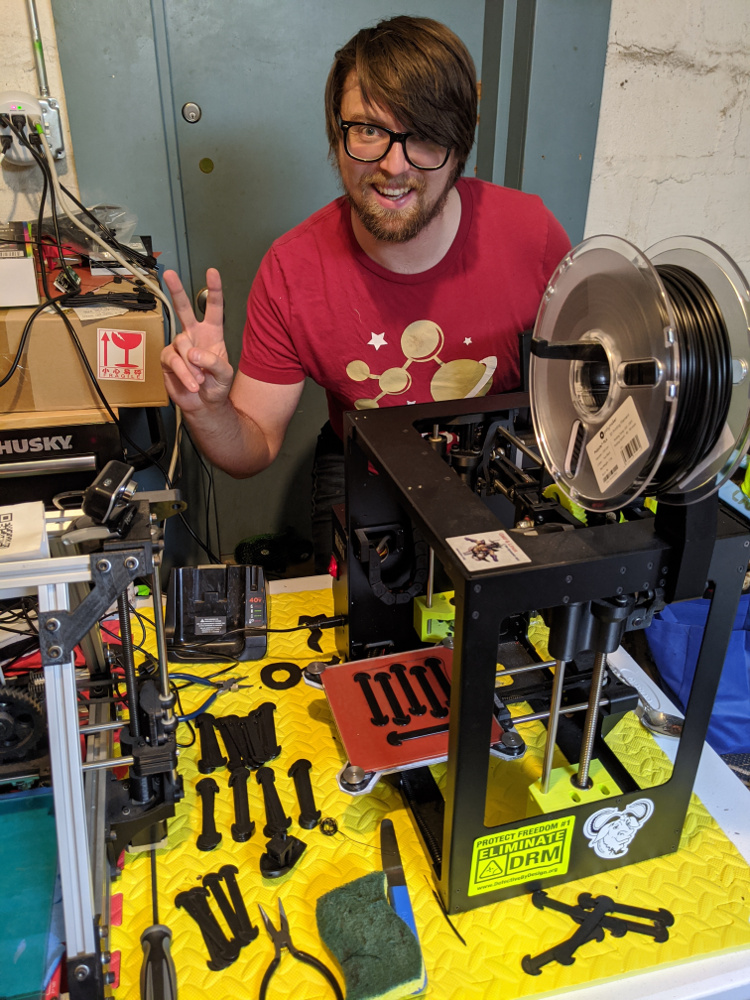 FSF Web Developer Michael McMahon poses with 3D printers in his garage
In mid-March, when the COVID-19 pandemic started spreading aggressively here in the US, I was inspired by the hackers in Italy who had replicated ventilator valves to supply to hospitals. I had heard that several hackerspaces in the US were also using their resources to provide much needed equipment for health care professionals. I wanted to do my part, and it occurred to me that free software has a unique role to play in fighting the pandemic: unethical restrictions on medical equipment have long prevented medical staff from controlling their software and hardware, and from duplicating parts. So I started a project to consolidate information and discover how the community could best help to battle the pandemic using free software and free culture designs for 3D printers, 3D scanners, laser cutters, sewing machines, etc. I thought up a catchy name, and HACKERS and HOSPITALS (HaH) was born!
We are so proud that in the brief period since the pandemic started, the hacker community has made face shields, face masks, comfort straps, cloth masks, medical gowns, door handles, procedure shields, ventilators, replacement parts for ventilators, ventilator controllers, and ventilator monitors, under free licenses that satisfy Richard Stallman's Four Essential Freedoms. It has been really incredible to see the EIGHTY-FIVE great projects listed under the Resources section on the HaH wiki page. In this article, I will explain how we got this project underway.
The first step in this process was creating the HACKERS and HOSPITALS page on the FSF's LibrePlanet wiki. LibrePlanet is not just the name of a conference: the wiki is an organizing space for everyone in the free software and free culture movement to collaborate. It is unique among projects started to help fight the pandemic in that it has public registration and publicly accessible editing. With this page and a new mailing list, we now could begin recruiting people who wanted to help.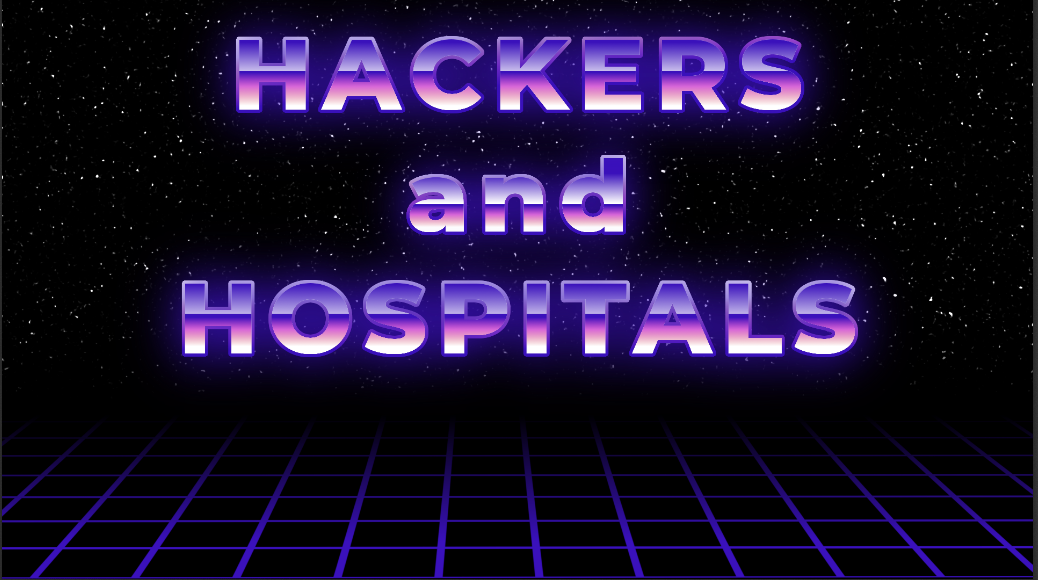 The first slide of Michael's HACKERS and HOSPITALS presentation at Privacy Safe's Flatten the Curve summit.
Next, I contacted anyone I knew with a 3D printer or sewing machine. I dug through our old email archives, and reached out to everyone that we knew with access to fabrication equipment, and asked them to do the same. We reached out to local hospitals to find out what they needed, because working locally minimizes the strain on transportation. I then built a small network of locals to help design and prototype parts, and assembled and lined up all the printers I could access in my garage.
The concept was to use free software and free software licenses to design medical devices that could be replicated anywhere across the globe. I had experience with proprietary CAD software with a previous job, but I had to learn how to use free software tools such as OpenSCAD and FreeCAD, to work with 3D models. I found more free software than we knew existed in the field of Computer Aided Engineering (CAE).
It was not always a smooth process: for instance, I cut my fingers working with air filters making the Gentl Masks, a free culture design to make duck bill style medical grade surgical masks. My mother-in-law created masks for the family with these filters. My team and I designed, prototyped, and printed a part that could work with a system that could split commercially available ventilators if appropriate sensors, filters, motors, monitors, and resistance were designed and added. I also modified a design to relieve pressure on the ears from the mask straps, and released the new design under the same license. I used FreeCAD to modify the shape based on the original, which was created with proprietary software. The new design is more efficient: it allows printers to fit more of the prints on the print bed at once. I printed 75 of these, and distributed them to a local hospital.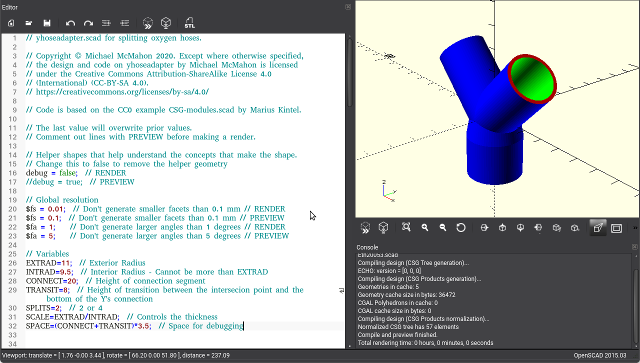 A screenshot from a free software CAD program Michael used to work on ventilator splitters.
Along the way, I heard of Sean O'Brien's work with Privacy Safe (you can read more about his work elsewhere in this Bulletin); his efforts were part of what gave me the idea for HaH. He invited me to speak about my project at Privacy Safe's Flatten the Curve summit, a pandemic-related conference, and you can watch my talk at https://media.libreplanet.org/u/libreplanet/m/hackers-and-hospitals/ and download my slides from the talk at https://media.libreplanet.org/u/libreplanet/m/hackers-and-hospitals-slides/.
Throughout this process, I have become even more convinced that projects need to have the ability for anyone to publish, fork, and edit, without asking for permission and without waiting for a response. If we amplify our research and efforts, we can make a significant difference worldwide. If we hide our findings, we limit our own effectiveness. To battle a pandemic, we need to maximize efficiency and transparency. We recommend that teams publish their findings in iterations as soon as possible under a free license such as the GPL-3.0-or-later or the AGPL-3.0-or-later licenses. If we are uncertain of something, we need to say so, and state explicitly that our project is a work in progress. If we make a mistake, we can fix it with a patch.
When lives are on the line, researchers must publish what they have when they have it. It can be dangerously inefficient if another project is looking for the piece that you have already completed, or if they have already completed the pieces you are looking for. If both teams wait until their work is complete, we have wasted precious time developing the same thing, or maybe neither team finishes in time and nothing gets published. Keeping findings quiet inhibits the ability of other organizations and regular people to get involved, and we absolutely cannot afford to not use any resources at hand.
Here is an example of how secrecy can hurt the end results: at one point, my group was working on prototyping a device to split ventilators. Another group had gotten a lot of attention for their version of the same part, but their design was proprietary; they claimed that they would share it gratis if you made a formal request, but ultimately they stopped sharing the design altogether. Because of their tight grip on the design, it was also not clear from reports that this much-hyped design was actually incomplete -- without the addition of sensors, filters, and valves that had not yet been properly researched or tested, the splitter would be dangerous to the most vulnerable patients. We did not try to access their design, but it is fair to assume that other teams that were excited to start work on this urgently needed item wasted precious time trying to access it, and either received no response or discovered, when they did, that the concept needed far more work than they had thought.
After the pandemic ends, HaH will continue and expand to showcase more free software healthcare projects such as Karen Sandler's work on pacemakers and implantable medical devices, and Dr. Tarek Loubani's 3D printed stethoscopes. And we do not have to stop there. We can expand upon the projects that were made during this time: for example, a CPAP device, used to treat sleep apnea, is not very different from a ventilator.
In the meantime, we still need your help, and the community-focused nature of the HACKERS and HOSPITALS wiki page makes it easy to pitch in. You can look for free software/free culture medical projects, and add them to the HaH wiki, or you can work on projects listed on the HaH wiki. If you are not here in Massachusetts, your community may be in need of medical items to reproduce: you can reach out to nearby medical facilities, find out what they need, pull in some local makers and hackers, and list what you find out on the HaH wiki. Or, see if there is already an organization listed near you! I also urge you to join the HaH mailing list and share any updates you find with regard to free software medical devices.
The scientific method requires the ability to study, edit, analyze, and reproduce just like Richard Stallman's four essential freedoms. The medical community needs free software. A freer future will be a healthier future, and we hope you will help us get there together.
Photo 1: Photo Copyright ©2020 Free Software Foundation, Inc. This image is licensed under a Creative Commons Attribution ShareAlike 4.0 International license.
Photo 2: Slide Copyright ©2020 Michael McMahon. This image is licensed under a Creative Commons Attribution ShareAlike 4.0 International license.
Photo 3: Slide Copyright ©2020 Michael McMahon. This image is licensed under a Creative Commons Attribution ShareAlike 4.0 International license.