Building a framework for a free online classroom
by Devin Ulibarri Contributions
—

Published on

Jul 15, 2020 12:25 PM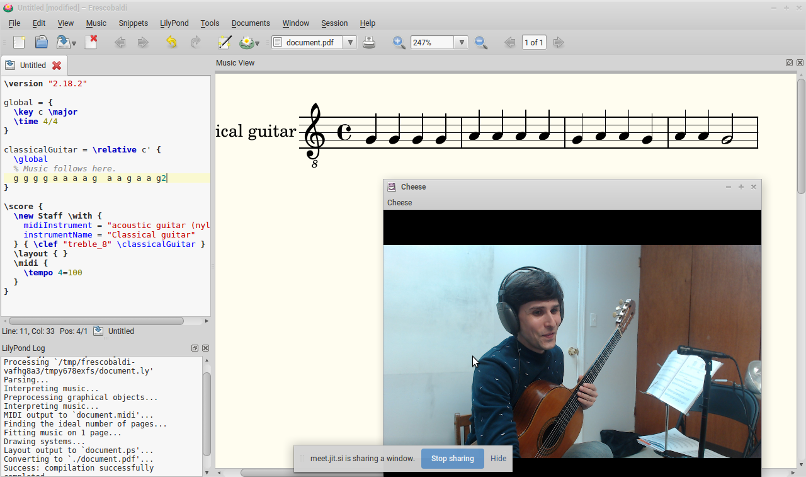 A screenshot from Devin's teaching session using Jitsi Meet for his student's guitar lesson.
The world has changed drastically in the past few months due to the ongoing crisis of the novel coronavirus. As a musician, educator, and a free software advocate, I was very worried because education, in particular, has been impacted: college students have been sent home, day cares have been closed (leaving parents to juggle their work responsibilities with childcare), and public schools have closed their campuses and continued their educational services online.
The shift has been abrupt, so policy makers have not had much time to review the potential risks (or benefits) of software options. Many administrators and teachers are basing their tech decisions solely on pervasive marketing campaigns, bringing about Zoom's surge in popularity. More importantly, decision makers have failed to see the long-term implications of such a decision on students' freedom and privacy.
As a teacher, videoconferencing suddenly became a core part of my work, and I was concerned about how I would communicate with my students without using nonfree software. I tested Jitsi Meet years ago, but it was not suitable for an online classroom at that time. However, LibrePlanet 2020, the FSF's first conference held entirely online (see u.fsf.org/31j), came just in time to demonstrate that the program had improved enough to use with my students. At first, some parents asked if we would use Zoom, but I politely asked them to try Jitsi Meet instead and explained the rationale for doing so.
Musical instruments are analog, so the only software required for those classes is videoconferencing, but we also offer classes in Music+Code, where students learn programming with Music Blocks (GNU Affero General Public License), Lilypond (GNU General Public License), and other free software tools. Our school uses twelve T400s from Minifree for (local) students to borrow to have a completely free experience. (As for me, I use a Taurinus X200 for my personal computer.)
Merely having a free classroom is not enough; I also feel responsible for educating parents, in particular, and plan to run some online events to touch base again on why our school chose Jitsi Meet instead of Zoom. I understand the luxury position I am in, being in charge of a small private school: I'm free to make policy choices that public school teachers cannot. So I am trying to broaden the availability of freedom beyond myself and my own students and do what I can to also educate others. For instance, recently, our music students performed for the mayor of Malden, Massachusetts, via Jitsi Meet. It was the first time he had used it, and this gave me the opportunity to explain the reasons behind our choice.
Finally, it's important to remember that the importance of bringing free software to students goes beyond nonfree software's habitual invasion of privacy. If we are really entrusting the future to the younger generation, we need to empower them with the four freedoms, not pigeonhole them to take the world as it is handed to them. Every moment that a student is in the classroom is an opportunity to create a sense of empowerment. When classrooms use free software, and when the rationale for such an arrangement is clearly made, students receive the message: "We want you to be able to fully participate in a democratic society. In today's society, this starts by allowing you to learn and choose how your software works."
The FSF has taken actionable steps toward freeing education, last year providing coding classes via fully freed laptops to two schools in Boston (see: u.fsf.org/2xu). Similar workshops are likely to follow in the future, as well as other education-related activities.
Please stand with the FSF and insist on free software in the classroom! When you do, send a message to campaigns@fsf.org about your experience. For those interested in classes in music, art, and/or programming which do not require the use of nonfree software, you may contact me at info@mapflc.com.
A tale of two classrooms
These two examples illustrate some reasons why a freed classroom is a healthier and better learning environment:
Tale 1: A nonfree (proprietary) software classroom
In this classroom, a student raises her hand and asks "How does this work?" Because the code is hidden, the teacher can only say "I do not know, and there is no practical way of finding out. Its workings are kept secret." The curious student may try to figure it out for herself. She may contact the company and ask, and if she would be lucky enough to speak to the right person, she would be shown a snippet or two (at best). Perhaps she would be told that if she works hard to learn coding, she could one day work for the company, but she isn't allowed to learn right now by exploring it on her own. And how is she expected to learn coding? Does she learn by creating short didactic programs? The paradigm she would live in would send the message "You are just a user. Leave the real work to the experts, allow them to decide for you, and don't ask too many questions."
Tale 2: A free software classroom
In this classroom, a student who raises her hand and asks "How does this work?" can be directed to the answer. She can read, study, and even modify the source code. She need not live in the paradigm of "I'm just a user. Others make the code, and I just use it." Instead, she can be a hacker. She can get her hands dirty with the code. She can break it. She can fix it. She can make it her own. She can even make copies and redistribute them for her friends to use and remix. All in all, she will live in a paradigm that says "I may use the software, and I may contribute. I can learn, understand, control what it does, and I can teach others."
A classroom that requires only free software helps enable creativity, confidence, and ownership to bloom by letting students explore all of the possibilities. Parents and caregivers should insist on free software in the classroom. There may be times where using nonfree software to participate in a class seems inevitable, in which case we should, at the very least, clearly state our concerns, and take it as an opportunity to inform others of the implications of free software in education. When we take the additional step to refuse to use nonfree software, then we protect our own freedom while making our concerns all the more understood. Let's work together to create a future where free software is the first standard for education.
Photo Copyright ©2020 by Devin Ulibarri. This image is licensed under a Creative Commons Attribution ShareAlike 4.0 International license.