Updates from the FSF Tech Team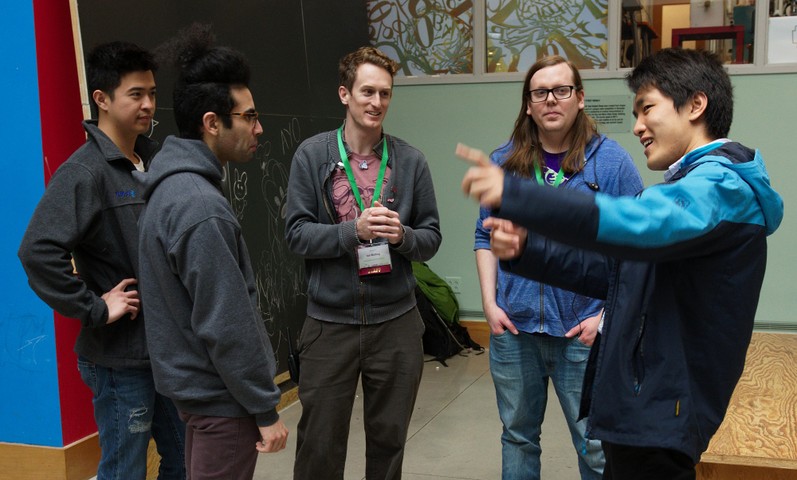 Tech team members Ian Kelling and Andrew Engelbrecht chat with friends at the LibrePlanet 2019 conference
Since the last issue of the FSF Bulletin, the tech team has made steady progress on key projects, while still working almost entirely remotely due to COVID-19.
For starters, the FSF Web site now has a new skin that is easier to read on small screens. This is just a prelude to even bigger improvements: we are working on migrating the Web site backend from Plone to Drupal, and then making many more visible changes.
We have also been improving our videoconferencing and livestreaming capabilities. We set up some machines to run BigBlueButton (BBB), which can be used for both videoconferencing and online classrooms. With our assistance, FSF board member and Massachusetts Institute of Technology Professor Gerald Sussman was using our BBB instance to teach his classes; he has since established and is using his own instance.
We also used BBB for the one-day online celebration of the FSF's 35th anniversary, as well as Gstreamer and Icecast, which we used for LibrePlanet 2020. The event included talks from FSF leadership past and present, short videos from community members, a panel discussion, a quiz, and an IRC chat that enabled over 200 viewers to participate. You can see the videos at media.libreplanet.org and on our new PeerTube page. We also still run a Jitsi Meet server for FSF associate members, and are exploring other videoconferencing options, including some that we haven't evaluated yet on our remote communication LibrePlanet wiki page.
We continue to modernize many older systems. Summer intern Eostre Emily Danne has been a huge help, upgrading the shop.fsf.org and defectivebydesign.org Web servers to Trisquel 9. We also upgraded to the latest version of MediaGoblin, and updated email servers and several other systems. We are close to finally getting ahead of the upgrade curve, a process that has been going on at least since I started at the FSF in 2017.
One difficult issue we faced this spring was that Yahoo started rejecting the monthly Free Software Supporter newsletter email. With much trial and error, we wrote a script to speed up, slow down, or pause sending, based on Yahoo's SMTP status codes, and Yahoo is once again accepting all our emails.
The FSF forge is still a work in progress. Since our last update, summer intern Amin Bandali deployed a testing instance of SourceHut, one of many possible programs for the forge.
We also updated the FSF associate member USB cards to Trisquel 9, and updated the included audio, video, and articles to more recent resources. To fit the operating system, source code, and advocacy materials, we increased the USB disk size to 16 GB.
We're pleased with the progress of the FSF member forum, which launched about a year ago, and has become a thriving community, averaging 409 posts per month over the summer. If you're an FSF associate member, you can interact there with dozens of others, and tech team members Ian and Michael are regular posters.
One more big change in an unusual year: chief technology officer Ruben Rodriguez has returned to Spain. Before his departure, the tech team and a few other staff members met for a farewell picnic in a park, hanging out at a safe distance. Otherwise, our main communication mediums have been Mumble, IRC, and email. The pandemic has shown us that providing free software communications programs that enable computer user freedom is more important than ever, and I have high hopes for what we can accomplish in the next year with your support.
Photo Copyright ©2019 Free Software Foundation, Inc., by Madi Mühlberg. This image is licensed under a Creative Commons Attribution ShareAlike 4.0 International license.