Free software payment system launches at Swiss university
by Christian Grothoff Contributions
—

Published on

Dec 04, 2020 03:26 PM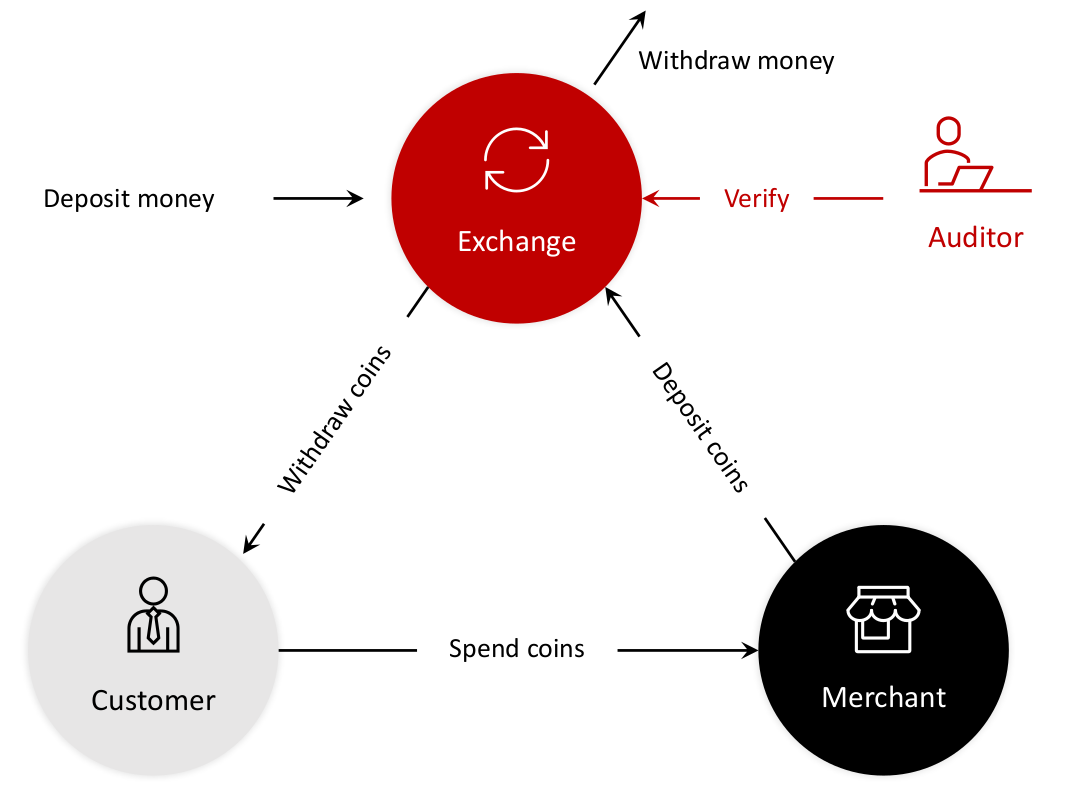 This diagram shows a simplified version of how GNU Taler works.
GNU Taler is a free software payment system (not a cryptocurrency), which has been in development through the GNU Project since 2014. All components and complete documentation are released under free licenses.
On September 16th, 2020, the GNU Taler payment system went operational for the first time in the cafeteria of the department of computer science at the Bern University of Applied Sciences (BFH) in Biel, Switzerland.
Students, staff, faculty, and visitors can transform francs, the Swiss currency, into "e-Franken," stored in a GNU Taler wallet, at the cashier in the cafeteria using a smartphone and the free software GNU Taler app available on F-Droid (f-droid.org), using a Quick Response code or Near Field Communication (NFC). e-Franken can currently only be spent at one snack machine in the cafeteria, which is made compatible with the app using a special taler-mdb component that runs on a Raspberry Pi. In the future, some coffee machines and other systems at the university will be able to accept GNU Taler payments, and an online payment system is in the works; you can see a demonstration using the test currency "KUDOS" at demo.taler.net.
Customers paying with GNU Taler can do so with full privacy due to GNU Taler's use of blind signatures. In contrast, merchants receiving payments are always identified as the recipients, allowing the state to impose taxation, and effectively restricting payment processing to legal businesses. Because GNU Taler uses a central entity that issues electronic coins, processing payments with GNU Taler only requires a few cheap cryptographic operations and a database transaction.
Expensive consensus mechanisms, such as proof-of-work computations, which are needed with systems using blockchains, are thus avoided. As all GNU Taler coins are backed by funds held by the issuer in an escrow fund, GNU Taler does not create a new currency, but merely a different representation of an existing currency, thus eliminating the risks and costs of currency conversion.
GNU Taler is an important advancement because most people interact with payment systems every day, so having a free software payment system that respects human rights, and especially our right to privacy, is critical. However, it will be a complex process to make these systems widely available: a payment system requires complex secure interactions between many parties, such as customers, merchants, payment system providers, banks, and regulators. Payment systems additionally must support many application scenarios and platforms, and work for people from different cultures.
Currently, work is ongoing to integrate GNU Taler with various free software e-commerce solutions. Volunteers, especially for integration and translation, can join the mailing list.
The next step for GNU Taler will be to allow payments in euro, in cooperation with a commercial bank. This will require going though the regulatory approval process for the payment system. Afterwards, all citizens of the eurozone should in principle be able to pay with GNU Taler. In the long run, the team hopes that a central bank will use GNU Taler as the basis for a centrally banked digital currency.
For now, GNU Taler was unveiled at BFH with a ceremony in the presence of Dr. Thomas Moser, a member of the extended directorate of the Swiss National Bank (SNB). Dr. Moser used GNU Taler to buy an award-winning, best-selling book by Sybille Berg. He remarked that "The SNB does not plan to issue an e-Franken. Nevertheless, the system based on the technology of Taler is entirely convincing." Or, as Richard Stallman, Chief GNUisance, said: "GNU Taler isn't something that [everyone] can use (today), however it probably will be, and that shall be actually thrilling."
Simplified Taler System Architecture diagram by Florian Dold, Copyright Taler Systems SA 2019. Permission is granted to copy, distribute and/or modify this image under the terms of the GNU Free Documentation License, Version 1.3 or any later version published by the Free Software Foundation; with no Invariant Sections, no Front-Cover Texts, and no Back-Cover Texts.