Video streaming at LibrePlanet 2013
by nico Contributions
—

Published on

Nov 14, 2013 12:15 PM
About 150 people came to Cambridge's Harvard Science Center for this year's LibrePlanet Conference, but there were many more who weren't able to make it. We want everyone to be able to participate in LibrePlanet, including people from countries other than the US, so we set up a video streaming system for the conference. We had the invaluable assistance of streaming video expert George Chriss, who arrived from New York early to help prepare the system.1
George brought an Elphel 353 camera to stream video of the sessions in one of the Science Center's large lecture halls. Along with it he provided a custom-built case containing a router and a computer running gNewSense, a free GNU/Linux distribution. The other lecture hall used George's Canon FS22 camcorder with analog output and a USB adapter called EasyCAP 60+, which makes it simple to capture video in GNU/Linux.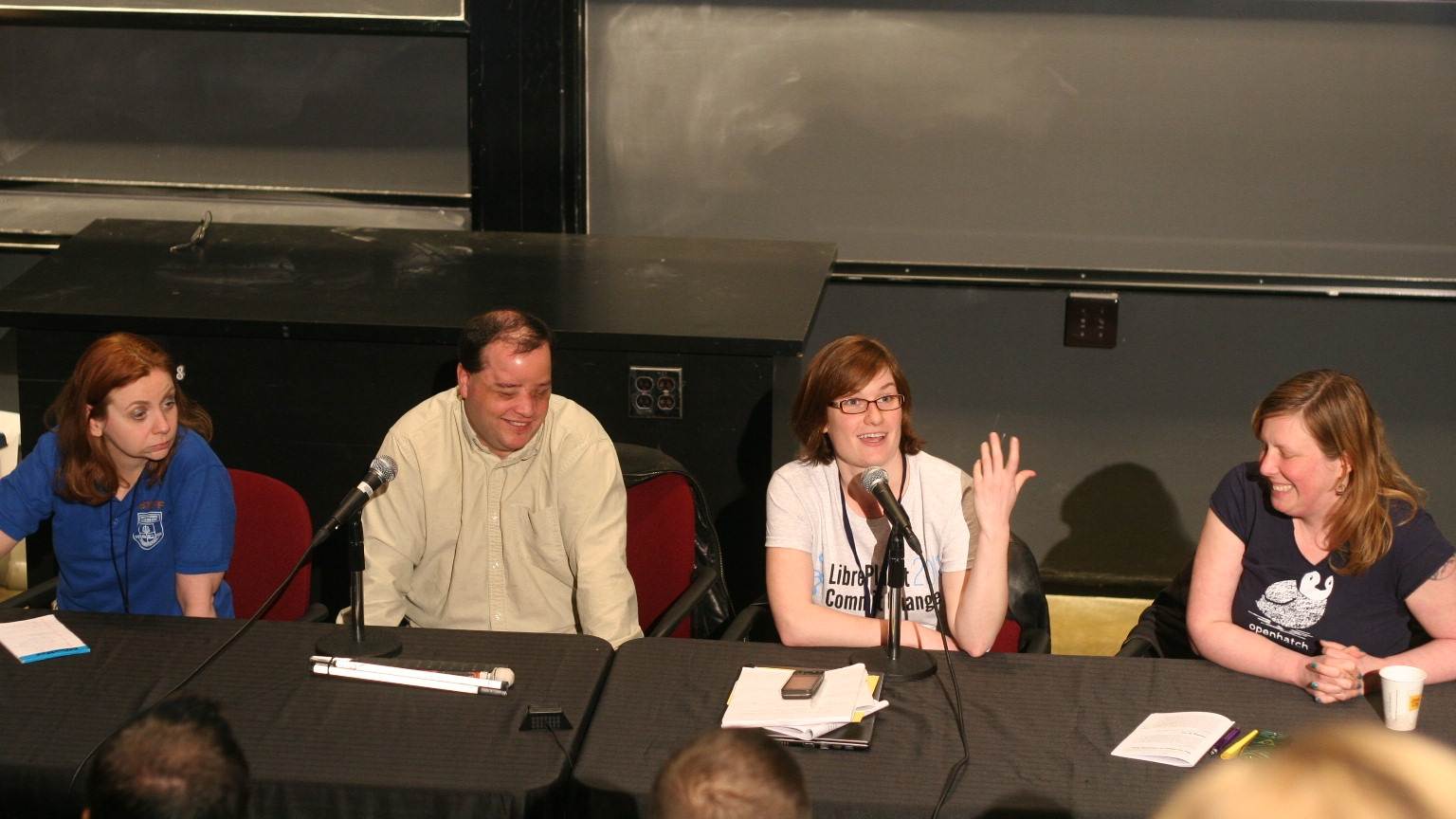 The conference's three remaining rooms were each equipped with a regular webcam and a Lenovo X60 ThinkPad laptop running the free GNU/Linux distribution Trisquel. We had X60s on hand because we are in the process of flashing them with coreboot, a free software BIOS replacement.
GStreamer was the program used for video capture and transmission to our streaming server. On the server side we used Icecast, a very popular free streaming program. The video stream was displayed on LibrePlanet's MediaWiki, , using the HTML5 video tag, and we used the free formats Ogg Vorbis and Theora for audio and video encoding. Soon, we plan to host archived recordings of the streams. The FSF would like to see all videos on the Web available this way--free software-compatible and without Digital Restrictions Management--so anyone can use them as they please.
Lessons learned
Real-time encoding for streaming has high CPU demands, and our X60s are not very powerful. Luckily, GStreamer is versatile and we were able to adapt to the computing resources we had, but in the future we'd like to use a higher-end computer to do the processing. It's important to us that this computer work with coreboot.
This brings us to the challenge of finding and configuring a coreboot-compatible laptop that has at least four processor cores. Any volunteer who would like to participate in this effort would be much appreciated. Please contact sysadmin@fsf.org if you'd like to help.
1George is the creator of openmeetings.org, a free software video platform designed to enable transparency and accessibility in government meetings and other gatherings.