GNU 30th anniversary items now available
by chrissie Contributions
—

Published on

May 15, 2014 05:03 PM
In honor of GNU's 30th anniversary this past September, GNU Press is now carrying exclusive GNU 30 travel mugs and GNU logo polo shirts. These items feature the new GNU logo that was unveiled at the GNU System's 30th anniversary hackathon in Cambridge, MA. To be notified of the latest news about the shop, please join the GNU Press mailing list. If you have any suggestions for GNU Press, don't hesitate to add them to our Ideas page.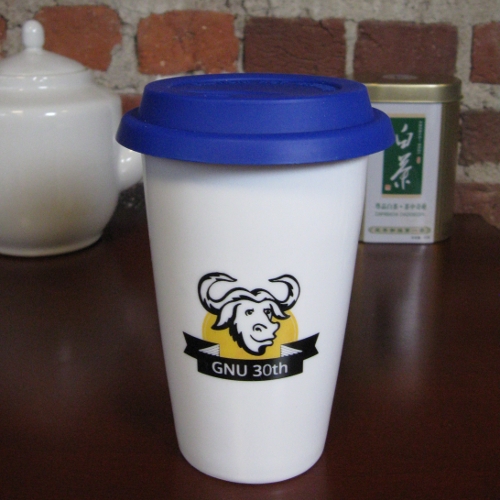 Our new travel mug, featuring the new GNU head logo, available at
the shop
.
We welcome volunteers to help out with the GNU Press shop in our Boston office. The FSF also offers internships throughout the year in system administration, licensing, and campaigns. To learn more about interning and view deadlines for upcoming internship periods visit u.fsf.org/internships.
Even if you are not able to commit to an internship, we are always looking for volunteers of all skill levels to help us out with small tasks and larger projects. Volunteer roles include passing out FSF materials at events, updating the Free Software Directory, stuffing envelopes, writing articles about important free software issues, and helping to answer questions about free software licensing. If you're interested in volunteering, check out the volunteer page, send a message to info@fsf.org, or stop by our office if you can make it to Boston.