A short recap of RMS's recent adventures
RMS continued to crisscross the globe this past semester, visiting over a dozen countries to meet with free software activists, lobby for computer-user rights, and spread the word about ethical computing through the almost fifty speeches he gave to both the initiated and the general public alike. Starting off in Italy and Spain, RMS then made his way from Cancún, Mexico, in late May, to Porto Alegre, Brazil, in early July, and then on to Belgium and the United Kingdom, speaking at universities and free software conferences, and meeting with elected officials.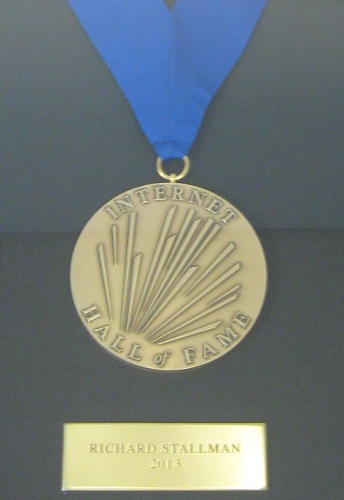 RMS's Internet Hall of Fame medal.
In August, he was inducted into the Internet Hall of Fame in recognition for his work as an innovator, and during his brief acceptance speech, RMS appealed to the audience to "fight hard" for network neutrality and an Internet that is "something good for human freedom--instead of the final curtain call for human freedom." While he was in South Africa, he kickstarted Johannesburg's Software Freedom Day celebration, and spoke in four other cities. In September, he marked the 30th anniversary of the GNU System in both France, at an event organized by April, and at the FSF-sponsored celebration in Cambridge, MA. For the rest of the year, he has plans to be in California, the United Kingdom, and Spain.