Where in the world is Richard Stallman?
by libby Contributions
—

Published on

Nov 27, 2012 09:39 AM
by Jeanne Rasata, Assistant to the President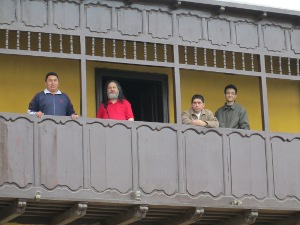 >
Over the past six months, Richard Stallman has continued advocating for the protection of computer-user rights to government and school authorities, developers, students, activists, and members of the general public, delivering 56 speeches in 41 cities across 12 countries.
His visit to Peru this past August took him from Chiclayo, in the north, to Tacna, in the south, through Trujillo, Ayacucho, Huacho, Callao, and Lima.
In Chiclayo, his speech calling for a free digital society was the main attraction at the eighth national conference of students of system and computer engineering (CONEISC), Peru's most important technological event, where he appealed to students and engineers to devote their energies to creating a free and just -- rather than an amoral all-inclusive -- digital world.
He was awarded an honorary professorship in Trujillo, where he called for schools to fulfill their roles of forming and educating good members of society by using only free software, and honorary doctorates by universities in Tacna and Huacho, where he spoke about the goals and philosophy of the free software movement, and underscored the need to focus more on computer users' freedom to cooperate and control their own computing.
At the national office for electronic and computing government (ONGEI), in Lima, he met with the state's top officials in charge of computing, to make recommendations and present the advantages of using free software in public institutions, citing as an example Ecuador's experience in fully transitioning state agencies to an exclusive use of free software.
In Lima, at the Universidad Inca Garcilosa de la Vega, school officials highlighted the work of COSOLIG, the university's free software group, which is the first community in Peru to be part of an international network to promote free software nationally and throughout Latin America.
The Universidad Nacional del Callao's free software group, UNACINUX, which we thank for having organized and coordinated the entire visit, commented on its site that Stallman's speech there raised awareness of the importance of free software's social aspect and the fact that not all technological change is good. The free software movement has come a long way in Peru, and Stallman was pleased to note that the people who invited him run a Latin American free software install fest that, unlike most other FLISOL events, promotes completely free distros exclusively, and vigorously upholds the values of the movement. He was also happy to see that the members of San Marcux, the student group at the Universidad Nacional Mayor de San Marcos, in Lima, were continuing to train as free software speakers.
You can see photographic excerpts of some of Richard Stallman's recent appearances on his blog at fsf.org/blogs/rms, and hear those of his speeches for which we have recordings at audio-video.gnu.org. Please write to rms-assist@gnu.org with any photographs you would like to share or to extend an invitation for Richard to come speak.