Support crucial free software infrastructure today!
Take a look at the FSF tech team's recent accomplishments and support our plans for 2018!
The FSF tech team maintains infrastructure for the free software community, and your support helps improve and maintain it. Our use of a free software stack means that our mission to promote computer user freedom is embodied in every bit of our work. Will you power up this key free software infrastructure by supporting the FSF today? Our annual fundraiser ends in a few days, and we need to raise $450,000 by December 31st. Through the end of 2017, all new and renewing Annual Associate Members ($120+) can choose to receive our new Four Freedoms T-shirt! So wear your freedom on your sleeve: become a member or make a donation today.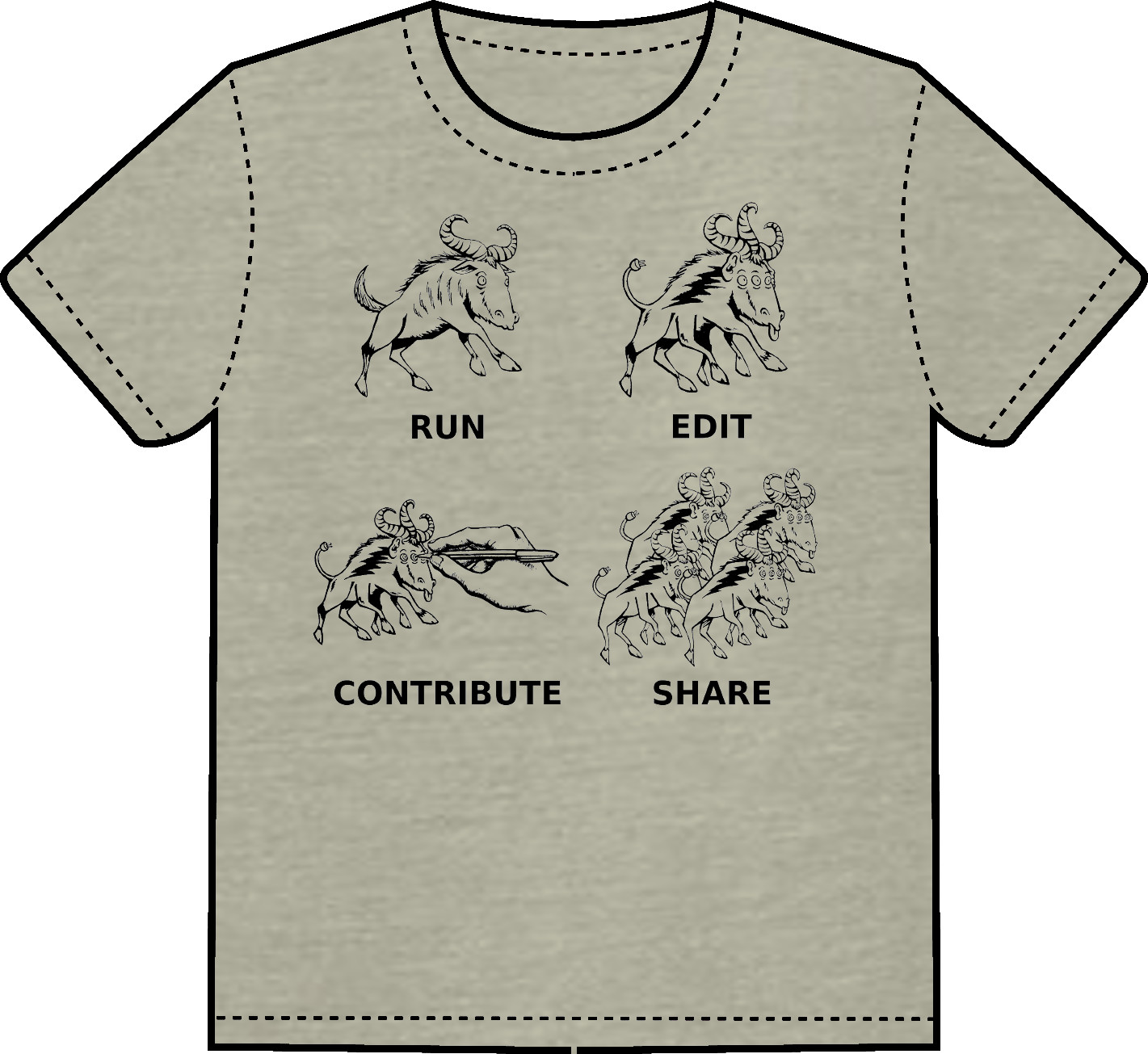 At the Free Software Foundation (FSF), we run public-facing software to enable development, activism, and information-sharing by thousands of free software users and developers. This includes tools, Web sites, and distribution for the GNU Project, Web sites like h-node, the Free Software Directory, libreplanet.org, and mailing lists for thousands of free software projects at nongnu.org. This infrastructure supports a robust community, with an average of 1 million unique visitors per month to gnu.org, and a half million emails per day via lists.gnu.org and lists.nongnu.org. All that, running on our own servers, using exclusively free software!
Over the last year, we made many hardware and software upgrades, including bringing a new cluster of servers online, which we wrote about in the latest Bulletin. The FSF tech team's biggest goal for the next year is to upgrade all remaining older infrastructure, while refining our practices to improve freedom, privacy, security, and reliability. Here are a few highlights:
We are upgrading all our email software. The most visible email software is GNU Mailman, and we are looking forward to using version 3, which has a vastly improved Web interface, including support for posting to lists via the Web.

Redesigning www.fsf.org. The most pressing reason is so that it displays better on small screens. The migration of the existing html into modern software and the creation of a new design is a fairly time-consuming task, but we are really excited for the site to expand its reach.

Some older configurations and software that we use are decades old, and were developed before version control software was a best practice, so we're moving all of these items into git. We share repositories that others might find useful, or might contribute to, at vcs.fsf.org, and plan to share more over the next year.

Since bringing up the new cluster, we are aiming to manage all new virtual machines with Ansible, and to reduce the number of commands we run in servers' local shells. The benefits of this are wide-ranging: systems are easier to change and maintain by being more documented, automated, and uniform. After we finish upgrading older systems, we plan to extend this practice to all existing systems.
We are a small and very dedicated tech team, trying our best to improve the infrastructure that enables the future of free software to thrive. We need your financial support for that work to continue and grow, so please donate now.