Join the FSF and support the tech team
FSF tech team member Michael McMahon discusses the team's year-round jobs and responsibilities, and how it is all done in freedom and to support and strengthen the freedom of the free software community.
The Free Software Foundation (FSF) tech team is involved in every aspect of the FSF's work. Besides maintaining the infrastructure for GNU and FSF, as well as virtual machines for several other important free software projects, they continually take on work to secure freedom by, for example, freeing all BIOSes of FSF's servers, workstations, and laptops. They run livestreamed audio and video for the annual LibrePlanet conference and make sure the office and its databases run smoothly. They are also always ready to assist the other FSF teams with new scripts, tools, and platforms to service new ideas, projects, or public activities.
In doing this work, the tech team operates sixty-three different services, platforms, and Web sites for the FSF staff, the GNU Project, community projects, and the wider free software community. The FSF tech team maintains infrastructure which includes:
Most organizations our size probably run a small handful of the technology they use and outsource the rest. Sixty-three is a very high number for an organization with only twelve people on staff, only three of whom are on the tech team.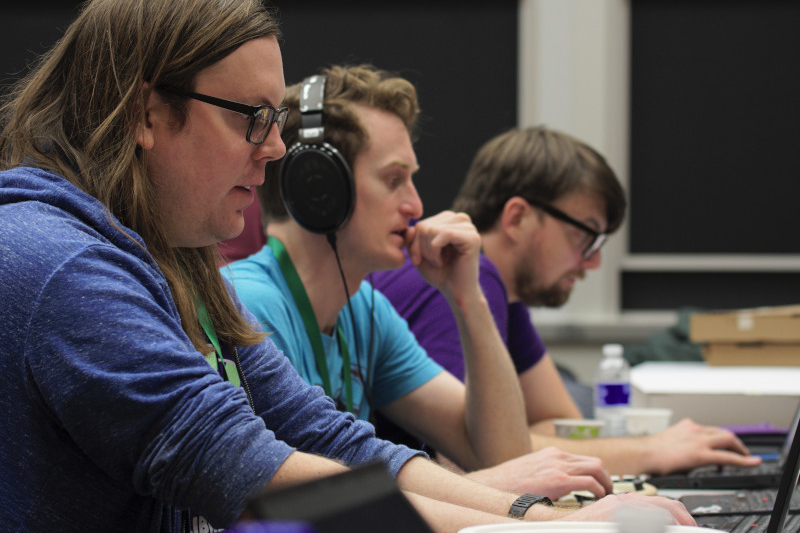 We go out of our way to keep it free. We don't use any of the so-called "cloud" services, since the "cloud" they typically refer to is just someone else's computer. We do not abstract away problems with frameworks on top of Docker containers running in Kubernetes assembled by someone who tells you to directly pipe curl output into bash and install the software as root without looking at it. We do not naively trust, and when we run into elements we are unsure about, we work our way through them, in freedom. We assemble our software stacks in a way that we can understand and keep track of by configuring services orchestrated by Ansible in virtual machines with libvirt on Trisquel GNU/Linux, running on bare-metal ASUS KGPE-D16 servers that we own, operate, and trust.
We do this all ourselves. We do not outsource a necessary service to a provider that grants us access to their service for a fee. Instead, we self-host everything we possibly can so that the software we use can be trusted. It won't be pulled out from under us, nor will it leave us stuck in a vendor lock-in situation. Moreover, we know that we will never find ourselves at the mercy of an organization that cares much less about freedom than we do.
We do it ethically. We only run code that we can run, modify, copy, and share, right down to running a fully free BIOS on our servers. With the help of our licensing team and licensing volunteers, we go the extra mile and verify that all of our software that we run does not have any nonfree dependencies before adding anything to our stack.
I am in my third year working with the FSF and I am truly amazed every time I take a step back and see all of the work that we are able to achieve with such a small team of three people. Maintaining all this work in freedom is not easy. The three of us are able to do this work, which is supported by an team of volunteers from around the globe, thanks to the team's dedication to free software, hard work, and by constantly challenging ourselves and using our talents to come up with creative solutions to challenges that this work throws at us.
We need your help to to continue this work. How can you help? Become an associate member of the FSF today. You can start for as little as $10 per month ($5 for students), or $120 per year. With your support, we can continue to show people how the freedom to share can effect change in all areas where software touches modern life. Besides that, your membership gives strength to the idea of free software. Plus, your membership will count towards achieving our fall goal of 455 new associate members before December 31, and you will be eligible for this year's snazzy and secure webcam cover when you join as an annual associate member at $120 or more. You'll also be able to enjoy all the member benefits, which include merchandise discounts, a 16GB bootable membership card, and use of our associate member videoconferencing server.
Illustration Copyright © 2022, Free Software Foundation, Inc. Licensed under Creative Commons Attribution 4.0 International license.